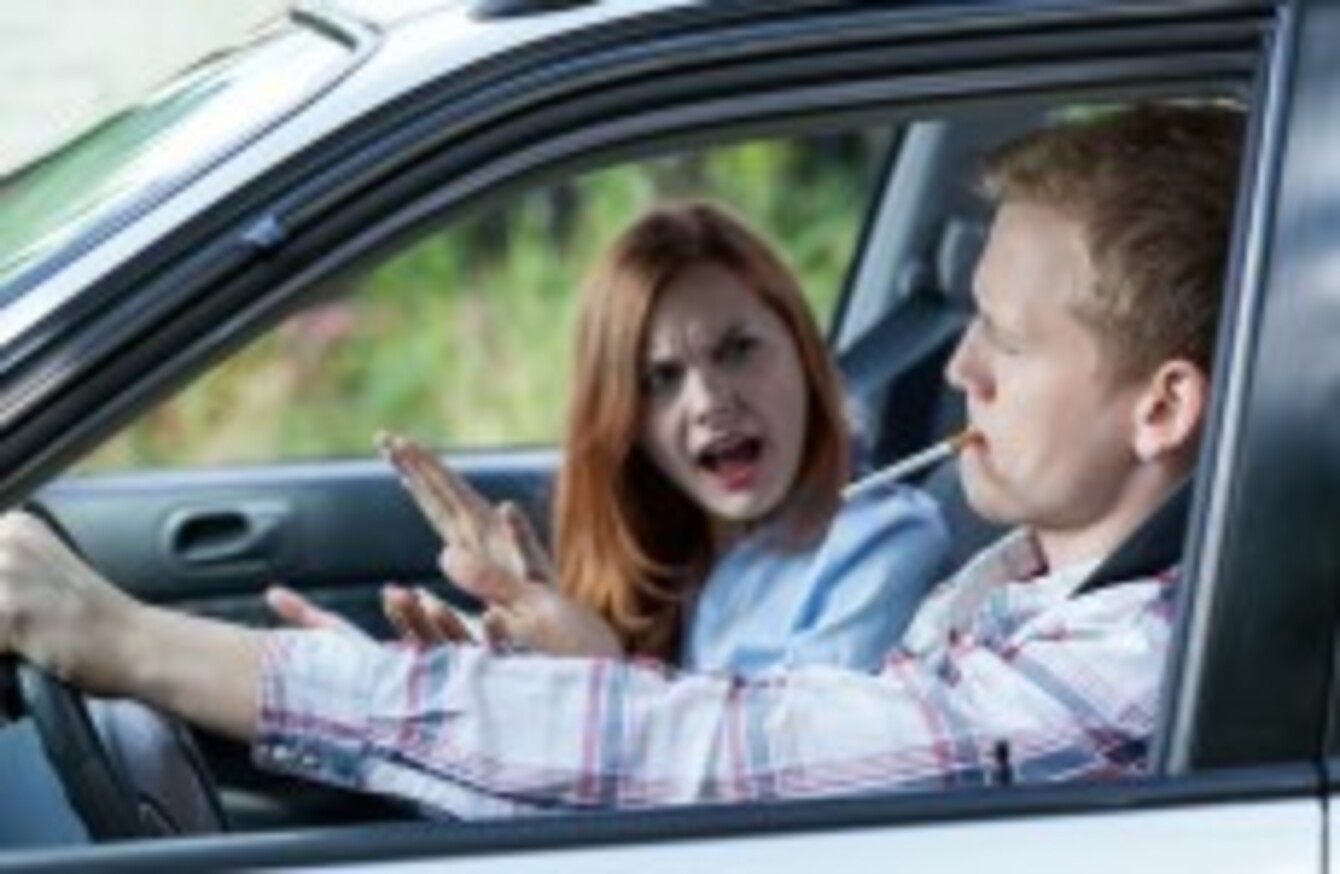 Image: smoking in car via Shutterstock
Image: smoking in car via Shutterstock
A PERSON WHO is found smoking in a vehicle with children will face a penalty of up to €1,000 if they don't pay the fine given to them by gardaí and are brought to court.
A spokesperson for the Department of Children and Youth Affairs told TheJournal.ie that, "There is speculation that the original fine may be €80 but this remains to be seen."
Gardaí will be able to ask the driver to stop the car and demand the name and address of any person smoking if a person under 18 is present.
If the driver doesn't stop or a person refuses to give their name and address, or provides false information, then they are considered guilty of an offence and can then be liable of a fine of up to €1,000.
The bill specifies that a person shall be guilty of the offence- even of the smoker is under 18 years of age and is in the presence of another child.
Also if a passenger in the car is smoking with a child present – the driver shall also be guilty of an offence.
Defence 
A defence exists where the person smoking reasonably believed that the other people in the vehicle were over 18.
There are also defences for the driver if they were unable to stop the other person from smoking because they didn't want to compromise the safety of the passengers, or where the driver made all reasonable efforts to stop the other person smoking.
Here's the Protection of Children's Health Bill which was brought before the Dáil yesterday.
http://www.oireachtas.ie/documents/bills28/bills/2012/3812/b38b12s.pdf
Speaking in the Dáil, the Minister for Children and Youth Affairs, James Reilly, said that, "Exposure to tobacco smoke is particularly harmful in enclosed spaces, such as cars" and that "it's a recognised risk factor for the development of asthmatic symptoms and increased risk of other illnesses".
He added that children's exposure to second hand smoke in cars is involuntary as they are unable to remove themselves from risk if people smoke around them.