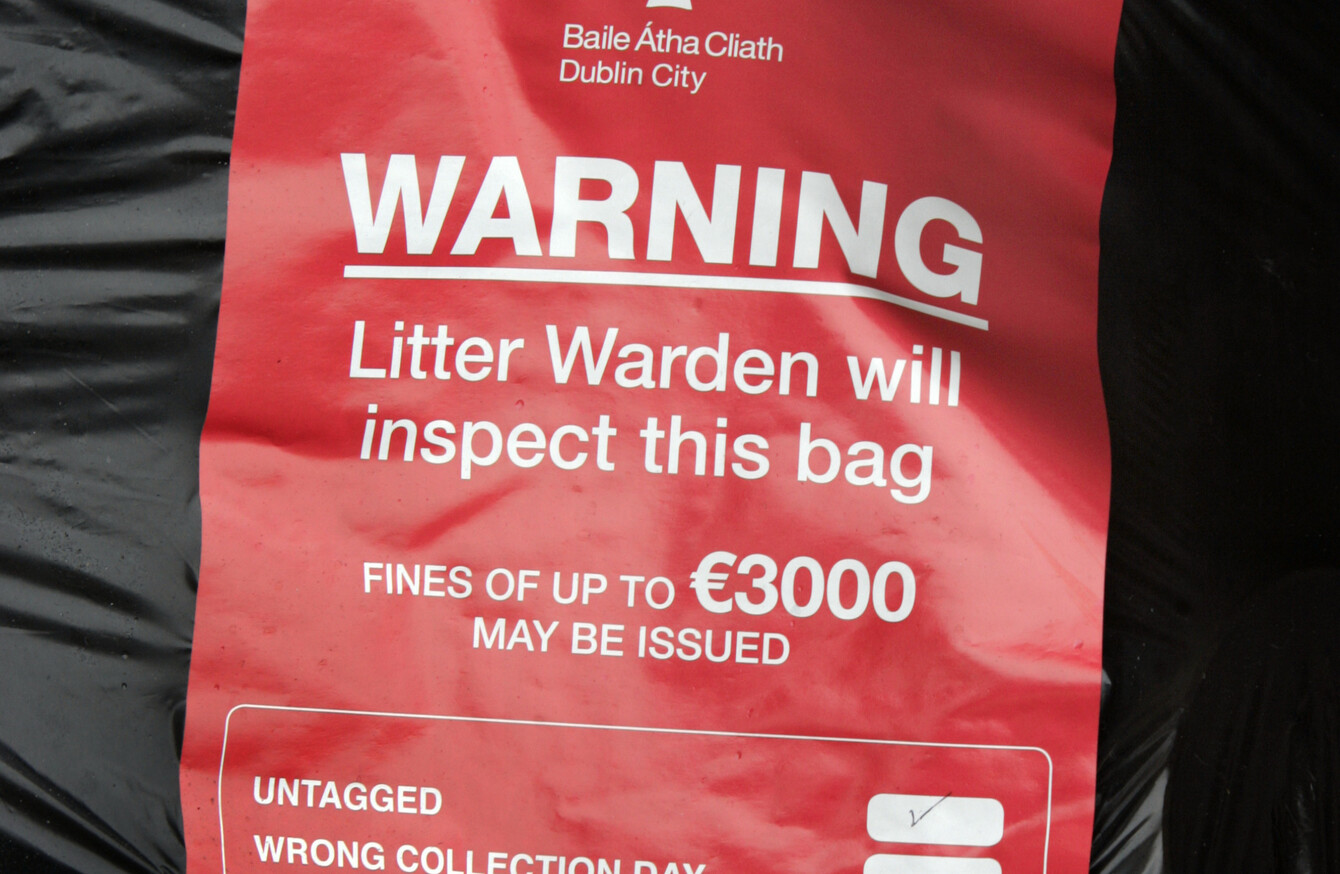 Image: Mark Stedman/Photocall Ireland
Image: Mark Stedman/Photocall Ireland
OVER 6,000 BAGS of illegally dumped rubbish were left in Dublin's North Inner City last year – which resulted in 246 fines issued and 93 prosecutions for non-payment of these fines.
Just 95 people paid the fine of €150. The fines were issued for dumping in the Central area, which includes Broadstone,North Wall, East Wall, Drumcondra, Ballybough and the north city centre.
Dublin City Council dealt with over 14,000 cases of illegal dumping complaints between 2012 and 2018, and makes consistent efforts to track down the culprits. But the conviction rate was just 1.5% last year when the number of bags are compared to the number of prosecutions.
According to the most recent Irish Business Against Litter (IBAL) anti litter league, the North Inner City area – which makes up the majority of the Central area – is the fourth-worst littered part of Ireland and the second-worst in Dublin, behind Ballymun.
Who's doing the dumping?
Ciaran Cuffe, Green Party councillor for the North Inner City in Dublin, raised questions about who exactly is doing the dumping, after he asked the council for the figures.
"What occurred to me was how many of these were illegal dumping by businesses and how many individuals?" said Cuffe.
The council has installed CCTV in city blackspots, with signs advising people that if they dump illegally they will be prosecuted.
Last year, the litter warden service carried out surveys on over 4,702 properties in the central area and 2,080 advisory notices were issued to non-compliant addresses.
Regarding the huge gap between the numbers of illegally dumped bags and the number of convictions, Cuffe said:
That's the one that has me scratching my head: that we seem to be only getting around a 10% conviction rate when we get to court and I wonder whether we're well prepared for court and whether judges have a good understanding of the damage that littering does to the city.
"I think it's really important that we understand the damage that littering does. It's bad for community, it's soul destroying for many of the people who live in the North Inner City who have worked hard to try to address this problem."
The number of fines handed out also indicates that it is not easy to track down those responsible. This may have to do with the gradual shift over to email rather than print billing, suggested Cuffe.
"I think it's getting harder and harder because people are getting wise to not leaving their name and address in bags and also with online billing it's becoming rarer to find utility bills," he said.
He described illegal dumping as a "constant issue" for him and said he sends regular emails alerting the council to illegal dumping of waste.
#Open journalism No news is bad news Support The Journal

Your contributions will help us continue to deliver the stories that are important to you

Support us now
There are a number of ways  people can alert the council to dumping issues.
"I think the council are doing their best," said Cuffe. "I think they have less staff than five years ago – 20% less staff, so that doesn't help. I'd like to see more senior management time given to littering."
"It's a tough job," he said. "It's challenging because our staff are sometimes confronted when they try and tackle the problem. Staff have to go through bags and who knows where the next needle will be."
He also said that a priority for him is ensuring that the council has the most up-to-date equipment, so that, for example, footage can be sent wirelessly from CCTV cameras rather than having to be retrieved manually.
Cuffe had asked the council the following question:
To ask the Chief Executive of the 242 fines issued in 2017 out of the 6147 bags dumped, to indicate how many of these fines were paid to date and to state the total amount paid in fines and the costs awarded to the City Council.
The reply was:
The final figure for fines issued in 2017 for evidence found in bags in Central area is 246.
95 litter fines at €150.00 each were paid which resulted in €14,250 income to Dublin City Council.
93 prosecutions were initiated for non-payment of litter fines, resulting in 13 convictions in court which yielded €946.16.
Dublin's North Inner City has been graded extremely poor in the IBAL reports in recent years. In 2017, IBAL said that while still littered, Dublin's North Inner City recorded its best ever performance since it was first surveyed in 2011.