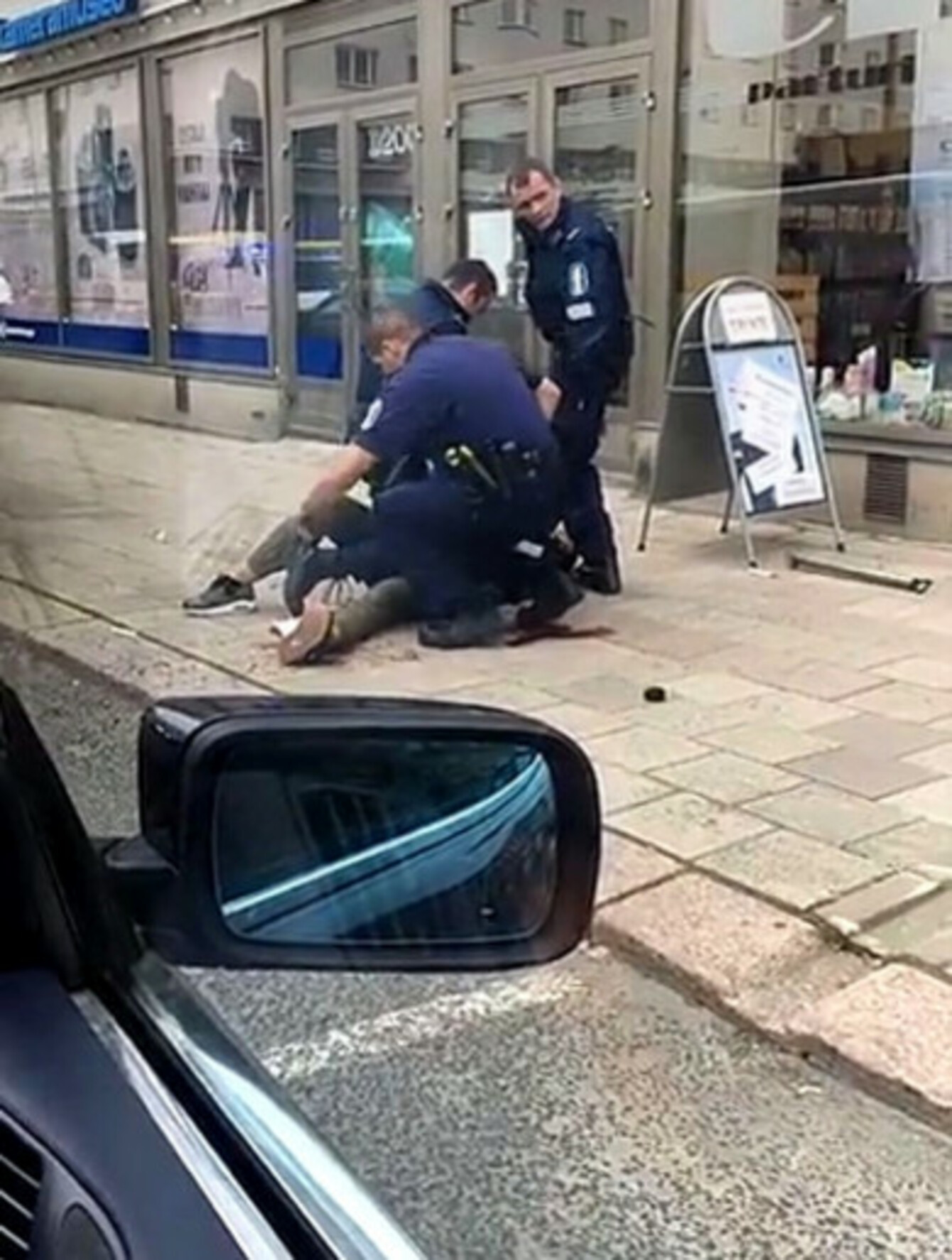 Police officers detain the attacker who stabbed people in Turku, southwestern Finland.
Image: Xinhua News Agency/PA Images
Police officers detain the attacker who stabbed people in Turku, southwestern Finland.
Image: Xinhua News Agency/PA Images
Updated 5.10pm
POLICE IN FINLAND have said they are treating an incident in which a man stabbed a number of people in the city of Turku as a terror attack.
They have subsequently said that a Moroccan asylum seeker targeted women in the spree.
Police shot and wounded a knife-wielding man yesterday, arresting him minutes after an afternoon stabbing spree at a Turku market square which left two dead. Today, police raised the number of injured in the attack from six to eight.
A statement released by police this morning read:
The act had been investigated as murder, but during the night we received additional information which indicates that the criminal offenses are now terrorist killings.
The man went after women specifically, killing two women, police said. Eight other people were injured, among them six women.
"We think that the attacker especially targeted women, and the men were wounded after coming to the defence of the women," superintendent Christa Granroth of Finland's National Bureau of Investigation told reporters.
The suspect's "identity is known to the police. He is an 18-year-old Moroccan citizen," it added.
Arrest
Police also arrested five people in a Turku apartment overnight in their investigation into the stabbing rampage.
Police shot and wounded the knife-wielding suspect, arresting him minutes after an afternoon stabbing spree.
"There was a raid and we have now six suspects in custody, the main suspect and five others," detective superintendent Markus Laine of the National Bureau of investigation told AFP.
"We are investigating the role of these five other people but we are not sure yet if they had anything to do with (the attack)… We will interrogate them, after that we can tell you more. But they had been in contact with the main suspect," Laine said.
The suspect is being treated in hospital in intensive care for a gunshot wound to the thigh.
Media reports in Finland said police believed the suspect had picked his victims at random, but Laine could not confirm that.
Police have said it was likely the suspect acted alone, but added they were looking for "other possible perpetrators".
Central Turku was swiftly cordoned off after the attack, which occurred just after 4pm (2pm Irish time), although the area was reopened several hours later.
Finland also raised its emergency readiness across the country after the stabbing, increasing security at airports and train stations and putting more officers on the streets.
In June, Finland's intelligence and security agency Supo raised the country's terror threat level by a notch, from "low" to "elevated", the second notch on a four-tier scale.
It said at the time it saw an increased risk of an attack committed by the the so-called Islamic State (IS) group.
"Finland's profile within the radical Islamist propaganda has become stronger. Finland is considered as a Western country and a part of the anti-IS coalition, and propaganda is produced in the Finnish language and directed against Finland. The propaganda incites attacks in Finland," SUPO wrote.
Links
Police said they had issued an international arrest warrant for another person outside Finland who is believed to be dangerous.
Police were also probing whether there was a link to the vehicle attacks in Barcelona and another Spanish seaside resort that killed 14 people and wounded around 100 others.
Most of the suspects in those attacks were also Moroccan citizens.