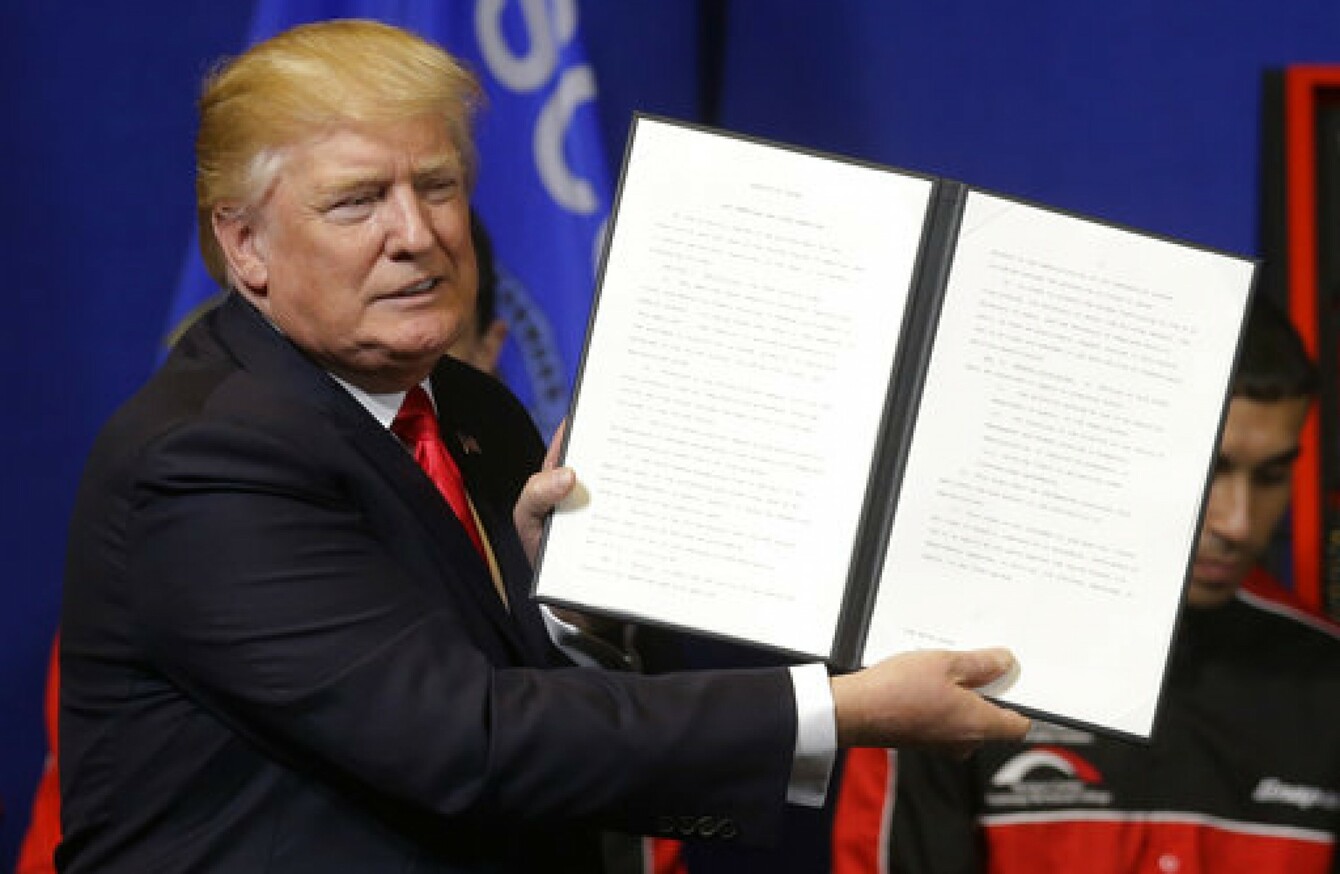 Image: Kiichiro Sato/AP Photo
Image: Kiichiro Sato/AP Photo
US PRESIDENT DONALD Trump is approaching the end of his first 100 days in office.
These first few months are usually seen as an important barometer for how much a president achieve.
Everything a president does is closely watched in these initial weeks and months, with the usual expectation that they deliver – or at least start to deliver – on the pledges and promises made during the campaign.
But why 100 days?
Much of the rhetoric around the presidency at the moment revolves around what Trump has and has not done in these first 100 days. But, over a four-year term, a president will serve for a total of 1460 days.
He has been under severe pressure to push through what he promised in a variety of areas, but we have to go back over 80 years to find out why the current president is under such pressure to "get the job done" in this short space of time.
It's all FDR's fault
Franklin Delano Roosevelt became the 32nd President of the United States in 1933.
He served in office until his death in 1945, and is best remembered for leading the country through the Great Depression and World War II.
But, FDR also managed to get an awful lot done during his first 100 days in office as president.
When he took office, the depression was still having a massive effect on the US economy, so Roosevelt immediately set about getting Americans back to work by getting industry and agriculture back on their feet.
In his inaugural speech, he said: "This nation asks for action, and action now."
In his first 100 days, supported by a majority for his Democratic party in the House of Representatives and the Senate, FDR got a whopping 76 laws passed.
Importantly, these laws had a significant impact on how the country was run.
Dubbed the New Deal, he succeeded in winning support for bills that included the expansion of the role of the federal government in a bid to create more jobs and boost the economy.
And, to a certain extent, these measures were successful. The US economy steadily improved as agriculture and industry picked up again.
Such was his success and efficiency in those early days that all future presidents would be judged against this measure.
And, 70 years and 13 presidents later, no one has gotten close to FDR in terms of the laws passed, both in the numbers and their significance, in the first 100 days.
How have others fared?
Roosevelt's successor Harry Truman comes closest in terms of bringing through new laws in his first 100 days. He took office following the death of FDR towards the end of the World War II so served his first 100 days during wartime.
When he was re-elected in 1949, however, he managed to get 55 bills passed into law during those first 100 days. Then, with a few exceptions, the law of diminishing returns sets in.
Eisenhower and Kennedy got 22 and 26 laws passed respectively, but many of their successors failed to reach double figures.
Bill Clinton managed to get 24 laws passed during his first 100 days as president, but his initial few months were far from smooth.
In fact, Clinton's first 100 days were positively chaotic in numerous ways, However, despite infighting among his appointed staff and a hostile media relationship, Clinton went on to oversee a buoyant economy during his presidency.
His successor George W Bush, meanwhile, was the least productive president since FDR during his first 100 days in office.
He only passed 7 laws during in this initial period, but his presidency went on to be defined by the aftermath of the September 11 attacks and the ensuing "war on terror".
What about executive orders?
While no one has come close to FDR in terms of laws passed, successive presidents have been fairly consistent in enacting executive orders.
These executive orders allow the president to enact unilateral action and to set their agenda on a range of topics.
They are often seen as a means for the president to put forth their highest priorities early on in their presidency.
Trump's travails with executive orders on the travel ban, for example, have been well flagged in his first 100 days, but previous presidents such as Jimmy Carter enacted executive orders to fulfill campaign pledges early on.
In Carter's case, one such order related to the pardoning of those who had dodged the draft that would have seen them fight in the Vietnam war.
At the time of writing, Trump has issued 23 executive orders which places him above Obama, Clinton and all his predecessors as far back as Lyndon Johnson in the 1960s.
Obama's legacy
In Barack Obama's first 100 days, he was widely perceived as trying to set the tone for his presidency.
He signed 19 executive orders, and passed 11 new laws.
Importantly, he attempted to place a series of his campaign pledges on the table immediately.
This included a major financial stimulus package to rejuvenate the American economy and setting the groundwork for his controversial health care reforms – that Trump unsuccessfully tried to begin replacing in his first 100 days.
An unwelcome tone, from Obama's perspective, was set for his presidency, however, as squabbles between the Republicans and Democrats delayed the introduction of his economic stimulus, and fierce opposition delayed Obamacare's rollout.
He also ordered the closure of Guantanamo Bay camp in Cuba but, as we know, the detention centre remains open today. This shows that judging a president 100 days in may not always be the best way to assess whether or not they're achieving their goals.
The next 1360 days of Trump
Speaking on a visit to Wisconsin this week, Trump proudly declared that "no administration has accomplished more in the first 90 days", but this is patently not the case.
To date, Trump's big agenda items, like his promised tax overhaul and infrastructure plan, have yet to reach Congress.
His attempt to secure the borders from people from predominantly Muslim regions is so far blocked by the courts. And his first attempt to repeal and replace President Barack Obama's health care law failed in Congress.
The first 100 days are clearly not the make or break of the president, but they can give an indication of what is to come.
FDR's presidency began with sweeping reform that helped to transform the country. Obama's began with a desire for progressive reform that was hampered by opposition from the Republicans.
Trump's first 100 days have been characterised by a hostile relationship with the media, an inability to get his more controversial laws passed – the travel ban and the healthcare reforms, among others – and, more recently, troubling diplomatic ties with Russia and North Korea.
But he needn't worry just yet. He has another 1360 days to try get his way.