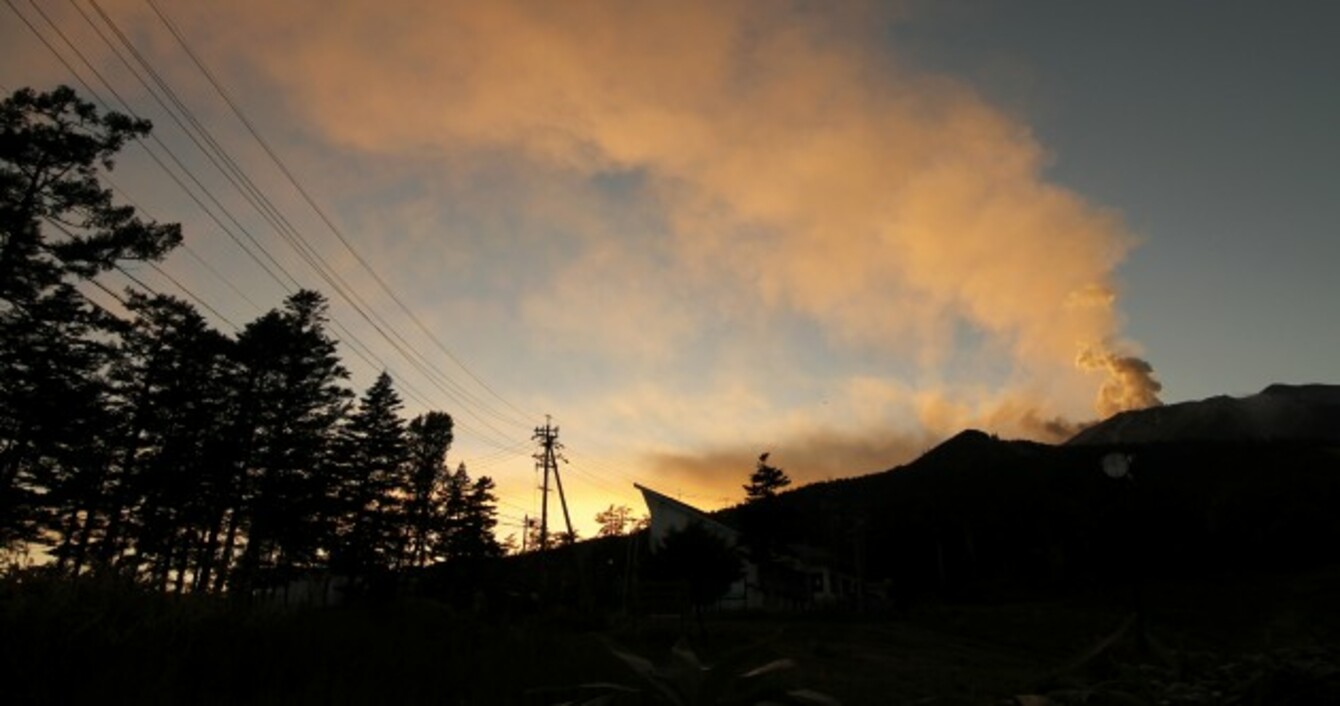 Smoke billows from Mount Ontake.
Image: Koji Ueda/AP/Press Association Images
Smoke billows from Mount Ontake.
Image: Koji Ueda/AP/Press Association Images
THE FIRST DEATHS have been confirmed among more than 30 hikers feared killed near the peak of a Japanese volcano that erupted without warning, spewing ash, rocks and steam.
Rescue workers battling rocketing levels of sulphurous gas found 31 people in "cardiac arrest" near the summit of 3,067-metre (10,121-foot) Mount Ontake, which erupted around noon on Saturday, police and local officials said.
The term is usually applied before doctors can certify death. Four of those found were brought down the volcano on Sunday where they were confirmed dead, broadcaster NHK reported.
"According to the police, four people out of the 31 people who had been found in cardiac arrest near the peak were confirmed dead. All of them were men," a station anchorman told viewers.
The news appeared to confirm fears that there was little hope for those still on the volcano.
Rescue efforts were called off mid-afternoon Sunday because the environment was becoming too dangerous for emergency workers, an official at the Nagano prefectural government told AFP.
The official said:
The rescue team suspended their operation because of the increasing concentration of sulphurous gas in the area.
Firefighters have separately confirmed a total 30 people with injuries, including one serious case, he said, adding that the number could still change.
Some 550 soldiers, police and firefighters took part in a major operation to reach those stranded on the volcano since it erupted into a sunny autumn sky during a busy weekend for tourists and hikers.
A suffocating blanket of ash up to 20 centimetres (eight inches) deep covered a large area of the volcano, and had forced up to 150 to seek refuge in mountaintop shelters at one point.
Sheltered
Local officials believe 45 to 49 people sheltered overnight in cabins on the mountain, although details remained unclear.
The mountain is popular among walkers, particularly in late September when the turning of the autumn leaves makes for dramatic scenery.
On Sunday columns of thick white steam were still rising from Mount Ontake, feathering out into the clear blue sky.