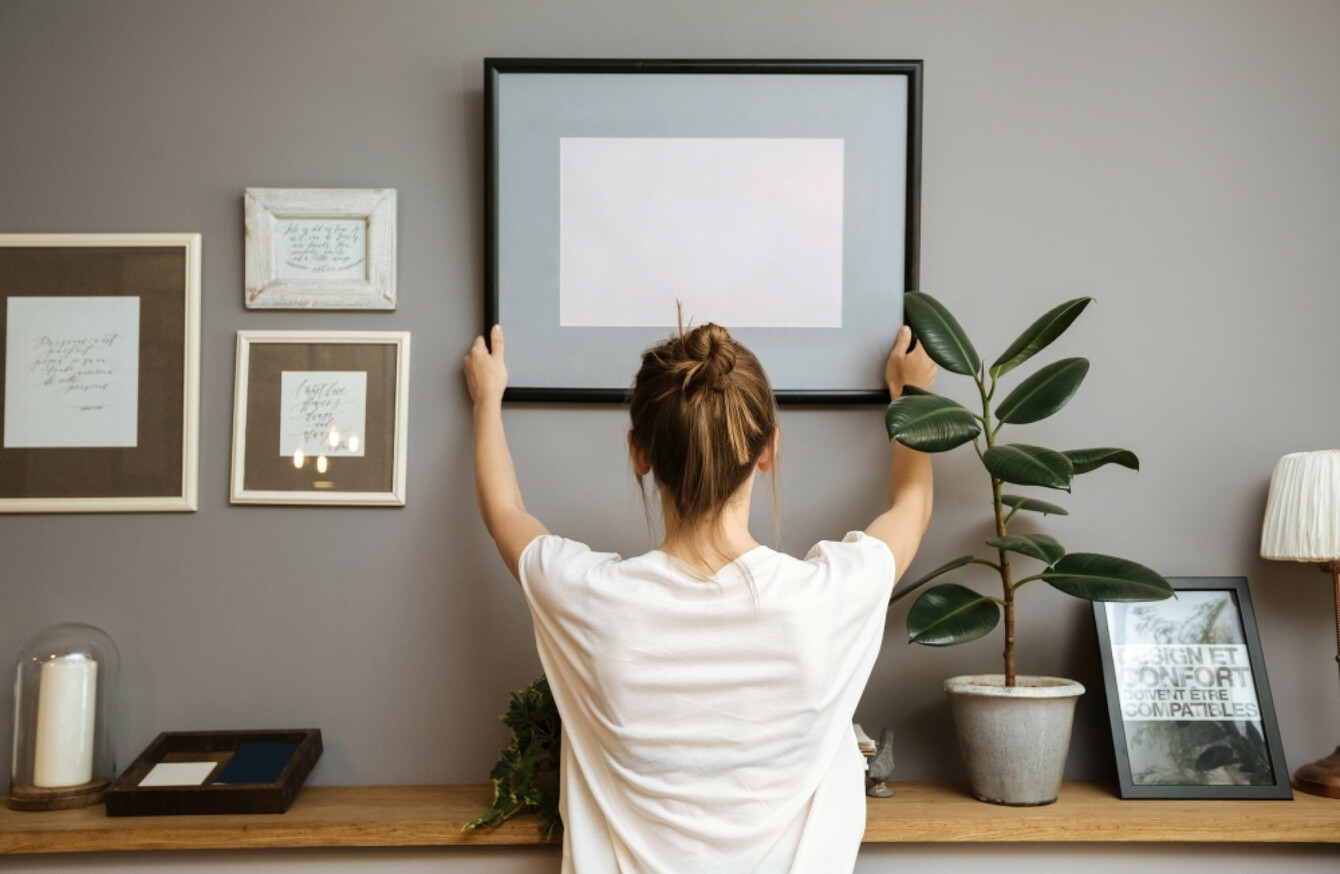 Image: Shutterstock
Image: Shutterstock
DECORATING A NEW house from scratch can be an intimidating task. With so much to do, and so much of the space a blank slate, it can be easy to make mistakes that will cost you later.
We asked interior designer and founder of InSpace Design, Emily Cunnane for the most common missteps new homeowners take, and how to easily dodge them to save you in the long run.
1. Decorating for the space you wish you had
Getting caught up in images of beautiful homes on Pinterest and Instagram can leave you decorating for a space you wish you had, rather than the space you actually have – which can cost you hugely.
"The main risk is around special planning – things like wanting to put a gorgeous armchair in a room that just doesn't have room for an armchair," says Emily. "If you can get into the house and mark out the space pieces will take up with newspaper or masking tape, that will tell you what will and won't work."
She also suggests some tough conversations with yourself. "Sit down and have a really honest conversation with yourself about how you'll actually use the space. You might see a dining room you love, with gorgeous features that would be lovely for dinner parties – but if you have a small house, how many times will you actually have people over for dinner? Do you really need to invest in that room, or will you really use it?
"It might be boring but sitting down to mind-map how you'll use the spaces in your home – how you spend your day and how much time you spend in them – is a good way of figuring out what you actually need."
2. Getting caught up in cosmetics… and forgetting function
You might think décor is all about how the space looks and picking beautiful pieces, but your home needs to be a functional space at the end of the day.
"The big difference between getting a designer or architect to work on a space versus yourself," says Emily, "is that often people are transfixed by gorgeous magazines and they want their homes to look like those – but they're not really considering practicality."
You need to find a compromise, she says. "An example is with kitchens at the moment is that it's really trendy to have just base units and open shelves up high, which looks gorgeous, but in real life if you're a messy person, and you don't keep all your nuts and seeds in lovely jars, then it probably isn't going to work for you or look great.
"A compromise for that would be to have some closed wall cabinets to put your messier things in and then mix in some open shelving for your nicer bits. It's about being honest with yourself about how you really are day to day."
3. Taking paint too seriously
Paint shades go in and out of trend pretty quickly. Emily suggests picking paints to suit the space first and foremost, but ultimately not getting too bogged down in it.
"A big mistake would be just jumping in and painting everywhere lots of different colours without considering how one room flows into another, and without having lived in the space," she says. "Light obviously has a big bearing on the success of a room, and you may not necessarily understand how the light moves around the house until you've been in there."
However, she adds, it is only paint. "If you do realise you've made a mistake later on, you can paint over it. At the start, it doesn't matter too much if you're going for high quality paint or more affordable brands. I think the success of painting is more in the preparation, so even though it's tedious – the masking tape, the sanding and the priming will all decide the success of the job in the end."
4. Confusing 'high quality' with 'high price'
"What makes pieces good isn't necessarily the price, it's the materials, and whether they're constructed well," says Emily. "Sometimes people think if you're investing in key pieces, whether it's your flooring or your kitchen or your couch, that it means the have to be expensive, but it doesn't. It just means they're made out of quality materials that are going to last.
"Future-proofing your choices, so you don't have to replace them next year again, just means buying items that you've checked are good quality, and that are in a style that you love, not necessarily the most on-trend style. Other things like soft furnishings and paint can be changed much more easily, so introduce trendy or seasonal updates through these."
5. Not giving the kitchen its due
While the general shape of your kitchen largely depends on the room you have, you can choose how you lay out your appliances and fittings within that in a way that makes practical sense.
"Think about how you're going to use the space, so layout is the most important thing when it comes to the kitchen. Figure out the triangle rule of your sink, your fridge and your cooker, having them all in a workable distance so you don't have to keep running across the kitchen.
"If storage is an issue, try to use every inch you have, so make sure you bring all your units right up to the ceiling and have more long term storage up around the top. When you're thinking about the finish on the kitchen, think about who's using it most often – if you have kids, maybe a glossy or shiny finish won't work if you're going to be driven mad by finger prints all over it," says Emily.
She also suggests getting a site survey from a professional, even if you're not sure you want their full services. "Often kitchen companies will do a site survey for you. Sometimes you have to pay, but it just means the space has been professionally measured. They'll know how to make the most of the space if you're at all unsure about it, even if you end up going with a different supplier."
6. Relying on just the 'big light'
Lighting can truly make or break an interior – but people in Ireland often stick with just the 'big light' in a room. This is almost an interiors crime, in Emily's book anyway.
"Make sure you have lighting with multi-functions around the room, different layers of lighting," she says. "Take a kitchen: you should have task lighting, for example LEDs under your cabinets so you don't have shadow when you're working. If you have lights in the ceiling, sometimes track lighting is a good option if you want to direct the light in a particular way. And then you have a third layer which is more atmospheric or accent lighting, for example over your island or dining table."
This gives you options to use the space in different ways. "It means when you're done cooking and working, you can turn off your functional lighting and turn on your more ambient light. It kind of turns your kitchen into a dining room, which is why having those different functions is very important," she says.
7. Leaving the walls barren
Most people's budgets will only allow them decorate bit by bit – updating rooms or buying additional pieces, pay-cheque by pay-cheque. It can leave the space feeling a bit barren, with accessories taking a back seat to practical finishings like flooring and window treatments.
The quickest way to remedy that bare feeling on a budget is with affordable art and space-filling plants. "The one thing to do is to get stuff up on your walls," says Emily. "Art is a big thing. You can get so many amazing prints today for very little, and you can really transform a space with art. Nothing is going to make it feel more homely than that, and nothing makes a house more unlived in than bare walls."
If prints aren't your thing, there are plenty of other options. "Things like mirrors are great as well, particularly if the space is small, because they're such an easy way to bounce the light around and make the room feel bigger," she says. "And they can be very inexpensive."