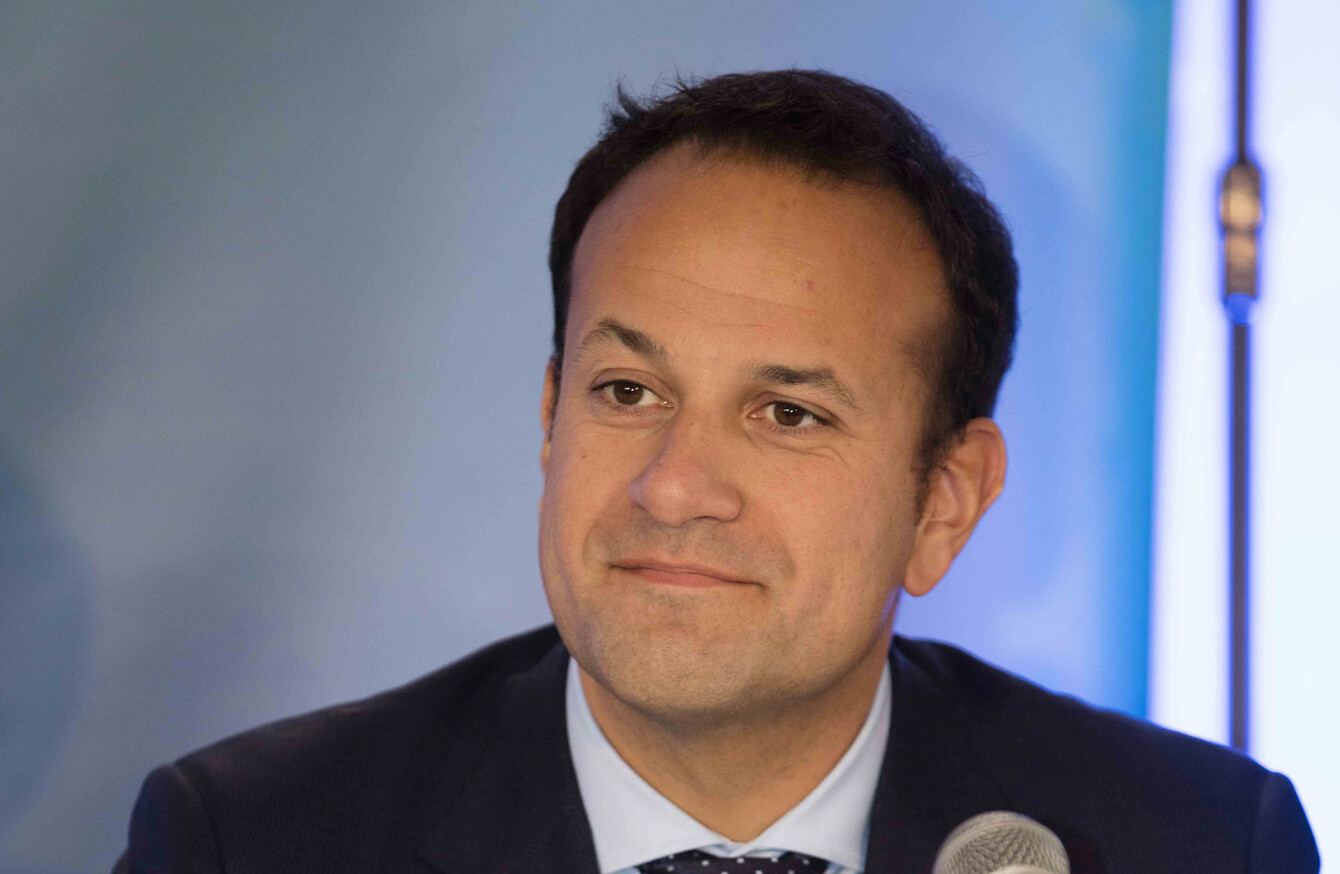 Taoiseach Leo Varadkar at the Fine Gael think-in in Clonmel yesterday.
Image: Eamonn Farrell
Taoiseach Leo Varadkar at the Fine Gael think-in in Clonmel yesterday.
Image: Eamonn Farrell
TAOISEACH LEO VARADKAR has said the government are going to tackle the issue of affordable housing, stating that too many people in employment can't get on the property ladder.
"I am someone who was able to buy an apartment when I was in my twenties. It was the norm back then for people in their twenties to buy their first house or apartment. House prices were actually higher than they were now, but huge numbers of people in their twenties and thirties can't get a home either because they can't get a mortgage or it doesn't exist," Varadkar told TheJournal.ie, adding:
"One thing I am very conscious of and is something that came up at this meeting [the Fine Gael think-in] was that we need to be aware of the many people who aren't on a housing list, but who are renting or living with their parents, who would also like to be able to buy a home.
So a big part of what we will have to do as a government is to focus on affordability to ensure that people in their twenties and thirties who are working and who are now renting or living with their parents, actually have a chance to buy a home, that is going to be a big part of what we do.
Affordable housing scheme
Fianna Fáil spokesperson on Housing, Planning and Local Government, Barry Cowen has said that the government must take real action on its commitment to launch a new affordable housing initiative.
He said there is an explicit commitment in the confidence and supply arrangement for the establishment of an affordable housing scheme and argued that the National Asset Management Agency (Nama) should be used for this explicit purpose of helping increase supply and open up home ownership to working families currently squeezed out of the market.
Varadkar told his party colleagues at this week's Fine Gael think-in in Tipperary that Nama could be repurposed as a property developer. However, Cowen said the announcement lacked detail.
The Taoiseach said the idea has been under consideration for a number of months
"We hope to make a decision on it in a few weeks, it will obviously require a government decision. But if you think about it, Nama will more or less complete its remit in the next couple of months and pay off the remainder of the senior debt.
"They will done what they are set up to do and at the same time they are a body with money and experience in finance and development, they have already been doing that for developers who owe money to Nama. They also have some land they would be entitled to and there are people working there with a lot of experience in finance and building. It does seem to be a very logical idea," said the Taoiseach.
"The government must make up its mind and outline the plan they have for Nama," said Cowen, adding:
Nama can and should be used to launch affordable housings schemes in Dublin and other urban areas where supply is weakest and where prices are highest.
This will help ensure that working families are not priced out of the market and have a chance to own their own home. This was originally outlined in our manifesto and would be financed by a new national home building bond, on an off-balance sheet basis, and through funds from the Strategic Investment Fund and the credit union movement.
Cowen said using Nama and accessing off-balance sheet finance makes sense to help deliver the housing units.
#Open journalism No news is bad news Support The Journal

Your contributions will help us continue to deliver the stories that are important to you

Support us now
"I look forward to engaging with Minister for Housing, Eoghan Murphy in its design," he said.
Speaking about the need for more social housing and objections to it, the Taoiseach said people need to take a positive outlook to social housing.
There is a very significant ramping up in terms of the build of council builds and council apartments or social housing if you prefer that term. I think as is always the case with any development, whether it's social housing or not, you will always have people living next door opposing it for different reasons.
I can understand why people do that, and it can often be on planning grounds, not necessarily the fact they don't want a particular type of person or a particular type of house living next to them.
Objections to social housing
Varadkar said he has told local authorities that they need to start approving social housing projects.
We are facing a major housing shortage. It is not just an issue of social housing. There are a huge numbers of people who would like to buy their home and can't at the moment.
I am very much asking councillors from my party and councillors around the country to take a positive view towards Part 8 (the provision in which councillors vote for and approve social housing schemes in their area) and also a positive view towards development and also higher densities and higher rise buildings in our cities.
Maybe people might oppose them in the years gone by but given the need to build housing, and quickly, we need to have a more positive view of all types of development.