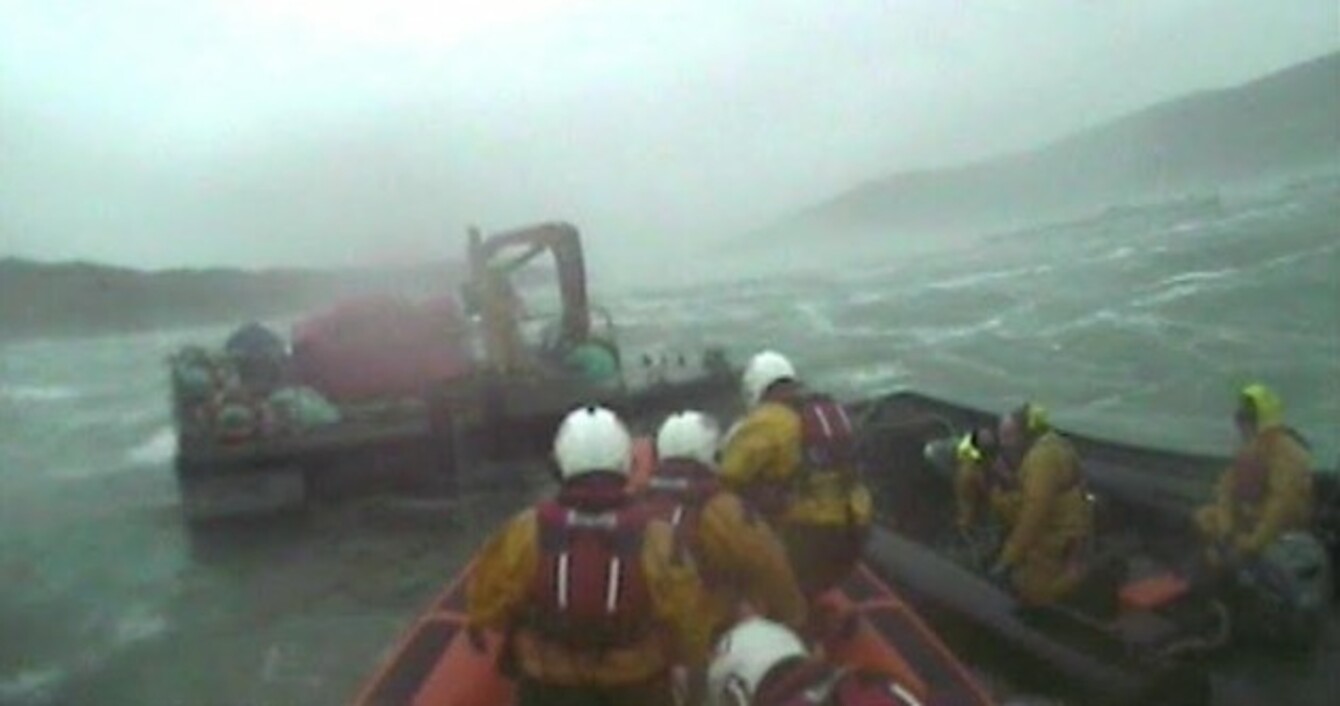 Image: RNLI
Image: RNLI
AS THE STORMY weather rages around the country, Ireland's rescue groups like the RNLI and Coast Guard are on hand to help those in difficulty.
Already today, the RNLI reports that it helped to rescue four fish farmers from "extreme" conditions" in Galway.
Saul Joyce, Clifden RNLI deputy launching authority, described this incident as a "challenging call out given the gusty weather conditions".

(Video: TheJournal.ie/RNLI/YouTube)
The RNLI said that the four casualties are experienced fish farmers who were working when the stormy conditions took over. The men "made the right decision to call for help", he said.
The crew used their skill and training to good effect and we are delighted to have brought all four safely back to shore.
The RNLI's volunteer lifeboat crew was asked to launch their inshore Atlantic 85 lifeboat at 1.44pm today after a request by Malin Head Coast Guard to go to the assistance of the fish farmers, who were stranded at the mouth of Clifden Bay.
Due to the weather conditions around them deteriorating, the men working in the bay made the call for help.
As well as RNLI, the Irish Coast Guard helicopter Rescue 118 from Sligo was also tasked to the scene.
Due to the adverse weather conditions, the lifeboat – helmed by Bernard Whelan and crew members Kenneth Flaherty, Robert King and Thomas Davis – launched from the calm side of the beach in the shelter of the shore, and proceeded westward out to Clifden Bay.
The crew observed three of the fish farmers on a 16ft boat which was tied to a fish cage.
They then transferred the three men from the vessel onto the lifeboat, before taking the fourth fish farmer off the large cage.
The lifeboat then returned the four men safely to shore.