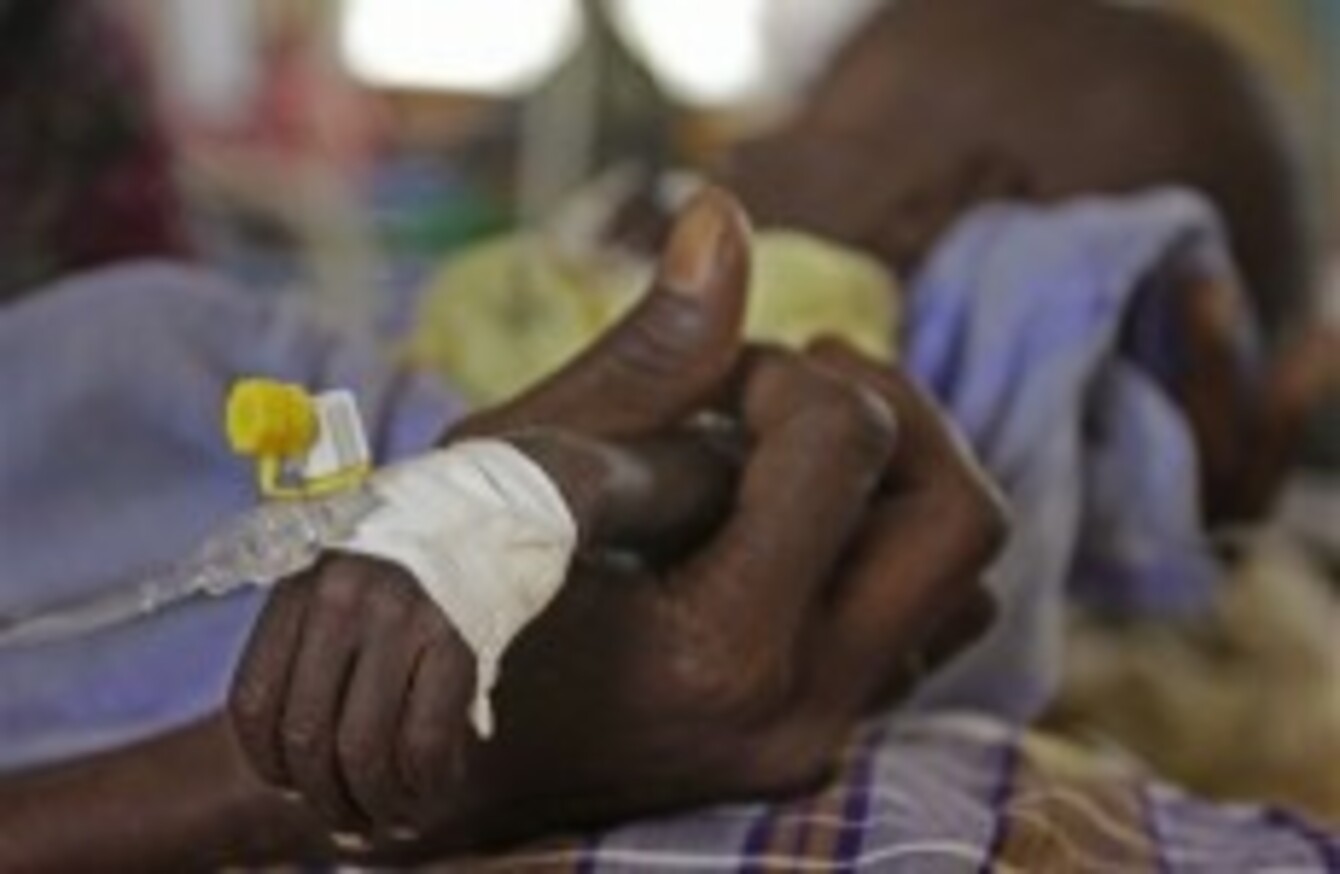 The arm of Mihag Gedi Farah, a seven-month-old child with a weight of 3.4kg, is held by his mother.
Image: AP Photo/Schalk van Zuydam
The arm of Mihag Gedi Farah, a seven-month-old child with a weight of 3.4kg, is held by his mother.
Image: AP Photo/Schalk van Zuydam
THE UNITED NATIONS will airlift emergency rations this week to parts of drought-ravaged Somalia that militants banned it from more than two years ago — a crisis intervention to keep hungry refugees from dying along what an official calls the "roads of death."
The fist consignment of Irish aid is due to arrive in Mogadishu, the capital of the famine-stricken country tomorrow, RTÉ reports. The fist airlift will include 38 tonnes of emergency supplies, worth over €250,000.
Officials have warned that 800,000 children could die across the Horn of Africa, and aid workers are rushing to bring help to dangerous and previously unreached regions of drought-ravaged Somalia.
The United Nations estimates that more 11 million people in East Africa are affected by the drought, with 3.7 million in Somalia among the worst-hit because of the ongoing civil war in the country.
Somalia's prolonged drought devolved into famine in part because neither the Somali government nor many aid agencies can fully operate in areas controlled by al-Qaida-linked militants, and the UN is set to declare all of southern Somalia a famine zone as of 1 August.
Aid organizations including the UN World Food Program have not been able to access areas under the control of the al-Shabab militants, who have killed humanitarian workers and banned the WFP.
The UN has said it will airlift emergency rations later this week in an effort to try and reach at least 175,000 of the 2.2 million Somalis who have not been helped yet.
The new feeding efforts in the four districts of southern Somalia near the border with Kenya and Ethiopia could begin by Thursday, slowing the flow of tens of thousands of people who have fled their homes in hope of reaching aid.
But the WFP hasn't operated there for more than two years, and must find and rehire former employees to help with distribution. Transportation is also a substantial obstacle, as land mines have severed key roads and a landing strip has fallen into disrepair.
Donations are also desperately needed to sustain the aid effort in the Horn of Africa: The UN wants to gather $1.6 billion in the next 12 months, with $300 million of that coming in the next three months.
On Wednesday, the UN Food and Agriculture Organization said a coordination conference is due to be held in the Kenyan capital.
Additional reporting by the AP