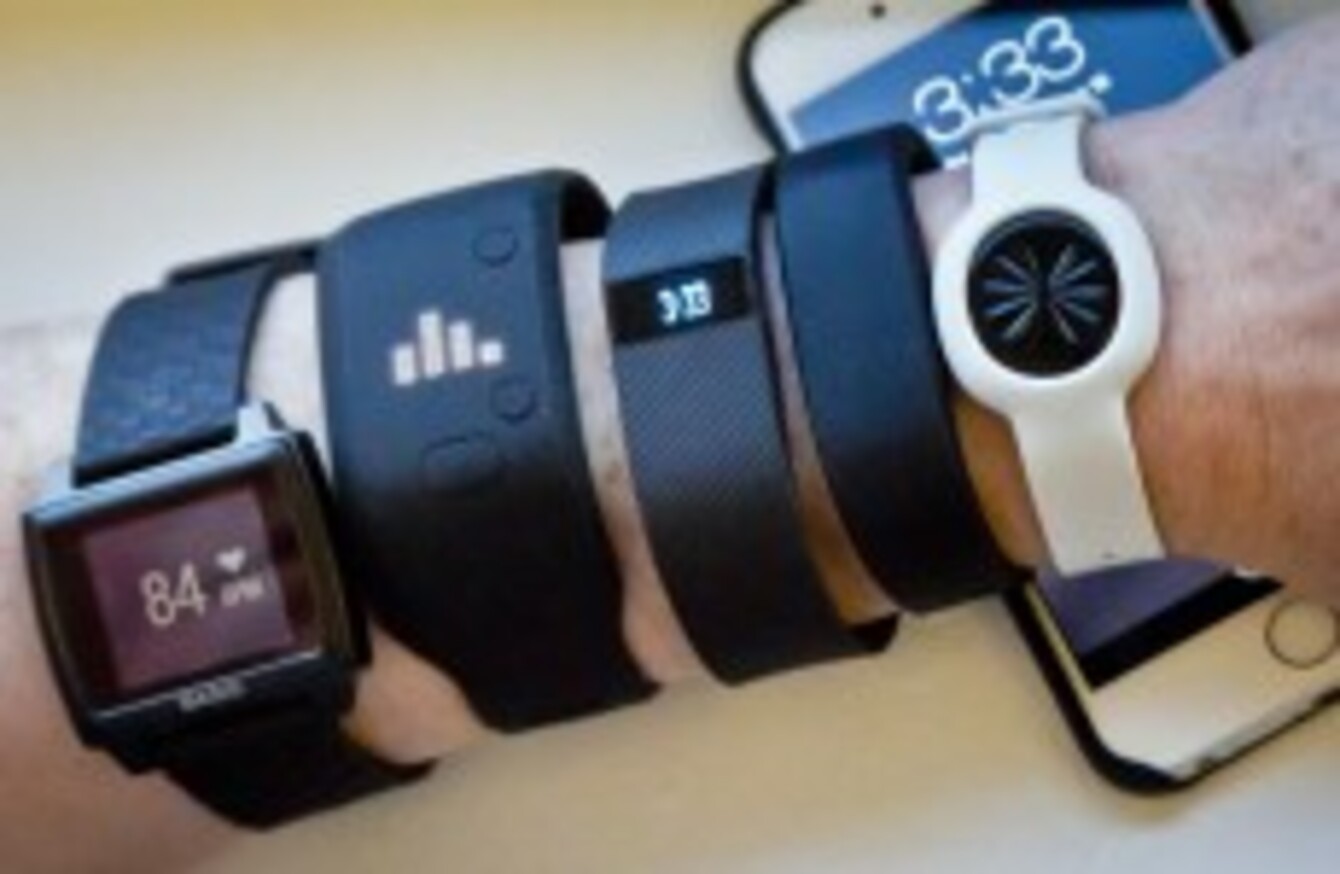 There are numerous fitness trackers in the market from Basis, Adidas, Fitbit, Sony, and Jawbone among others, but how useful are they?
Image: AP Photo/Bebeto Matthews
There are numerous fitness trackers in the market from Basis, Adidas, Fitbit, Sony, and Jawbone among others, but how useful are they?
Image: AP Photo/Bebeto Matthews
WE LIKE SEEING results. No matter what you do, you want to know whether you're making progress or not, and if you can't see it, that can have a demotivating effect on you.
With the warmer months now approaching, many will see this as a prime opportunity to start exercising more, whether it's for themselves or to prepare for a race or another activity, but may need the extra motivation or know what progress they're making.
That's the area fitness trackers have been trying to fill. They've been around a while, but with smartwatches like the Apple Watch being promoted as a better way to get you fitter and healthier, the number of people who can track their activity this way is going to rise.
The idea is good in theory – deeper insights into our activity level may encourage us to prioritise fitness more – and anything that encourages you to become more active will always be welcome, but how much of a help are they?
The answer is it depends on the type of activity you engage in and how intensive it is. If you're unfit or rarely exercise, it can be a good first step – both figuratively and literally – but it depends on what you want to get out of it.
For Etain Wilson, from Galway, using a Fitbit has helped her increase her activity levels. While she used to run, she had to stop after hurting her leg. A Fitbit helped motivate her to do more like walking her dogs, or travelling to the post office or school and back again.
"It's more for the average person who doesn't have much activity in their life and want to increase it," says Wilson. "Before, I had no idea how much I was walking, I didn't have any idea how long the distance was. Now I know."
It keeps an eye on it [your progress], I'm trying to get back into running again and I go for runs once or twice a week, [but] it would certainly motivate me to take the dogs for a walk in the evening if I hadn't done any walking earlier.
Injuries aside, the other benefit is for those who might not want to go to the gym, or don't have the time for it. For Niamh Ní Chonchubhair, it was a mixture of both.
Both a bad experience with the gym and erratic work hours (she works in theatre and event management) meant it was difficult to join a class. Using one had a positive impact on her and the tracking and social features (you can compete against friends and compare workouts) helped significantly.
"[They're for] people who aren't sporty but are aware, busy people who had a bad breakup with the gym like I had, but are interested in being more active and healthy," says Ní Chonchubhair. "It does encourage you…it's almost like a mini-cheerleading device when you're doing well."
I'm one of those people who joined a gym once and would never do it again as it was a waste of money, but I find this is something I can incorporate into my life, it just keeps pushing me on… a few weeks on, I noticed the difference.
But while they're a hit with the average person, what about those who work in the fitness industry?
For Karl O'Sullivan, a personal fitness trainer based in Ranelagh, they have benefits for starting off, but if you're serious about getting fitter, then their benefit is going to be limited at best.
"It's more aimed towards people who are sedentary, those who wouldn't be fit," says O'Sullivan. "For the fitter people, it's not really going to help them that much… [as] they're not going to keep track of their spin classes or their weight training. They're still burning calories, but it's not really picking that up as most of them count steps.
I wouldn't really recommend one per se. I think they're a little bit of a gimmick to be honest and if I was advising someone to increase their fitness, I would just say 'go for another walk with the dog, or take a longer walk,' I wouldn't necessarily say for them to track that.
It's a similar opinion shared by Johann Issartel, a lecturer in Sports Science in DCU. He uses them for research purposes instead of personal use, and while he would recommend getting one to help bring a person from unfit to being active, he also feels their usefulness diminishes the fitter you get.
Anything that can attract a young person to do more has to be welcome… [but] to move on, you need advice from professionals and this device can't provide that so that's the limitation. After one year of long use, forget about them.
Overall, the general consensus is this: if you're inactive and you need a way to get started, having one can help you take that first step, but the benefits are inversely proportional to how active you are and the type of exercise you carry out.
So by all means get one, but keep your expectations in line with what it can actually do.