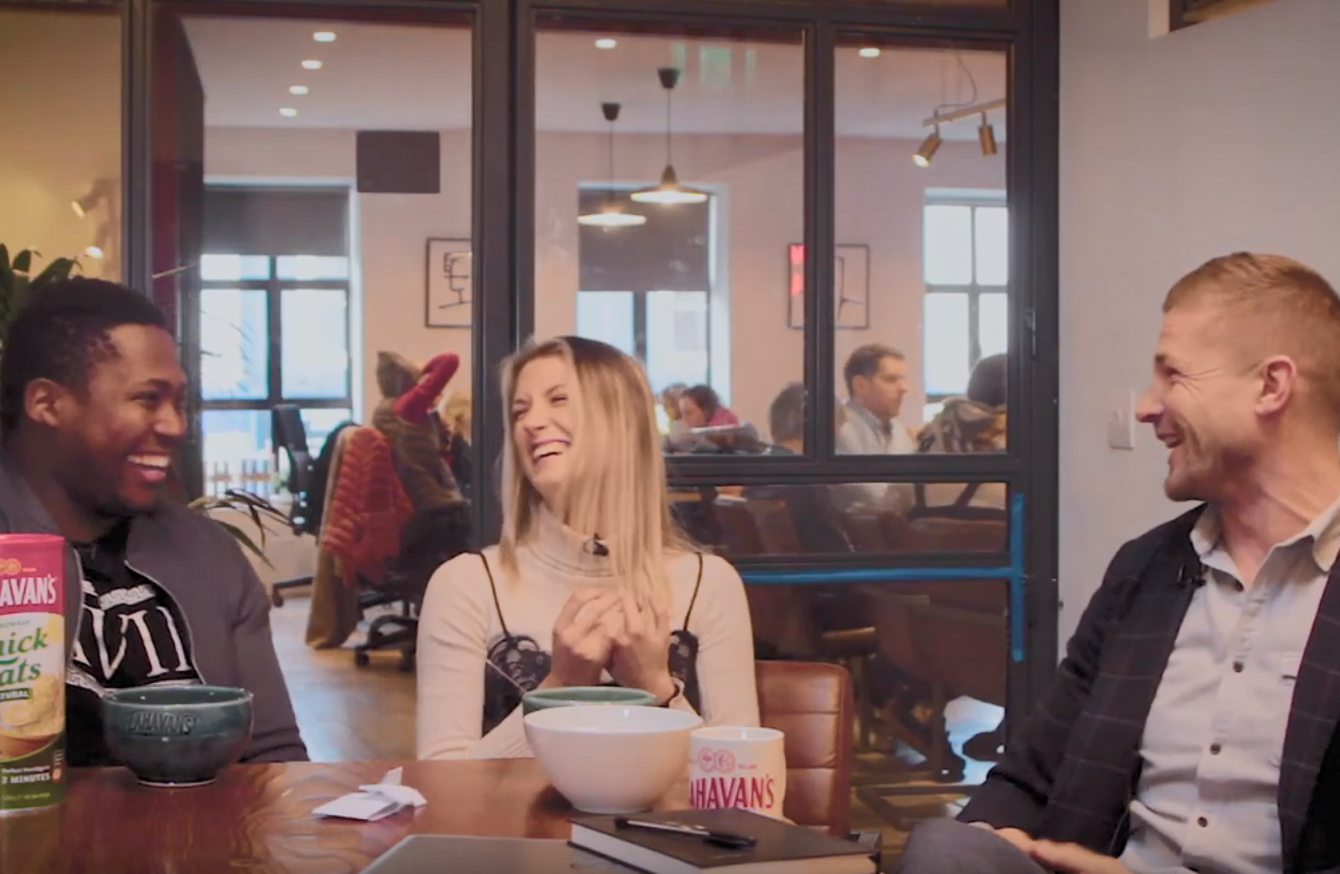 Image: TheJournal.ie
Image: TheJournal.ie
"WE SIT IN an office for eight hours a day and I think sometimes people don't get to know each other as well as they should."
Does this statement ring true to you, or do you regard your colleagues as close friends, and take every chance you get to have a chat together – whether that's over breakfast or on the way out the door? 
As part of Flahavan's Office Oats campaign, we went to three Irish workplaces to find out just how well different sets of colleagues know each other. We visited a hair salon, a building site and an office and, despite having wildly different jobs, each workplace had one thing in common: the employees understood the importance of getting to know the people they work with. 
Some of the questions we asked brought up touchy subjects – who's always late? What's your most annoying habit at work? – while others (what's the nicest thing a colleague has done for you?) left everyone smiling. 
To see exactly what each set of colleagues had to say about each other – including an awkward moment or two – watch the video below.
Source: Journal Media Studio/YouTube
While we were there, we asked each group of co-workers to share their tips for getting to know your colleagues better. Here's their advice…
1. Take a break from your phone
Many of us are guilty of spending too much time on our phone, but putting it away at work will not only increase your productivity, but also help you get to know the people you work with.
"You spend a lot of your life with the people you work with, it's important to know the person who sits in the chair beside you," says Will Matthews, who works at event management company Event Fuel. 
"If you're having breakfast or lunch with your co-workers, put your phone down. It's so easy to go on Instagram or whatever, but it's nice for everyone to put their phone down and talk."
2. Make the effort to spend time together as a team
It's easy to retreat into your own shell at break or lunchtime, especially if you've had a hectic day, but this is the perfect opportunity to chat to and have a laugh with a co-worker. For builders Michael Spain, Derek Tansey and James Smith, taking breaks together is a welcome respite from work.
"We have our 10 o'clock break together, and lunch," says Derek. "Our colleagues are all a good bunch of lads. We come in every day, there's no stress, there's no panic. We get stuck in and we all have a good laugh."
3. Try to start and end each day on a positive note
Some days or weeks at work can be harder than others and, although you might want to run out the door as soon as the clock turns 5:30pm, it's worth staying back to end the day on a positive note. 
Nikita Purdy, Dawn Foran and Philip McDonnagh, who work at Crow Street Collective, stand by this. "At the end of a bad day, we all have a big group hug in the colour press where people can't see us," says Dawn. 
And the same applies before a busy day: "We have breakfast together on Saturday mornings, we have a little pep talk and then we're out the door to clients."
Flahavan's Quick Oats porridge range comes in a selection of delicious flavours, and is available in single serve pots, sachets and 500g drum. It's easy to prepare (just two minutes in the microwave) and packed with wholesome, oaty goodness. Get to know your colleagues better with Flahavan's #OfficeOats. Enter the #OfficeOats competition here to win a year's supply of  Flahavan's Quick Oats for your office and €500 to spend with your co-workers!