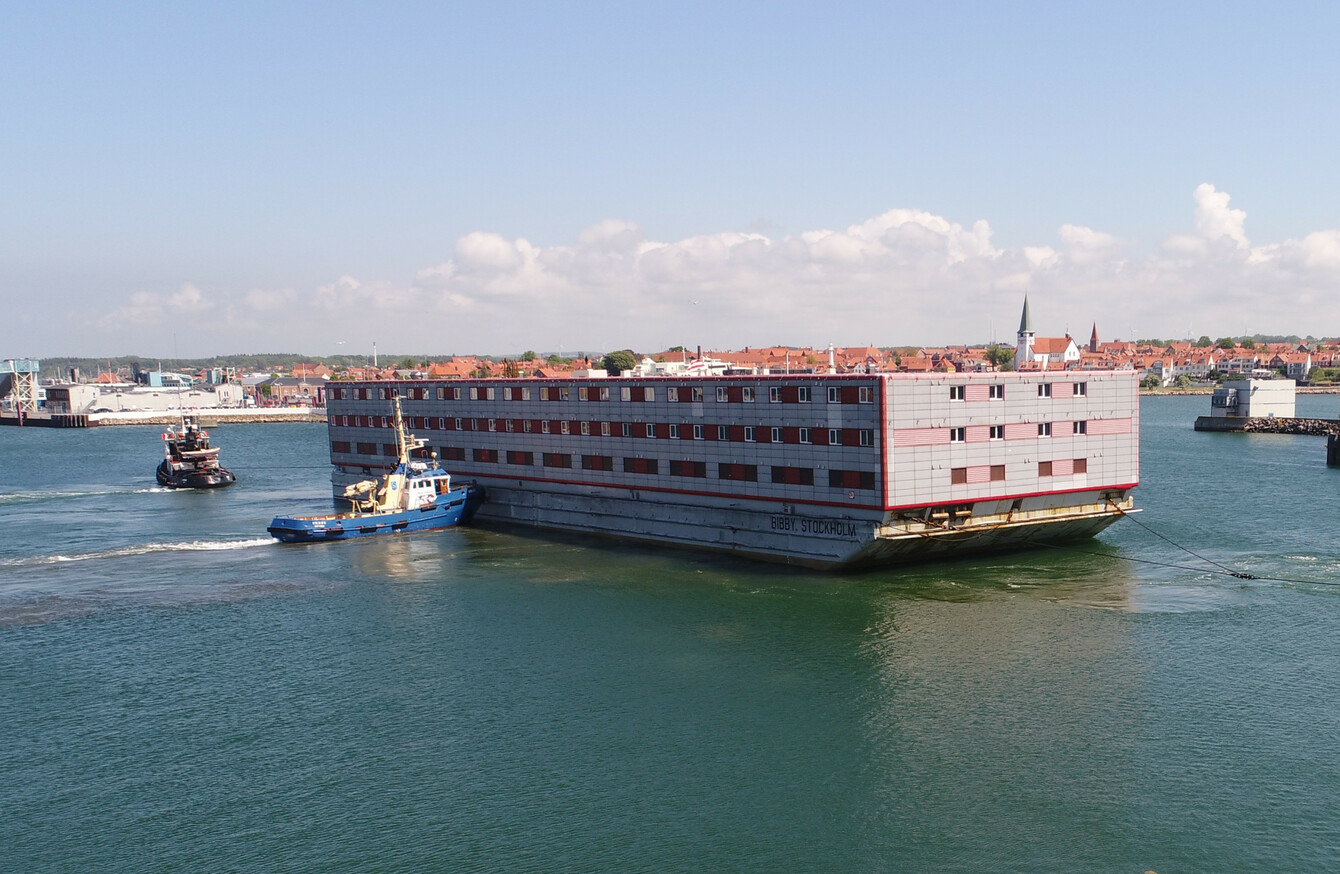 The Bibby Stockholm is one of two barges proposed for use as student accommodation in Galway.
Image: Bibby Maritime
The Bibby Stockholm is one of two barges proposed for use as student accommodation in Galway.
Image: Bibby Maritime
AS IRELAND'S ACCOMMODATION shortage rages on, the national students' union has reacted with cautious optimism to the innovative proposal of one property management company: floating accommodation on two barges in Galway.
With rents around Ireland jumping to record levels and with the number of rental properties at its lowest in recorded history, students have long been calling out for solutions to what has been referred to as a student accommodation crisis. Now Galway-based Winters Property Management, Ireland's largest student accommodation manager, is exploring the use of high-end barges to house up to 400 students.
Working with NUI Galway, the company is in contact with Bibby Maritime, a Stockholm-based company that supplies floating accommodation. The two multi-level barges, the Bibby Stockholm and the Bibby Bergen, contain 402 ensuite bedrooms between them as well as recreation rooms and laundry facilities.
While it has been informed that Galway Harbour is not a suitable location due to the number of large vessels, Winters Property Management is to enter talks with the owner of a private dock, located close to other apartments popular with students.
The Union of Students in Ireland has said it is in the early stages of researching multiple options which could see more students housed in suitable accommodation. "We welcome innovative solutions", USI President Mike Kerrigan told TheJournal.ie. "But our primary concern is the safety of students."
Enda McGuane, managing director of Winters Property Management, told TheJournal.ie that the company, which has managed purpose-built student accommodation for 18 years, believes it has a role to play in the "pastoral care" of students.
A proposal is to be brought to NUIG once the dimensions of the site, as well as the logistics of introducing electricity, water and safety measures, are examined. It is important, McGuane stated, that the site is of a "good standard, right price and a safe place", especially given its likely popularity with first-year students. Whether or not the project will require planning permission is not yet determined.
Properties in Galway for students currently managed by Winters Property Management currently cost between €4,000 and €6,000 for the academic year. A single en suite room in Gort na Coiribe student village costs €5,400 and €5,7000 in Dunaras Village. Both properties are close to NUIG.
Rising prices

This month's Daft.ie report revealed that rents had jumped to a record high for the fifth quarter in a row between April and June this year. In Galway, rents are 10% higher than they were this time last year, according to the report.
In a joint statement as part of the report, the President of Trinity College Dublin's students' union Kevin Keane and President of UCD's students' union Katie Ascough called the Irish market "chronically undersupplied".
"The situation is so bad that if it's to be even partially resolved before September, it requires major collective action from a range of stakeholders," they said.
The problem, according to McGuane, is getting "worse and worse". Any accommodation provided on these barges "cannot charge students an exorbitant amount".
Innovative solutions
Other countries have demonstrated innovative solutions to housing students, with cities such as Amsterdam and Berlin using shipping containers, and eco-friendly floating housing used by students in Copenhagen harbour.
Winters Property Management has been looking at best practice internationally and proposing alternative solutions at construction conferences in Ireland, according to McGuane.
In the meantime, students' unions have introduced digs campaigns and highlighted rent-a-room schemes in an effort to house students, as well as lobbying the government.
"Students will be starting in three or four weeks with no accommodation," said Kerrigan, "and that's not good enough. But it's going to get worse before it gets better."
Read: Gsoc probe launched after man shot and injured in Dublin overnight