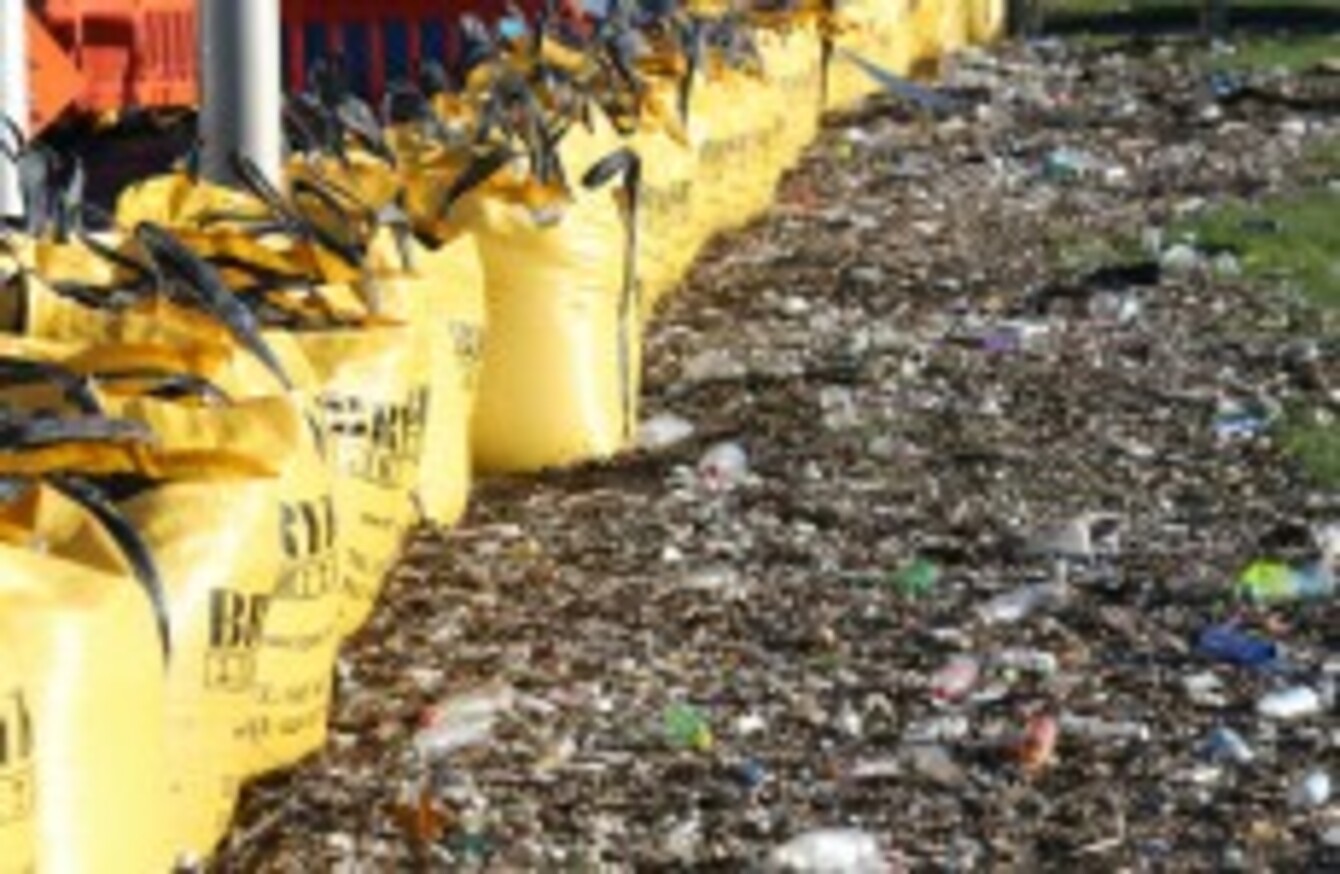 Flood defences in Clontarf
Image: Sasko Lazarov/Photocall Ireland
Flood defences in Clontarf
Image: Sasko Lazarov/Photocall Ireland
THERE WILL BE no let up in the bad weather tonight, and the Road Safety Authority (RSA) wants to ensure that everyone keeps their eye on road safety.
Local authorities in the areas affected by the floods over the past few days are working on repairs and on ensuring that flood protection measures are in place.
Minister Brian Hayes has admitted that the figure of €10 million that was set aside for immediate humanitarian relief isn't enough to address the problem. Councils have been encouraged to contact the government today regarding additional funds for repairing flood damage.
According to Met Éireann, it will be very wet and very windy this evening, with heavy rain and strong to gale-force southeast winds. There will be severe gusts of rain and further flooding likely, especially in exposed coastal areas of the south and southeast.
Tonight, it will also be extremely windy, with more rain or thundery showers and again more risk of flooding.
That's all thanks to another Atlantic storm depression, which is approaching the country today.
Expect some mist or fog in some areas too.
Road safety
Pic: Mark Stedman/Photocall Ireland
The Road Safety Authority has said that road use may prove "challenging" over the next couple of days, and it is advising all road users to take extra care.
The RSA has some advice for people who might be driving over the next day or so:
It takes longer to stop a vehicle on wet roads so slow down and allow extra distance between you and the vehicle in front, four seconds at a minimum
Take special care when driving behind trucks or buses as they generate a considerable amount of spray which reduces visibility
Watch out for vulnerable road users such as pedestrians, cyclists and motorcyclists.
Use dipped headlights at all times of poor visibility – not parking/side lights and fog lights.
Be mindful of Aquaplaning on roads where 100/120kmh speeds apply
Pedestrians, cyclists and motorcyclists – be seen. Wear bright clothing with reflective armbands or a reflective belt.
Pedestrians should walk on a footpath, not in the street. Walk on the right hand side of the road, facing traffic if there are no footpaths.
Beware of objects being blown out onto the road. Watch out for falling/fallen debris on the road and vehicles veering across the road
Control of a vehicle may be affected by strong cross winds.
Allow extra space between you and vulnerable road users such as cyclists and motorcyclists
Drive with dipped headlights at all times. Monitor radio weather broadcasts while travelling
Here's the RSA's advice for driving in flooded conditions:
If the road ahead is flooded choose another route, do not attempt to drive through it. It could be deeper than you think.
After going through water, drive slowly with your foot on the brake pedal for a short distance – this helps to dry the brakes.
Always follow recommended routes and obey signs closing roads to traffic.
Watch out for washed out roads, earth slides, broken water or sewer mains, loose or downed electrical wires, and fallen or falling objects
Take extra care when crossing the road or cycling in extremely windy conditions – a sudden gust of wind could blow you into the path of an oncoming vehicle.
Clare
(View of large swell via MagicSeaweed.com)
Clare County Council has reiterated its appeal to people in flood prone locations to remain vigilant during the coming days.
Its council engineers are monitoring water levels on the River Fergus and Lower River Shannon. They say the risk of flooding will increase as a result of rainfall this evening and further rainfall up to and including the weekend.
The council and emergency services are progressing contingency arrangements, including additional pumping capacity and other flood alleviation measures at flood-prone areas along the River Shannon and River Fergus.
The council is also assessing the scale of the damage in the county, and says it is focusing on cleanup and remedial works on damaged infrastructure.
Last month, it sent a report to the Government saying that the cost of repairs will run to €23.7m,  but it is now revising this figure upwards.
#Open journalism No news is bad news Support The Journal

Your contributions will help us continue to deliver the stories that are important to you

Support us now
Limerick
Limerick saw its highest tidal surge in recent years over the last few days, but no new flooding has been reported in the city or county over the past 24 hours.
The Council, An Garda Síochána and the HSE are still on a state of alert and will be for the rest of the week and weekend.
Flooding affected approximately 200 acres of Limerick City at the weekend - around 300 houses and up to 2000 people were impacted by the high waters.
The council says it is continuing to liaise with residents and business owners affected by flooding.
Limerick City and County Council is in talks with the OPW and Central Government regarding the requirement for additional flood defences to be provided at vulnerable locations.
High tide
The predicted tide levels for the next two days at Limerick docks are:
Tuesday, 4 February: 6.6m at 9.54pm
Wednesday, 5 February: 6.6m at 10.14am and 6.3pm at 10.40pm
Council engineers are also monitoring water levels on the Lower River Shannon and on the Mulkear, Maigue and Deel Rivers.