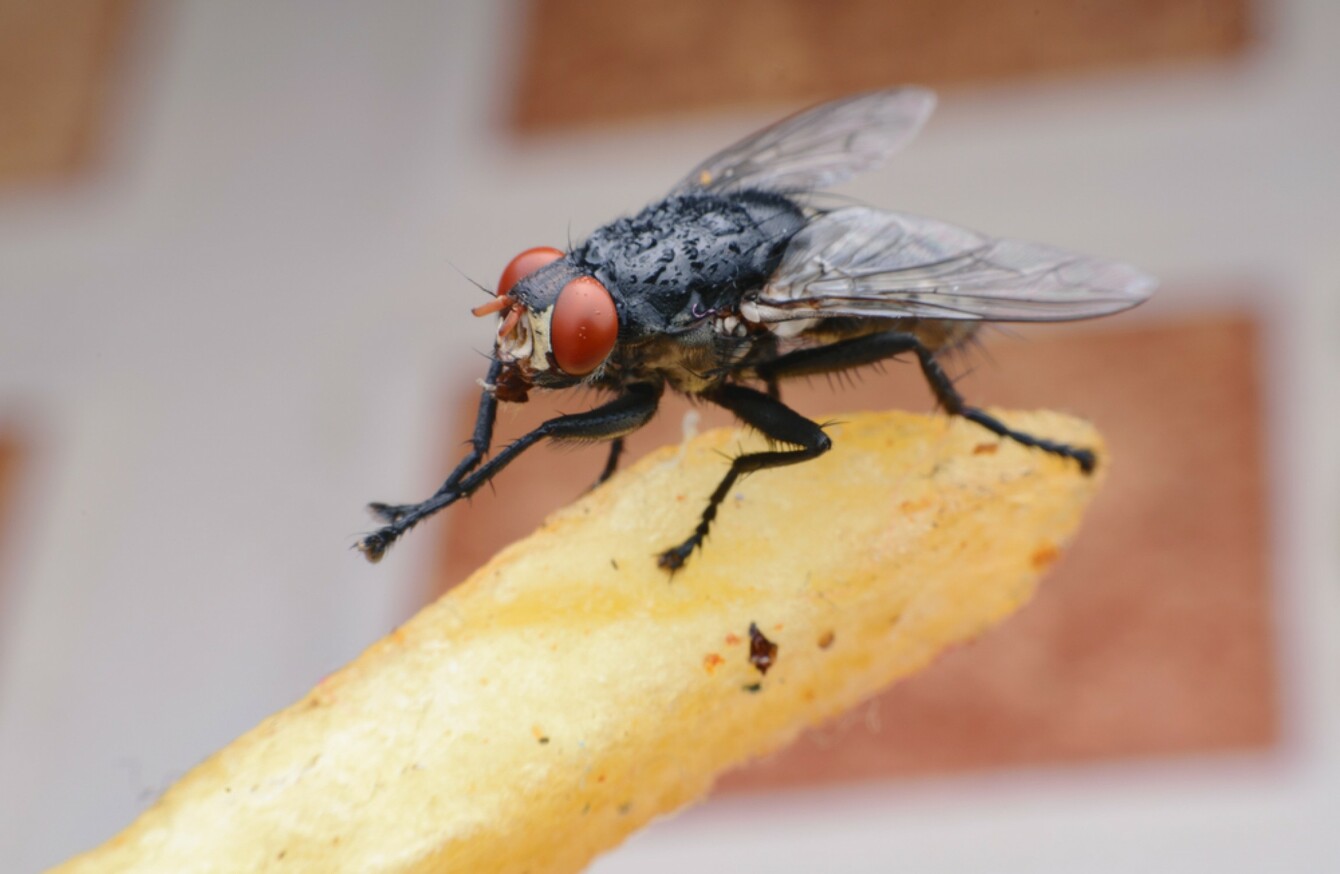 Residents at Irishtown, Sandymount and Ringsend have been 'plagued' by bluebottle flies for days.
Image: Vinit thongtue via Shutterstock
Residents at Irishtown, Sandymount and Ringsend have been 'plagued' by bluebottle flies for days.
Image: Vinit thongtue via Shutterstock
LOCAL RESIDENTS AND business owners in areas around the Poolbeg incinerator are demanding answers after being "tormented" by a fly infestation for several days.
Yesterday, the Environmental Protection Agency announced that a "low to moderate" level of fly infestation was found at the waste-burning plant, and pest controllers had been on site on three separate occasions earlier in the week.
The company that operates the Dublin Waste-to-Energy plant, Covanta, was warned to "continue fly treatment, as necessary to ensure that fly populations do not increase on site".
It is believed that the infestation may be linked to the recent termination of activities at Poolbeg, following a lime leak at the plant. The accumulation of waste waiting to be incinerated is being cited as a potential cause.
EPA has allowed Covanta to resume operations and "waste processing is anticipated to restart in the coming days", the company said.
But Dublin councillor Chris Andrews says the whole Poolbeg peninsula should be examined.
"It might be low to moderate at the incinerator, but in a person's house or business, it's different," he told TheJournal.ie, saying that they're visible as you walk down the street.
"You're flapping at them and swiping them away, but they come back at you – it's like they're attacking."
He said that a local deli had to close for the day because the flies were so bad. There are other reports of businesses closing for the day to investigate what was causing the infestation and to take measures to deal with it.
Anthony McDonald, a local business owner and activist, sent TheJournal.ie these pictures as an example of how many flies were caught in one hour.
He says that he uses all the recommended measures to get rid of them – fly screens, windows closed, two electrical exterminators and swatting at them himself – but still potential customers walk in and walk back out.
"Business has definitely been down because of it," he says, liking it to biblical plague.
Patsy Doolan, who lives in Irishtown, says that the problem has been getting worse for the past 10 days. "You know it's not normal because everyone is talking about it, it's dreadful," she says.
She says that even sitting down for a drink "they land on you" and she said as soon as you start cooking and taking up food "you're covered in them".
You couldn't open the fridge cause you were terrified they might fly in.
"When you're walking around you can see them.
I saw a dead rat on the road and there were about 50 flies on it. Imagine if any of them [then] landed on my grandchildren?
She adds that the EPA have to go in and do something.
"Nobody wants attention about a fly infestation," she says, but "this is disgusting".
Fianna Fáil Spokesperson on Dublin John Lahart said that residents needed clarity on what was the cause of the infestation from both Covanta and the EPA.