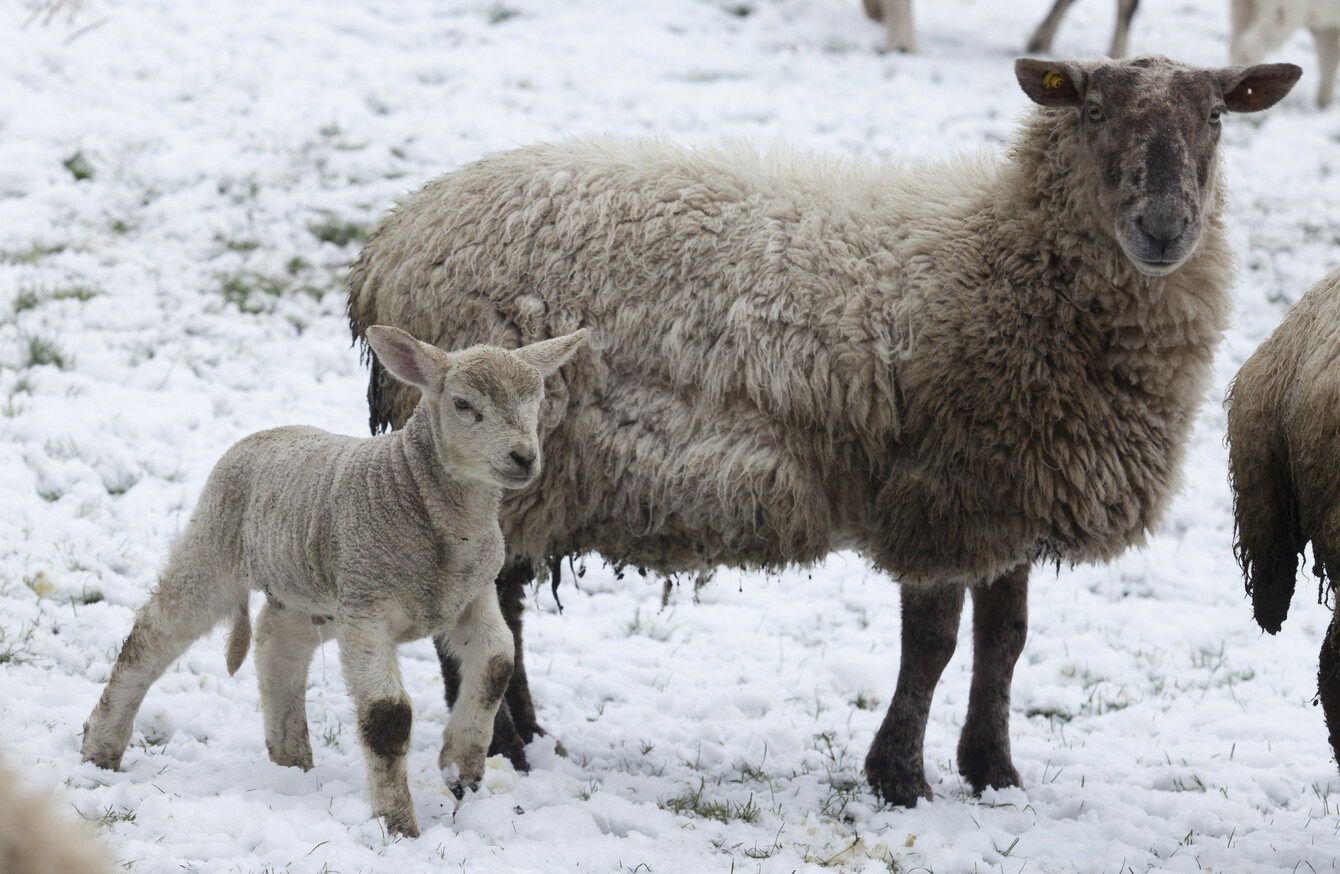 Image: Eamonn Farrell via Rolling News
Image: Eamonn Farrell via Rolling News
THERE HAS BEEN a lot of talk in recent weeks about the escalating fodder crisis and the negative impact it is having on farmers and their livestock.
For months, farmers have faced difficult farming conditions due to persistent cold and wet weather.
Farmers usually purchase enough fodder – dried hay or feed given to cattle and livestock – to last until the spring when the grass begins to grow and animals can begin to eat that instead.
However, the weather since Christmas has meant poor grass growth and a lack of fodder for animals. This means that animals have had to be kept indoors.
Farmers across the country have been calling for an emergency response to the situation since as early as November – and Minister for Agriculture Michael Creed announced yesterday that fodder will have to be imported from abroad.
So, why has the fodder crisis worsened since the winter and what has been done since then to try to resolve it?
Here's a quick recap of how we got here.
Bad summer weather
The current fodder crisis in Ireland can be tracked back to as far as last July, according to the Irish Farmers Journal, which has provided a timeline of the crisis.
The unexpectedly cold and wet summer meant grass did not grow enough to meet the needs of the animals in many parts of the country.
The heavy rainfall meant that farmers in the western half of the country, and those on heavy ground elsewhere, had to turn their focus away from growing grass to minding ground.
Some 62mm of rain hit Donegal on 22 August, which had a widespread impact to lands in the county with farmers forced to house cattle. This meant that farmers had to begin to eat into winter fodder supplies already.
A lot of farmers in the west and north-west of the country were able to secure their first cut of silage of the year, but very few were able to get a second.
Silage is fermented, high-moisture stored fodder which can be fed to cattle and sheep.
First calls of a fodder crisis
As early as last November, a number of TDs called on Minister Creed to address the deepening crisis and implement a fodder scheme to establish a fund for affected farmers.
Speaking to TheJournal.ie in November, President of the Irish Farmers' Association (IFA) Joe Healy said that the shortage was a "very serious situation".
"It's just gotten progressively worse. You don't want your animals to be hungry," he said.
In response to calls for a crisis fund, Creed said that while the Department of Agriculture and Teagasc were monitoring the situation, he did not believe that there was currently a fodder crisis in the country.
Establishment of fodder action group
In December, a survey undertaken by Teagasc on behalf of the Department of Agriculture found that over 85% of farmers in the northwest who completed feed budgets were going to be short of fodder.
On 7 December, Creed ruled out the establishment of a fodder scheme and he instead committed to the establishment of a fodder action group to assess the fodder shortage situation.
Creed said in December that there was not a national fodder crisis.
In January, the Fodder Transport Support scheme was announced to deal with the situation. This scheme provides support for transport of hay, silage and straw being transported over 100 kilometres.
Storm Emma crisis
Hopes for better weather as spring approached were diminished for farmers as Storm Emma and the Beast from the East hit the country in early March.
Fodder suppliers and contractors reported an increase in fodder demand amid fears of a delayed spring.
The IFA again called on Minister Creed to address the fodder crisis.
#Open journalism No news is bad news Support The Journal

Your contributions will help us continue to deliver the stories that are important to you

Support us now
In March, Creed said that fodder supply is "individual farmers responsibility".
The current situation
Yesterday, Minister Creed announced that fodder will have to be imported into Ireland to tackle the crisis.
Speaking after a meeting with Teagasc and industry representatives, Creed said that he has asked government officials to develop a scheme to support the import of fodder from outside Ireland.
He added that there is no simple solution to the current shortages and said that it will require a collaborative effort of all stakeholders to support affected farmers to ensure adequate feed supplies are available.
Today it was reported that over 2,500 tonnes of animal feed will arrive in Ireland to help tackle the crisis.
The fodder that arrives today for Dairygold is haylage and hay and is being sourced from the UK.
Criticism
Despite the government's latest announcement to resolve the crisis, a number of political parties hit out at the lack of efforts being made.
Yesterday, Sinn Féin MEP Matt Carthy hit out at Creed for "exacerbating the fodder shortage crisis" by failing to engage in talks early enough and failing to put in place sufficient measures to support farmers facing shortages.
Minister Creed also asked departmental officials to examine the current Fodder Transport Support measure in order to "ensure it adequately addresses all experiencing fodder shortages".
Today, Fianna Fáil spokesperson on agriculture Charlie McConalogue said that clarity needs to be provided surrounding the transport subsidy.
"There is a degree of confusion among farmers, co-ops and fodder agents as to who is eligible to avail of the subsidy, how to go about accessing it and what it entails," McConalogue said.
"Minister Creed needs to outline a clear plan to deal with this crisis and more specifically publish the details of this scheme so that co-ops and agents can get on with importing fodder."