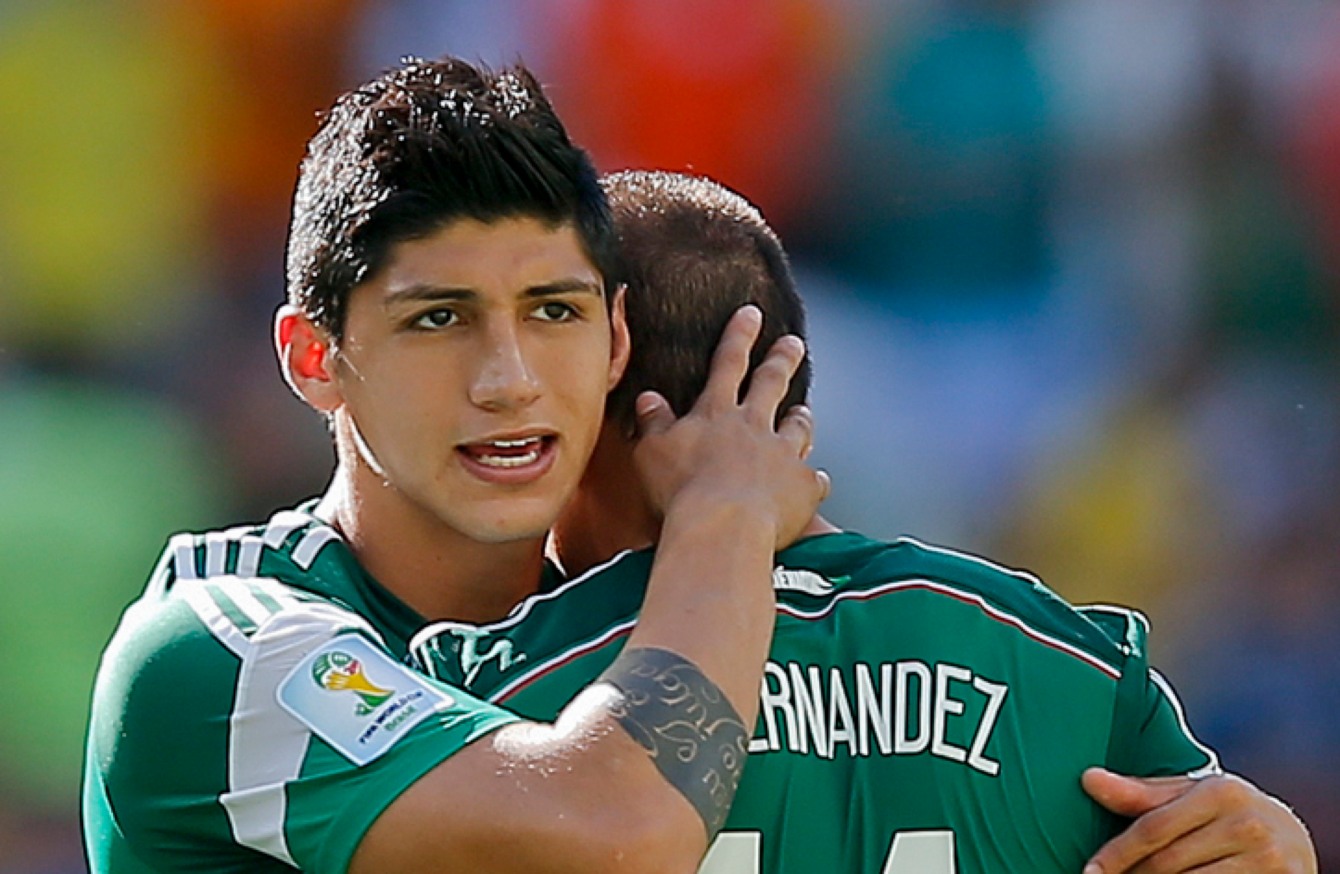 File photo of Alan Pulido
Image: Eduardo Verdugo/AP/Press Association Images
File photo of Alan Pulido
Image: Eduardo Verdugo/AP/Press Association Images
MEXICAN FOOTBALLER ALAN Pulido, a striker on Greece's Olympiakos team, has been rescued after being kidnapped in his home state of Tamaulipas.
He was found "safe and sound", according to Mexican authorities.
Pulido, a former national team forward, declared he was "very well, very well, thank God" as he appeared alongside Governor Egidio Torre Cantu at a brief news conference.
The 25-year-old player was rescued "safe and sound … shortly before midnight" on Sunday by state and federal forces, the Tamaulipas government said in a statement, without providing details about the operation.
Pulido underwent a medical exam, the statement said.
Family members had told authorities that six armed men snatched Pulido around dawn in his hometown of Ciudad Victoria, in northeastern Mexico, yesterday.
Officials had previously said military and police forces were searching for the 25-year-old in Tamaulipas, which shares a border with the United States.
It is one of Mexico's most dangerous states, where drug trafficking and kidnappings are rampant.
Certain roads are so dangerous that the federal police sometimes escort travellers in protective convoys.
Local media reported that Pulido had accompanied his girlfriend to a party in Ciudad Victoria, and that the car they were in was intercepted by a convoy of vans that blocked the road and forced him out.
The young woman was released almost immediately, but said she had no idea where Pulido had been taken.
Pulido played in the Greek Cup final on 17 May — his team lost 2-1 to AEK — before leaving for Ciudad Victoria.
He signed a four-year contract with Olympiakos last season. He has played in six matches this season, scoring four goals.
Pulido was a member of the Mexican squad at the 2014 World Cup in Brazil, though he did not see any playing time during the tournament.
Tamaulipas is home to the Gulf and Zetas drug cartels, two criminal groups that were once allies but have fought brutal turf wars in recent years.
While they have both been weakened by the captures or killings of top leaders, their members still sow fear in the population.
About 5,000 people are listed as "disappeared" in Tamaulipas, out of the total 26,000 people reported missing in Mexico last year.
But according to the non-governmental organization Families and Friends of the Disappeared in Tamaulipas, 11,000 people are unaccounted for in the state.