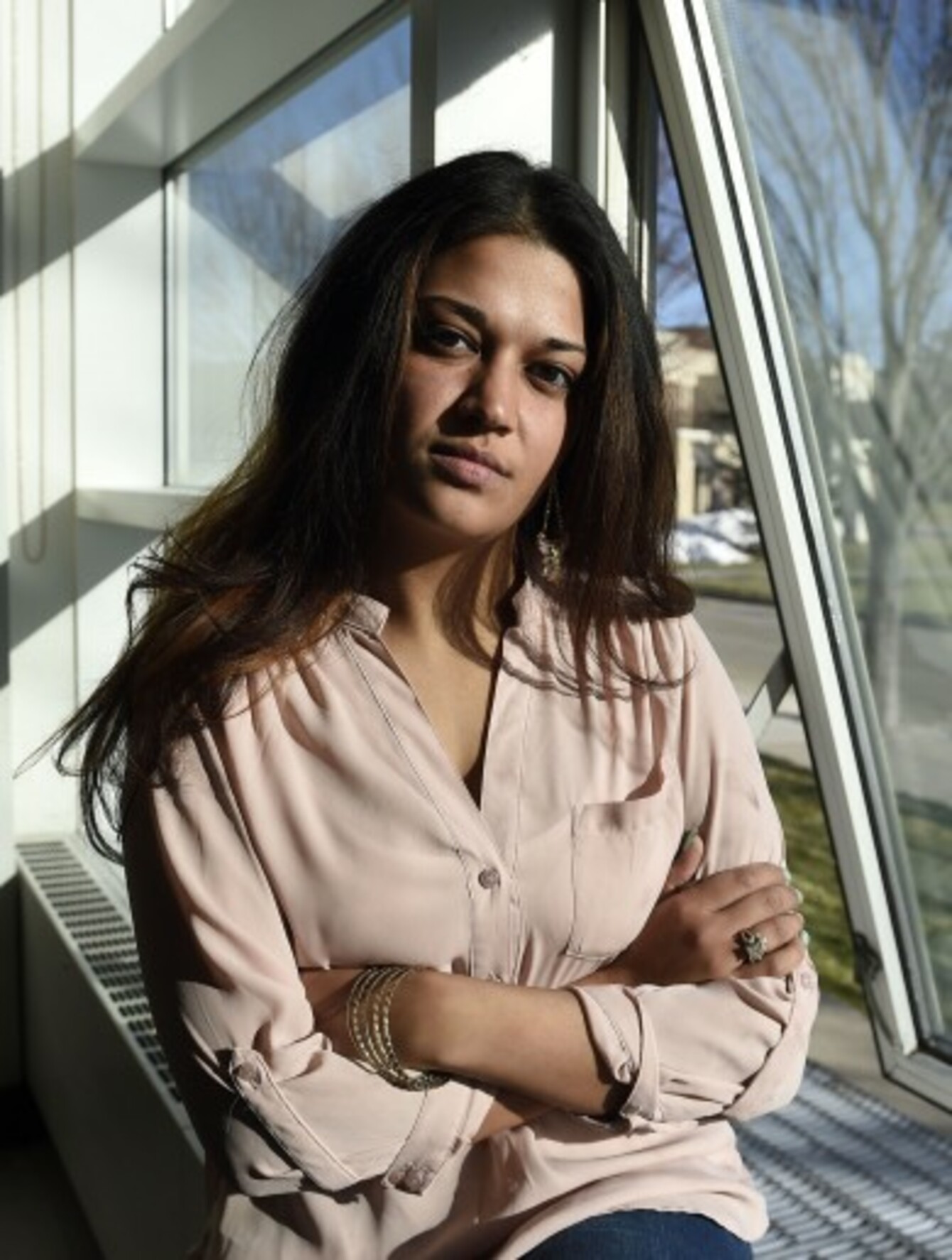 New York student Naila Amin, 26, who was forced, at the age of 15, to marry her 28-year-old cousin in Pakistan, who beat and mistreated her.
Image: AP/Press Association Images
New York student Naila Amin, 26, who was forced, at the age of 15, to marry her 28-year-old cousin in Pakistan, who beat and mistreated her.
Image: AP/Press Association Images
FORCED MARRIAGES WILL finally be outlawed in Ireland under legislative proposals approved by the Cabinet this week.
The Department of Justice has confirmed that the proposed legislation will make it an offence to force a person to marry where they do not consent to it. It will also criminalise marriage where consent is given under emotional, physical, sexual or financial duress.
The proposed offences will also cover situations where an adult or a child is removed, or lured, from Ireland to a foreign country "with the purpose of forcing [them] to enter into a marriage".
Under the Government's new domestic violence strategy, any new offence of luring a person abroad for a forced marriage "would need to be indictable".
"There is some very limited evidence indicating that forced marriage may be taking place in or from Ireland," a spokesman for the Department of Justice told TheJournal.ie.
"However it is important to note that forced marriage is by its very nature a hidden practice so lack of evidence indicating its prevalence does not mean that it does not happen.
"There have been investigations into 1-2 cases of forced marriage per year in Ireland in the past number of years, however it is believed that more cases may be occurring.
There are concerns, in particular, that women or children may be removed from this jurisdiction for the purpose of forced marriages in other jurisdictions without this coming to the attention of the authorities.
The spokesman said that State agencies have dealt with a case where concerns existed that the parents of a girl younger than 18 intended to force her to marry.
"Appropriate actions were taken to prevent this proceeding," he added.
Forced marriage is not currently directly dealt with by Irish law, two years after a similar law was introduced in the UK.
In June 2015, a 34-year-old Cardiff man ended up being jailed for 16 years, for forcing a Muslim woman to marry him. The case involved considerable harassment and rape.
Child brides
Officials from the Department of Justice are currently discussing with the Attorney General on the penalties which will apply here.
The new forced marriage measures will outlaw a practice prevalent in certain cultures, and follows the announcement, last December, of legislation to end loopholes allowing child brides to be married in Ireland.
That legislation, which has yet to be enacted, is expected to have the additional benefit of protecting minors against forced marriage.
Currently, 16 and 17-year-olds are allowed to marry in certain circumstances if the Circuit Court grants a waiver.
Concerns over existing legislation have been raised since comments, in 2013, by a High Court judge expressing concern at exemptions to marriage age restrictions.
His comments followed a court annulment of an arranged marriage of a 16-year old girl to a 29-year old man.
400 minors
The Garda National Immigration Bureau have previously said they were investigating a number of cases of forced marriage involving migrant children as young as 12. The girls were typically trafficked into the country and coerced into marrying older men, they said.
Over 400 minors were married in Ireland between 2004 and 2015, although it's unknown how many of these marriages would contravene the new legislation.
#Open journalism No news is bad news Support The Journal

Your contributions will help us continue to deliver the stories that are important to you

Support us now
Last year, five girls aged 16 and under were married in Ireland – including one married to a groom aged 26 – according to the latest Central Statistics Office figures.
Eleven girls aged 17 were married here last year, meanwhile. Six grooms aged 31 and older married girls aged 18 years old last year. In total, 113 girls aged 18 were married last year – 89 of them to older men. One 19-year-old girl married a 46-year-old man.
According to the latest CSO figures, 387 minors married at the age of 16 or 17 between 2004 and 2014. In several cases, both parties to a marriage were minors. In total over the period, 302 girls and 85 boys married in the State at the age of 16 or 17.
Immigrant Council
The Immigrant Council have welcomed the new legislation, and said that forced marriage often involves the exploitation of migrant women.
"The Immigrant Council recognises that no one should be in a situation where they are trapped in a forced marriage, and so are welcoming the inclusion of provisions to tackle this issue in the upcoming legislation on domestic violence," Nusha Yonkova, Immigrant Council anti-trafficking manager, told TheJournal.ie.
It is common knowledge that children are often the targets of forced marriage and we would hope to see this given particular attention in the legislation.
"The victim must be central to any legislation moving forward. The instances of exploitation and abuse must be identified and the victims treated with special care.
As forced marriage can often involve exploitation of migrant women, it will be crucial that the victim be granted autonomous residency rights, as well as supports depending on the circumstances.
"The proposed legislation could go some way in preventing the exploitative sham marriages. Where the full force of the trafficking offence penalty (which could be imprisonment for life) cannot be applied, the offence of forced marriage could prove to be an efficient deterrent."
The Government's 2016-2021 national strategy for domestic, sexual and gender-based violence makes reference to various legislative changes. It envisages Bills on domestic violence, victims of crime and sexual offences all expected to be enacted by the end of 2017 at the latest.