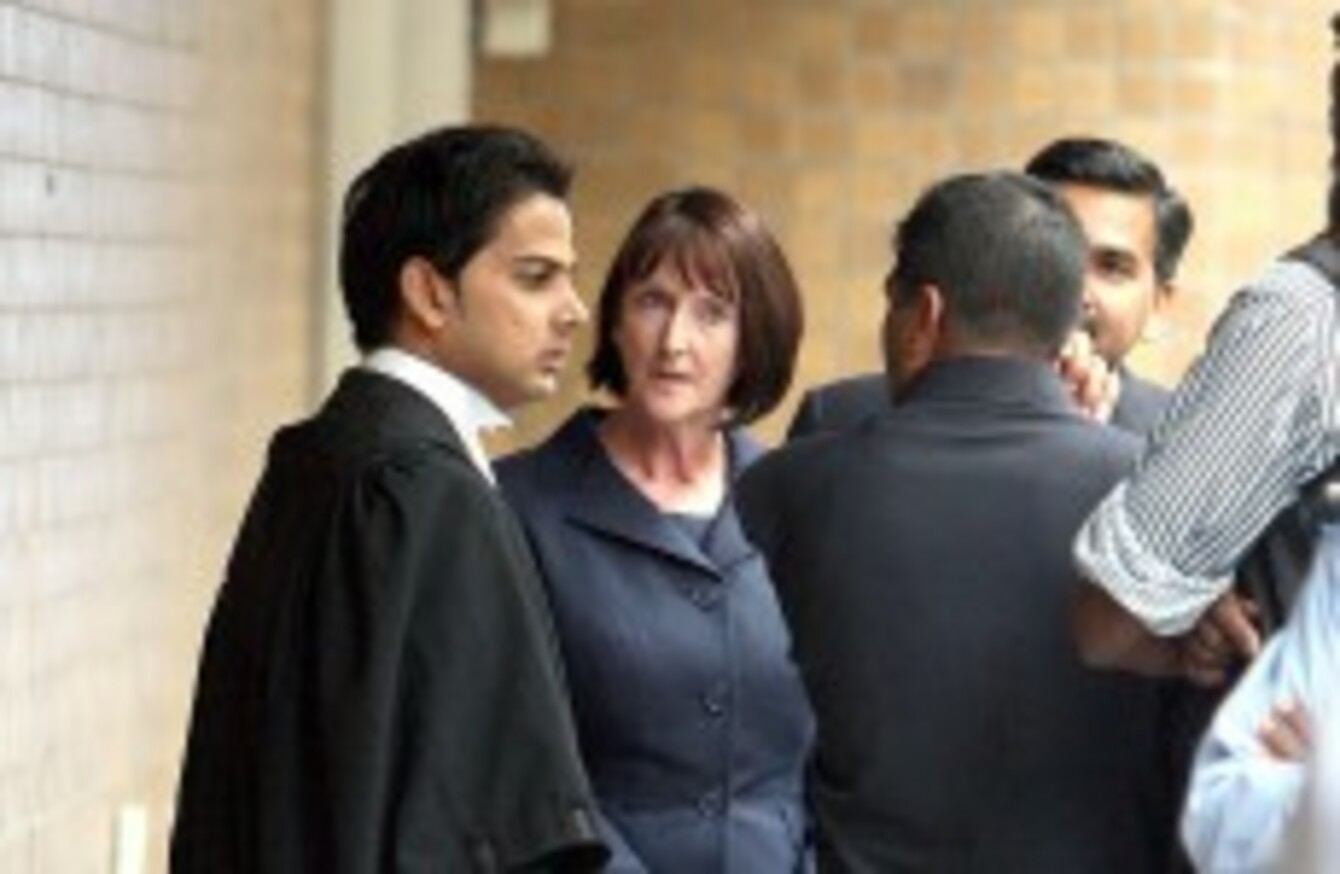 British Forensic scientist Susan Woodroffe arrives at the Supreme Court in Port Louis, Mauritius
Image: Paul Faith/PA Wire
British Forensic scientist Susan Woodroffe arrives at the Supreme Court in Port Louis, Mauritius
Image: Paul Faith/PA Wire
A BRITISH FORENSIC scientist has given evidence at day five of the murder trial of the two men accused of killing Michaela McAreavey.
Susan Woodroffe of Cellmark Forensic Services said today that there was "no specific indication" that the DNA of either of the accused men, Avinash Treebhoowoon and Sandip Moneea, was present at the crime scene.
Woodroffe listed all of the samples that she had received from the Mauritian police in February 2011, including nail cutting and blood samples from the deceased and her husband, as well as samples from the two accused and two others who were formerly questioned by police; Raj Teekoy and Dassen Narayanen.
She added that:
…where additional traces of DNA have been detected they have either been unsuitable for any meaningful interpretation or there is no specific indication that any of Raj Theekoy, Sandip Moneea, Avinash Treebhoowoon and Dassen Narayenen.
Woodroffe did say that there was sufficient DNA present on a hotel swipe card which matched that of Narayenen.
Other evidence sent for analysis included a plastic bag used to cover the victim's head, swabs from Michaela's neck, swabs from drawer knobs in the room, as well as swabs from the safe and from the swipe card.
The scientist said, when questioned by a lawyer for Sandip Moneea, that it appeared that Mauritian police had not taken sufficient precautions to prevent the contamination of samples and the crime scene. She also agreed that samples of the officers present at the scene should have also been sent for analysis.
Police Constable Robin Sevathian was also testifying in court today,  and remained silent when he was questioned about the whereabouts of he, his team and Avinash Treebhoowoon during a two-and-a-half hour period after the suspect was arrested and taken away from the Legends Hotel.
Constable Sevathian was warned by the judge against giving "misleading answers".
Treebhoowoon has alleged that police beat him in order to obtain a confession to the murder.
Michaela McAreavey was found dead in her hotel room on the island of Mauritius while on honeymoon with her husband John in January 2011.
On Friday there were heated exchanges in the court when lawyers for the defence questioned police about the discovery of a sex guide in the couple's room.
Counsel for the prosecution objected strongly to the line of questioning pursued by the defence, saying that the contents of the book had no connection with the crime. In heated exchanges, the defence insisted on the importance of that line of inquiry to their case
Yesterday the McAreavey and Harte families issued a joint statement over what they called an "attempt to denigrate the memory of Michaela".