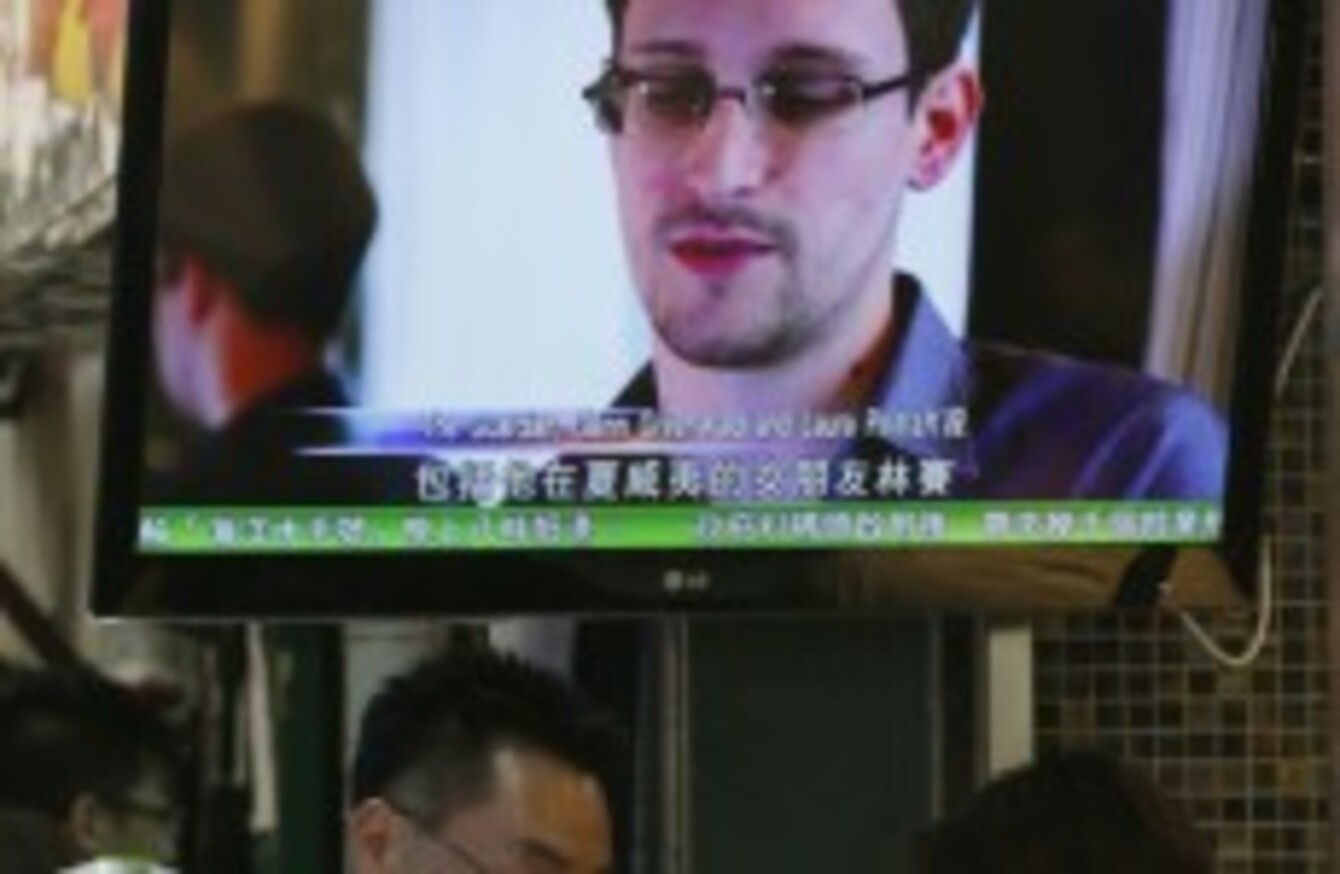 A TV screen in Hong Kong shows a news report on Edward Snowden, the former CIA employee who leaked top-secret documents about US surveillance programs.
Image: (AP Photo/Kin Cheung)
A TV screen in Hong Kong shows a news report on Edward Snowden, the former CIA employee who leaked top-secret documents about US surveillance programs.
Image: (AP Photo/Kin Cheung)
FORMER INTELLIGENCE OPERATIVE Edward Snowden flew out of Hong Kong today and is reportedly bound for Moscow and onwards to a third destination, momentarily escaping the clutches of US justice in a shock development sure to infuriate Washington.
"Snowden today voluntarily left Hong Kong for a third country through legal and normal means," a Hong Kong government spokesman said in a press statement.
His departure came despite a US arrest warrant and extradition request to authorities in Hong Kong, where the former contractor with the National Security Agency came on May 20 to begin a damaging series of leaks on NSA eavesdropping of phones and computer systems worldwide.
Hong Kong had "not obtained adequate information" to process the provisional arrest warrant issued by the United States against Snowden, and there was "no legal basis" to prevent him leaving, the spokesman's statement said.
Cyber-espionage
The statement added that Hong Kong authorities had informed the US government about Snowden's departure.
The 30-year-old former NSA contractor was aboard Aeroflot flight SU213, according to the South China Morning Post, which has carried exclusive interviews with Snowden in Hong Kong. The latest on Sunday contained new revelations about US cyber-espionage against Chinese targets that drew a stinging response from China's official news agency.
"Moscow will not be his final destination," the SCMP said, citing "credible sources", raising the possibility of Iceland or Ecuador as Snowden's final destination. The Hong Kong spokesman said merely he was heading to a "third country".
In Moscow, a foreign ministry spokesman said he did not have any information, and a spokeswoman for Aeroflot declined to comment.
Snowden's departure could bring US repercussions against Hong Kong but more broadly will be a shock to the administration of President Barack Obama, which just on Friday had unveiled charges including theft and espionage against him in a bid to force his return from Hong Kong.
Heroic "whistleblower"
Many in Washington have labelled Snowden a "traitor" for disclosing the far-reaching nature of NSA snooping around the world, although to his supporters he is a heroic "whistleblower".
China's official Xinhua news agency on Sunday attacked the United States as an espionage "villain" after Snowden detailed new allegations of NSA activity targeting mainland interests.
In the latest revelations published by the South China Morning Post, Snowden said the NSA was hacking Chinese mobile phone companies to gather data from millions of text messages.
He said US spies have also hacked the prestigious Tsinghua University in Beijing – home to one of six "network backbones" that route all of mainland China's Internet traffic – and the Hong Kong headquarters of Pacnet, which operates one of the Asia-Pacific region's largest fibre-optic networks.
Abandoning his well-paid job as an intelligence technician in Hawaii, Snowden came to Hong Kong on May 20 with a cache of documents detailing the reach of NSA operations around the world.
"The NSA does all kinds of things like hack Chinese cell phone companies to steal all of your SMS data," Snowden said in the Post interview, which the newspaper said was conducted on June 12 and released after it had scrutinised and clarified his claims.
His claims about Pacnet followed a Guardian report in which he claimed the British government's electronic eavesdropping agency GCHQ had gained secret access to fibre-optic cables carrying global Internet traffic and telephone calls, and was sharing the information with the NSA.
US administration officials say the NSA's overall surveillance has helped thwart up to 50 planned extremist attacks, some of them on US soil, by allowing US agents to track calls and messages to enemy operatives.
- AFP, 2013