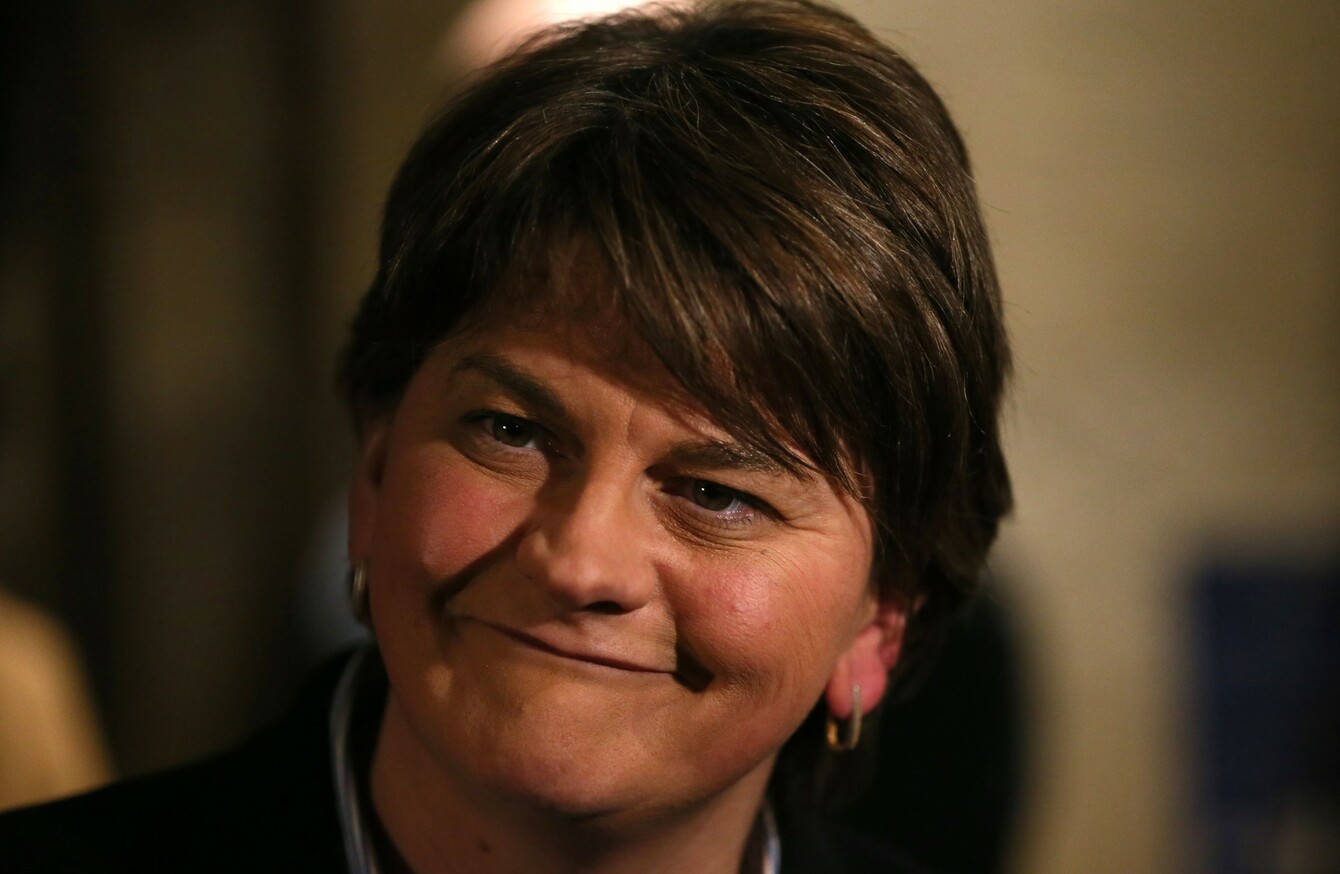 Image: Niall Carson PA Archive/PA Images
Image: Niall Carson PA Archive/PA Images
NORTHERN IRELAND FIRST Minister Arlene Foster is facing calls to step down after it emerged that an email worth around £400 million to Northern Ireland taxpayers was ignored by the Department of Enterprise, when she led that department.
The scandal revolves around a scheme for renewable energy which operated in Northern Ireland. Issues surrounding misuse of funds were found at half of installations inspected by the North's Public Accounts Committee.
The email, obtained by BBC Spotlight, was sent by a whistleblower in 2014 and warned that the Renewable Heat Incentive had serious flaws that would cost taxpayers a lot of money.
Foster has denied any wrongdoing or negligence on her part, and stressed that all recipients on the scheme will now be inspected.
Ulster Unionist Party leader Mike Nesbitt told RTÉ News: "£400 million is not a jot. It was a matter of policy. On that basis, she either had her fingerprints all over it or she was asleep at the wheel. Either way, it means she has to go."
Flawed incentives
The incentive was designed to help businesses, public sector and other non-domestic and non-profit organisations in Northern Ireland meet the cost of installing renewable heat technologies.
The major problem in the scheme involved paying businesses a flat rate for the energy they used, which was often more than they were actually using in fuel.
According to the emails seen by BBC, the whistleblower drew Foster's attention to the flaw in the scheme in 2013 and met with officials at the Department of Enterprise to explain the situation.
Nothing was done, and the whistleblower emailed again in 2014.
She said: "What we are seeing on the ground in Northern Ireland is that buildings are using more energy than before because it pays them to do so.
"The flat rate means there is no incentive at all to be efficient, so the heat in buildings is on all year round with the windows open everywhere.
"When we had spoken (referring to the autumn 2013 meeting) you did not believe that people would do this. But believe me it's happening.
"It's got to a stage where it cannot be ignored any longer."
Political pressure
Responding to the scandal, Foster told the BBC that she has "nothing to hide" over her role in the scheme and added that neither she nor immediate family members had benefitted from the scheme.
She said that civil servants did not inform her of the problems with the scheme, and she did not rule out appearing before Stormont's Public Accounts Committee, which is investigating the case.
Foster said: "There's a very small minority of people abusing the scheme – already abuses have been identified from the initial inspections."
She added that all claimants of the scheme would be inspected.
Her special adviser, Andrew Crawford, is also facing calls to resign as he never met with the whistleblower directly when the concerns were raised.
#Open journalism No news is bad news Support The Journal

Your contributions will help us continue to deliver the stories that are important to you

Support us now
Sinn Féin MLA Conor Murphy told TheJournal.ie that it "beggars belief" that internal reporting systems were so flawed as to not address the issue and that there were fears there had been "aggressive exploitation" of the scheme.
He added: "The public, the Assembly, and the Executive all need to know what happened here.
I do believe that Arlene Foster should come forward to provide a full account and set the public record straight on this issue.
The UUP's Nesbitt responded to Foster's comments by saying that she was "in denial".
He added: "Today's interviews were all about blaming everyone but herself. The fact remains she presided over a series of policy choices which have created a £400 million debt – that is her legacy to the people of Northern Ireland."
SDLP leader Colum Eastwood MLA said that an urgent meeting of the Public Accounts Committee should be called and, if Foster is unwilling to provide answers, "her position would become untenable".
"She has totally failed to re-establish any confidence in the wake of this scandal," he said.
Another week cannot pass by with an absence of answers – public faith and trust in our politics simply can't afford it.
Many Irish politicians expressed their disappointment with Foster recently failed to attend an all-Ireland forum to discuss how Brexit will affect the island.
Enda Kenny attempted to persuade Foster to come but she said that there are "more than enough mechanisms by which we can discuss these issues, on a north, south basis".