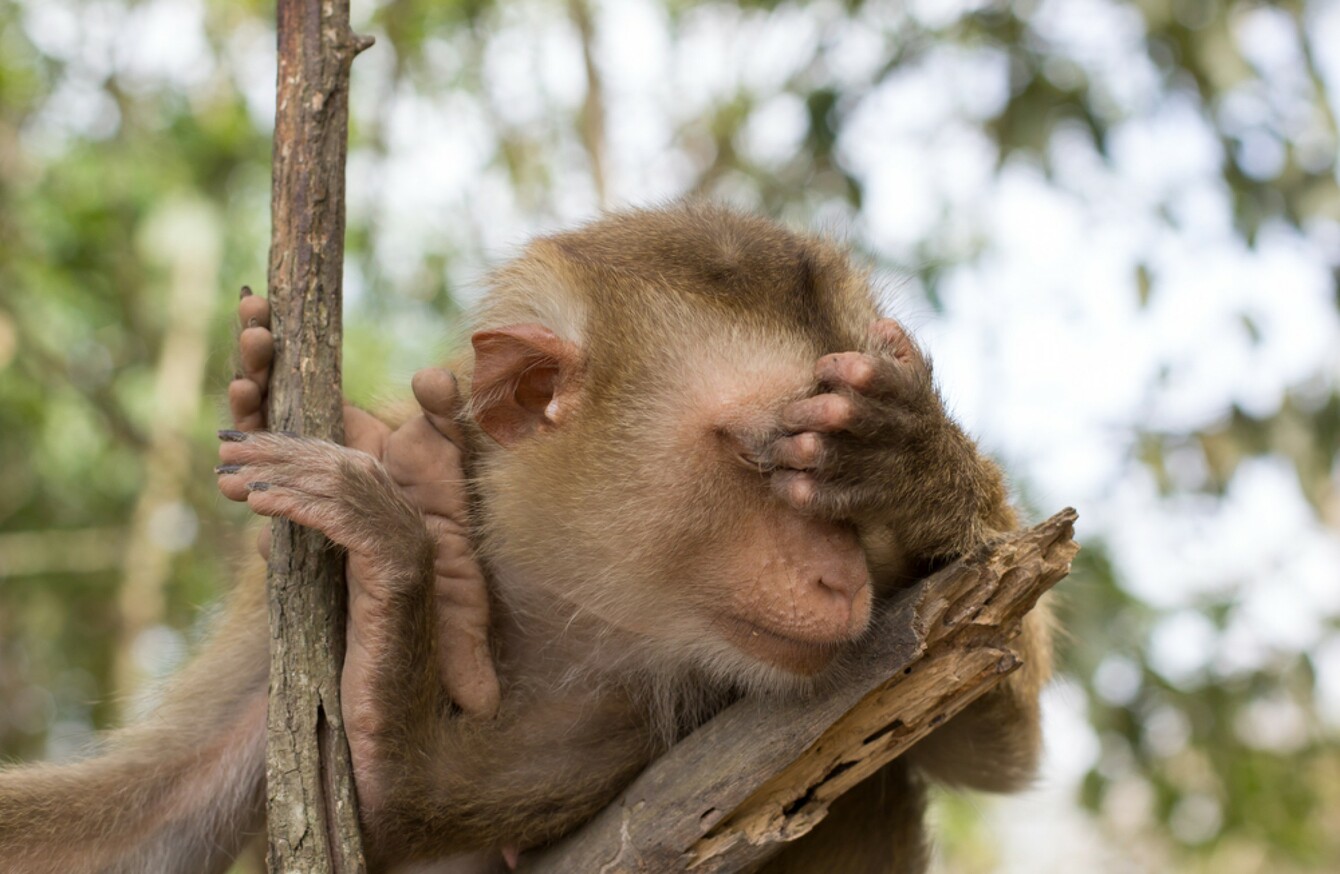 Not the macaque monkey in question
Image: Shutterstock/Angkarn Janjuang
Not the macaque monkey in question
Image: Shutterstock/Angkarn Janjuang
WILD ANIMALS ESCAPED at Fota Wildlife Park seven times during a single year, internal records have revealed.
An ape, a penguin and a monkey were among the animals that escaped from captivity at the 100-acre wildlife park in Co Cork in 2015.
Some of the escapes were witnessed by large crowds of visitors, who came into close contact with the escapees, according to documented reports of the incidents.
On 11 January 2015, a macaque monkey called Stevie Wonder escaped from an island enclosure "several times" during the day.
"Crowds of visitors were watching. He's getting very bold and obviously not frightened of people and is getting very close to them," a member of staff reported in a written record of the escape.
The report noted that bins in the park had been knocked over by the monkey and rubbish was "strewn everywhere". It also stated that the animal had run over to a buggy but was chased away by an individual.
Stevie Wonder was returned to his enclosure but was spotted off the island again later that evening.
The following day, he escaped again with another male macaque. A bin in the Palm Walk area of the wildlife park was raided and overturned. Electric wire on a pipe near the enclosure was modified to prevent future escapes from the island.
Electric shock
In November, a member of the public informed staff that a lar gibbon – a small ape – had got an electric shock from a fence and jumped onto a bridge, escaping from the enclosure.
"Staff met at enclosure with nets and kept her surrounded. She moved from the bridge and the trees by the … enclosure and back onto the bridge, where she was successfully netted and returned to her island," stated the incident report.
A second escape followed later that day, when the same animal, a female called Namfon, was spotted on rocks at the side of the enclosure. She jumped back onto the island when she was approached.
A penguin also escaped during the year and was spotted on a lake in the park away from its enclosure. The incident report stated that the animal was "believed to have gone back to [its] enclosure" but this could not be confirmed as tunnels made it difficult to conduct a count.
The documents released under the Freedom of Information Act also reveal that two pelicans escaped and flew out of the park in November 2015. It was not stated whether the large water birds were subsequently recovered.
A spokesperson for Fota Wildlife Park said that strict escape procedures were followed in the case of each reported incident.
"In each of the cases, at no time were the animals in danger or a threat to any visitors or members of the public. Each case was reported to the relevant authority at the time it took place in accordance with our zoo licence," she said.
There were no documented reports of animal escapes at Dublin Zoo during the same year.