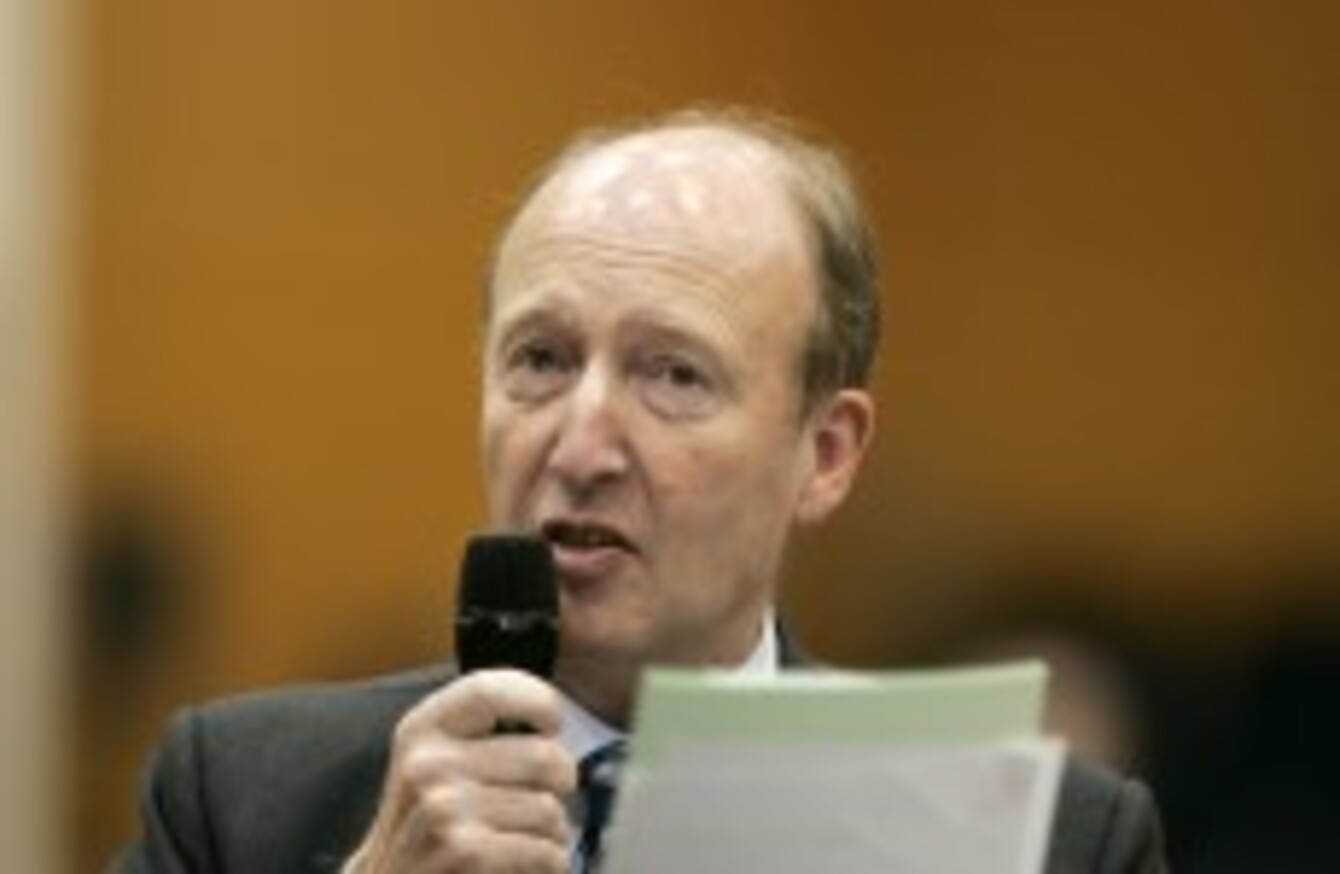 Shane Ross
Image: Photocall Ireland/Eamonn Farrell
Shane Ross
Image: Photocall Ireland/Eamonn Farrell
As he appears in Four Angry Men, Shane Ross TD spoke to TheJournal.ie's Christina Finn on why the government should not be happy with their 'best in class' award from the EU. He said:
THE PEOPLE OF Ireland are deeply angry. While the Irish people are looking for anywhere to vent their frustration, the government are off receiving pats on the back for their "good work" and congratulating themselves on implementing austerity on their own people. People have nowhere to voice their discontent – Joe Duffy can only take so many callers, you know!
Not only are they angry, but they are disheartened. They voted for change and it never happened. It is the same thing. One government changes, but the people see no change in economic policy, European policy or cronyism. The faces have changed but the game remains the same. They are taking the same measures as the previous government and people are totally disillusioned by it all. The great new dawn people thought they might get, is dead and gone. I hope in some way to sow the seed of radical and alternative thought.
Start the dialogue
The people need to be listened to. The Government aren't listening so I hope to get the people talking at discussion groups around the country. So that finally we hear what they have to say. People need to be given a platform where they can voice their views. While myself, Fintan O'Toole, Nick Webb and David McWilliams will be belly-aching at these events about what is happening in the country, what is important is we pass it over to the people. There needs to be a dialogue started so we can see where we can go from here.
I think it is very simple; we need to dig our heels in on the promissory note, which is €3.1 billion and due to be paid over in March. We need to say no, we are not going to pay that, we are going to park the payment. We are not going to default overnight. The Government think that by negotiating the interest rate we will get a good deal, but we are delaying the inevitable. The Government's negotiation has been weak in the EU. We have essentially taken a few crumbs that they have thrown at us and the Government pass this off as progress.
Denial
We need to tell the EU and Merkel that we are parking the payment in March and it is better that we do this earlier rather than later. Soon this has to dawn on the Government, they must know that this is an inevitability. They were hoping that something would turn up, they were expecting super growth, but this hasn't happened. Growth has continually fallen year on year, so whatever they were hoping for is not going to happen now. They are in denial – they should be refusing on the repayments and telling Merkel that this is now a crisis.
#Open journalism No news is bad news Support The Journal

Your contributions will help us continue to deliver the stories that are important to you

Support us now
We have opted for a subservient role in Europe. We have been flattered by being the poster boy of Europe. Ministers love being lauded in Europe and internationally we are recognised as posing for the image of austerity. Ministers seem to think this is a good thing because they believe this is the way to get what we want, but it's not.
Ireland next year will host the European Presidency, with some people thinking that this will make a difference to our negotiating stance in Europe; that this will somehow change things and give us more clout in Europe. But it is all theatrics. Ministers will enjoy the year, chairing meetings and getting attention, but in the reality of power, it wont change things, not at all. It won't make one iota of difference to our situation.
Shane Ross is an Independent TD in Dáil Eireann, a journalist and author. He will be taking part in Four Angry Men - Debate the State of the Nation, which will examine the current crisis and debate where we should go from here. David McWilliams, Fintan O'Toole, Shane Ross and Nick Webb will debate the issues with Olivia O'Leary. The debates have already taken place in Cork and Dublin, but one more debate will be held in the Radisson Hotel, Galway, Sunday 2 December at 7.30pm.