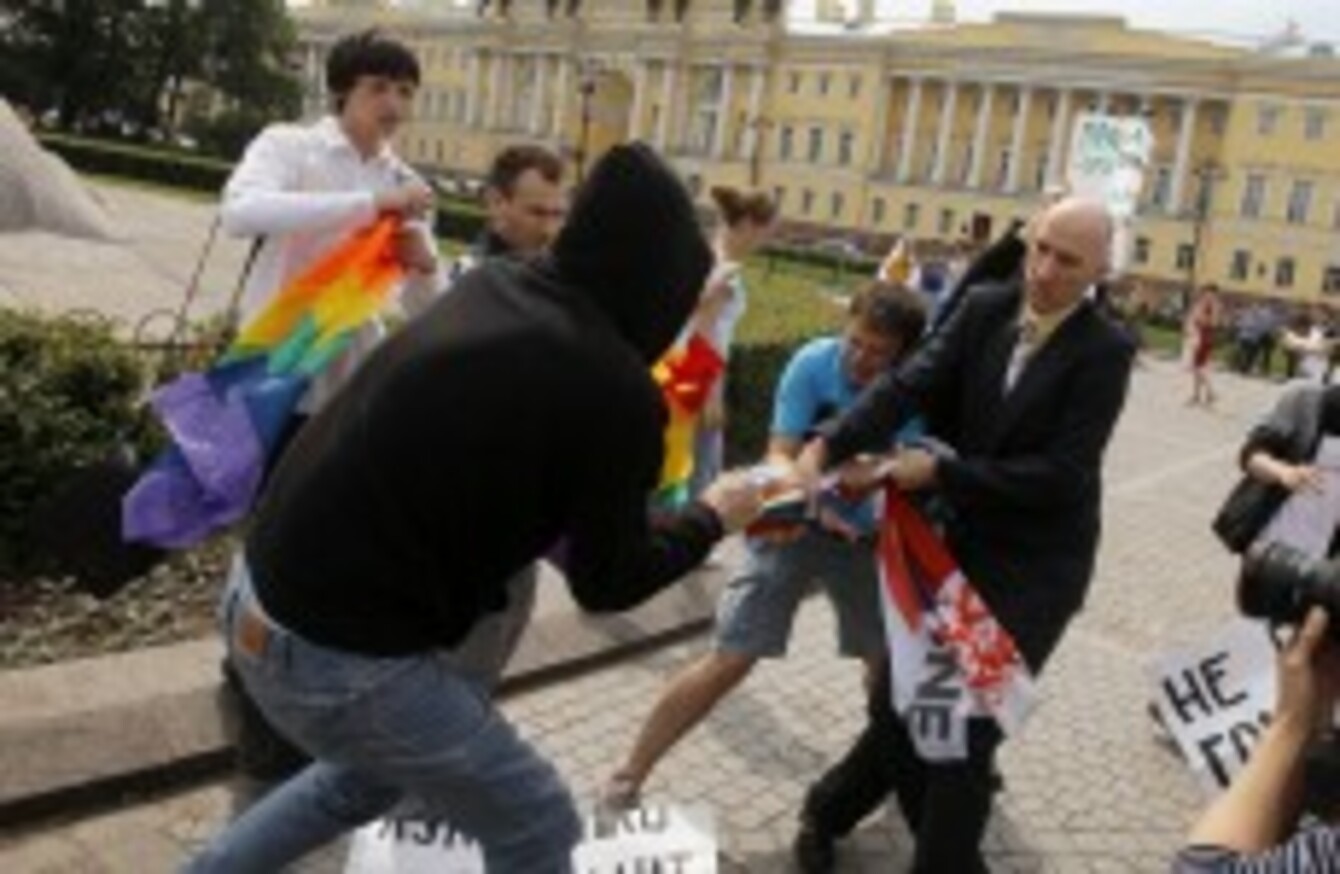 An unidentified man, left, attacks gay rights activists protesting in St.Petersburg, Russia
Image: AP Photo/Dmitry Lovetsky
An unidentified man, left, attacks gay rights activists protesting in St.Petersburg, Russia
Image: AP Photo/Dmitry Lovetsky
RUSSIAN POLICE HAVE detained 14 gay rights activists who were trying to hold an unsanctioned rally in St. Petersburg.
The activists were demaning equal rights for gay people. The Associated Press reports that its photographers saw some unidentified attackers besiege the activists and try to seize their banners before police moved in. One suspected attacker was also detained.
Attempts to hold gay pride rallies almost always end in violence in Russia. Authorities habitually refuse gay rights activists their constitutional right to assemble, particularly in Moscow, on the grounds that other people find it offensive.
"I've seen a lot of things in six years of holding such events in Moscow, but I've never seen such cynicism in St.Petersburg" said Nikolai Alekseyev, Russia's highest profile gay rights activist, who was himself briefly detained today.
The activists in St. Petersburg held their protest beside a monument to city founder Peter the Great, "because Peter the Great founded a city with European values," said Yuri Gavrikov, head of the Equality group.
President Dmitry Medvedev has insisted that Russians share European values today.
Last month authorities in Moscow banned a gay pride parade planned for 28 May, but more than 40 people were arrested after a rally went ahead.
Dublin, Berlin and Paris were among the cities hosting pride parades today, with many celebrating New York state's decision to legalise same-sex marriage.
- Additional reporting by AP