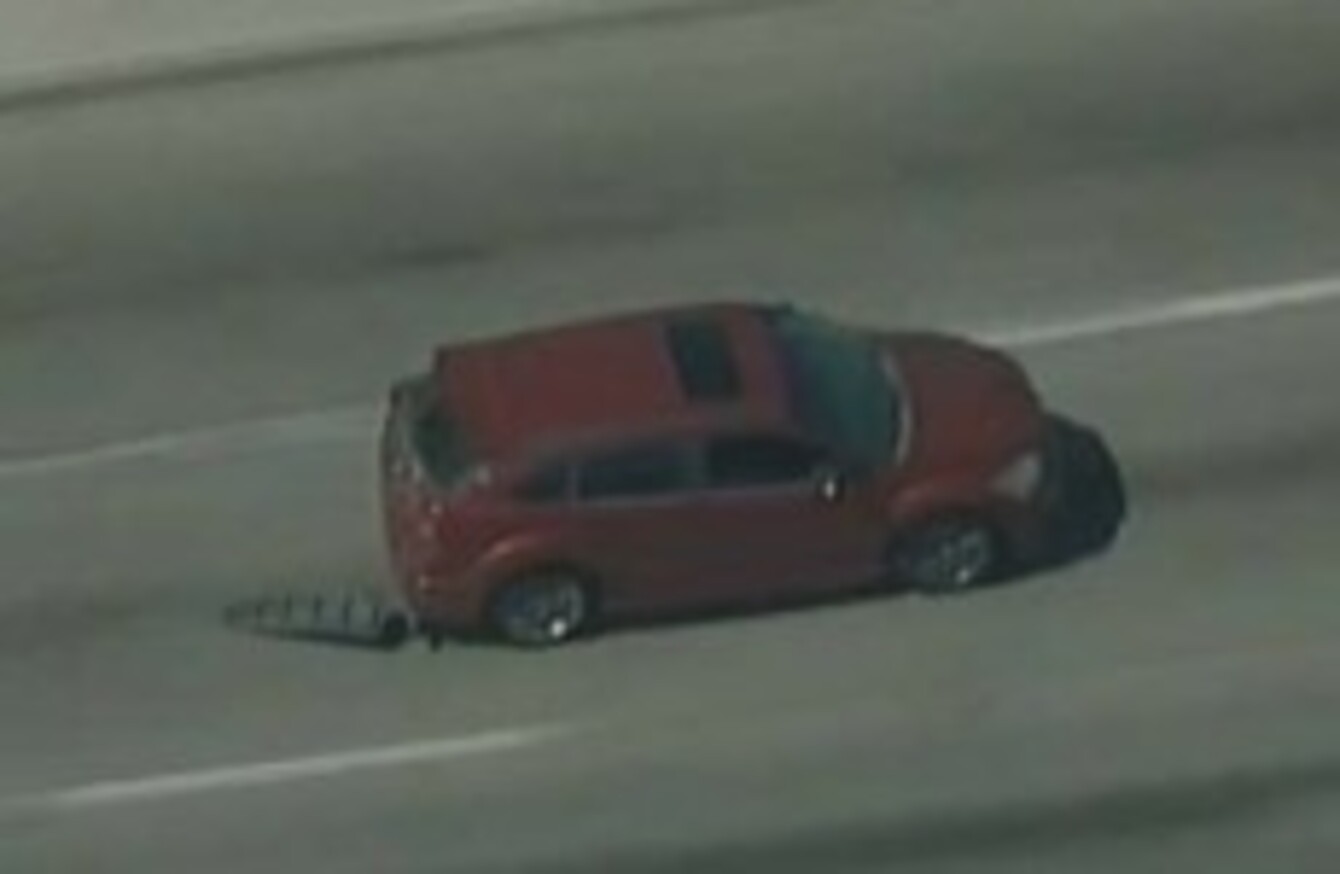 A still from Fox News live stream of the car chase
Image: Fox News
A still from Fox News live stream of the car chase
Image: Fox News
FOX NEWS IN America has just shown live television footage of a car-jacking suspect shoot himself following a high-speed car chase in Phoenix, Arizona.
The news broadcaster has since shut down the live stream. The last few seconds cut to a helicopter flying away from the scene.
It is understood that the station was showing police pursue a red Dodge Caliber in the town of Salome after a number of shots were fired at officers.
The condition of the suspect is not yet known. KSAZ, a Fox affiliate in Phoenix, reports that the driver's body was still lying the field, but police have yet to confirm whether he died of the gunshot. His identity has not been released.
According to MyFoxPhoenix.com, the car was chased for more than an hour and reached speeds of up to 110 miles per hour.
Footage then shows the suspect getting out of the car and running along a field before pulling out a gun and shooting himself in the head. In the background, a person in the studio can be heard, "Oh. Wow. Oh my god."
Presenter Shep Smith then begins shouting, "Get off, get off…get off it. Get off it."
After returning from a break, he issued this profuse apology:
Well, some explaining to do. While we were taking that car chase and showing it to you live, when the guy pulled over and got out of the vehicle, we went on delay. So that's why I didn't talk for about 10 seconds.

We created a five second delay as if you were to bleep back your DVR. That's what we did with the picture we were showing you. So we would see in the studio what was happening five seconds before you did so if anything went horribly wrong we'd be able to cut away from it without subjecting you to it. And we really messed up and we're all very sorry. That didn't belong on TV. We took every precaution we knew how to take to keep that from being on TV. I personally apologise to you that happened.

We see a lot of things that don't get to you. It's not time appropriate, it's insensitive. It's just wrong.

And that was wrong. And that won't happen again on my watch. And I'm sorry.
Fox News is yet to make a formal statement on the matter.