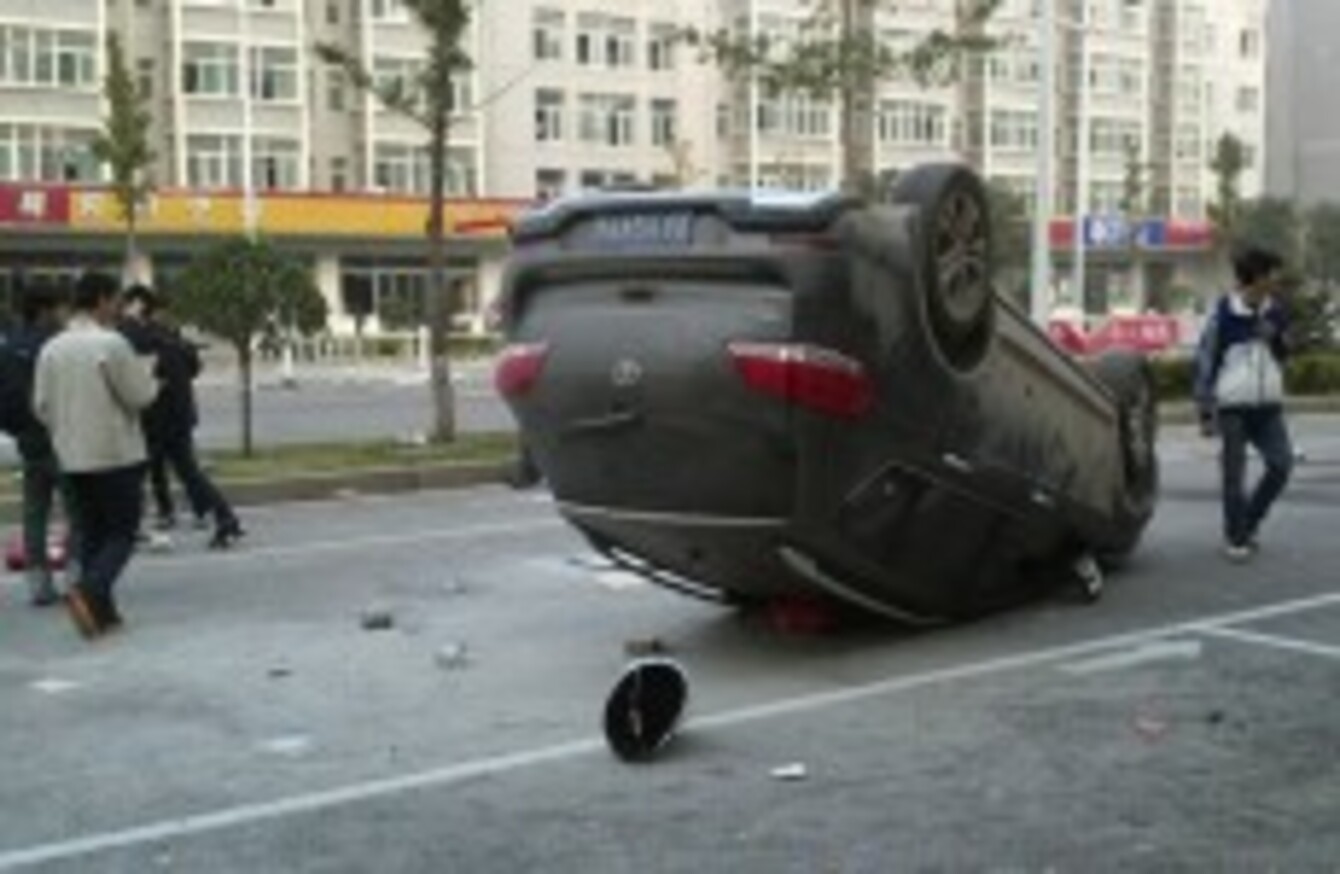 A mobile phone photo shows a car overturned in Foxconn's industrial zone in Taiyuan, following a mass brawl involving thousands of staff.
Image: AP
A mobile phone photo shows a car overturned in Foxconn's industrial zone in Taiyuan, following a mass brawl involving thousands of staff.
Image: AP
A NORTHERN CHINESE factory which makes the iPhone 5 in northern China reopened today, after 5,000 police ended a massive brawl that started between workers and security guards.
Foxconn, which assembles products for Apple and other tech companies, has faced criticism for tough working conditions after a series of employees apparently committed suicide over the past two years.
It had brought staff from around China to the Taiyuan city plant ahead of the sale of Apple's popular new phone, a manager surnamed Yang said, though Taiwanese parent company Hon Hai denied that and said the fight arose as a personal dispute among workers.
"At first, riots between security personnel and workers led to large-scale conflict," Yang said, citing both "undisciplined behaviour of workers and huge pressures on them". Work had resumed at the factory today, he and Hon Hai both said.
The state-run People's Daily cited workers as saying the fight began after security guards beat staff from eastern Shandong province, prompting labourers from that area and neighbouring Henan province to join in.
"Ultimately this grew into a chaotic scene of large numbers of workers chasing and beating security employees," it said, also noting that factory workers had been added ahead of the iPhone 5 launch.
Police 'took hours' to end brawl
Security guards had long had tensions with workers as they enforced Foxconn's "militaristic management style", said the paper, considered a mouthpiece for the ruling Communist party.
About 5,000 police officers took several hours to break up the fight, the state news agency Xinhua reported.
Photos posted online, the authenticity of which could not be verified, showed crowds of workers, a building with shattered windows and an overturned police car.
Foxconn riots

Foxconn riots

Foxconn riots
Hon Hai said in a statement yesterday, however, that the incident began in a dormitory "as a personal dispute between several employees" that grew to 2,000 people and left 40 injured.
The company is investigating allegations of militaristic management, spokesman Simon Hsing told AFP, adding: "If there is anything wrong with this, we'll make improvements."
Hsing also denied large numbers of workers were brought in from other Foxconn plants in China to work in Taiyuan.
Foxconn is the world's largest maker of computer components and employs one million people in China.
After at least 13 employees died in apparent suicides since 2010, it has rolled out measures aimed at improving working conditions such as wage hikes and safety nets outside buildings.
The Taiyuan plant employs 79,000 workers and makes automobile electronic components, consumer electronic components and precision mouldings.