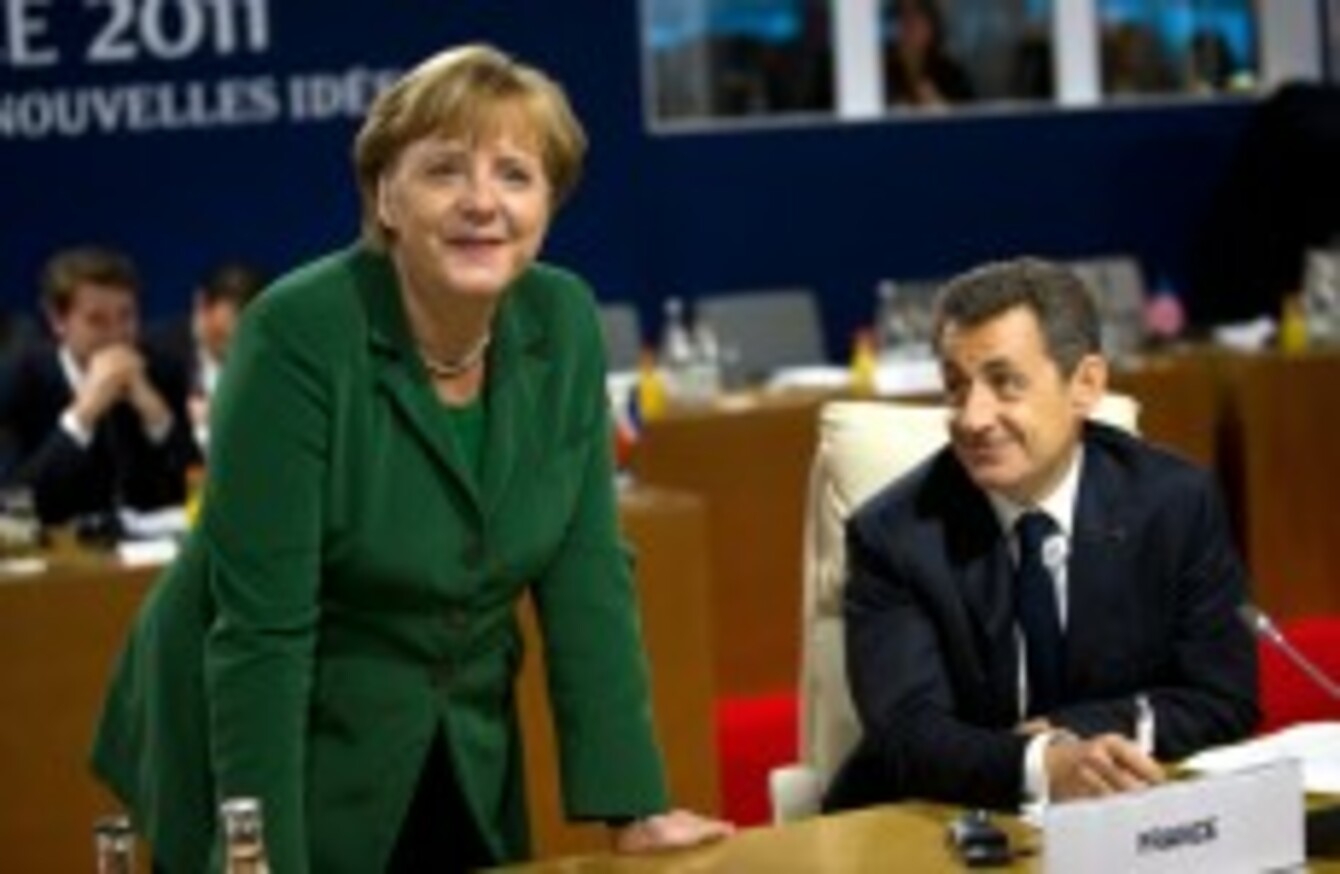 Image: Peer Grimm/Pool/AP/Press Association Images
Image: Peer Grimm/Pool/AP/Press Association Images
THE LEADERS OF France and Germany will meet in Berlin on Monday for week-long preparatory discussions ahead of an EU summit on the bloc's debt crisis scheduled for the end of January.
After months of displaying a united front in the face of the spiraling European debt crisis, it has recently been revelaed that Nicolas Sarkozy and Angela Merkel differ on the question of introducing a financial transaction tax in the EU. While Sarkozy favours the tax – and has vowed that France will introduce it on its own if needs be – Merkel still appears keen to establish a broad consensus for tax, RTÉ reports.
Britain's Prime Minister David Cameron has also weighed in on the issue, threatening to block the tax over fears it would damage the City of London. In an interview with the BBC, Cameron said:
The idea of a new European tax – when you're not going to have that tax put in place in other places – I don't think is sensible and so I will block it. Unless the rest of the world all agreed at the same time that we are all going to have some sort of tax then we are not going to go ahead with it.
Cameron's stance has angered EU partners – coming, as it has, quickly after his veto of a proposed EU treaty on greater fiscal integration in the eurozone which was aimed at stemming the spread of the debt crisis.
As the debate on how to best tackle the bloc's debt crisis continues, former Libertas leader Declan Ganley writes in this morning's Sunday Business Post in favour of the EU embracing a federal and democratic union in order to tackle the "chronic lack of democracy, accountability and transparency" at the heart of the project.
Although admitting that the prospect of a fully federalised EU ought to "worry" Europeans, Ganley argues that taking a "calculated and worthwhile risk to unite fully in a democratic and federal union" could obviate a messy end to the European dream.