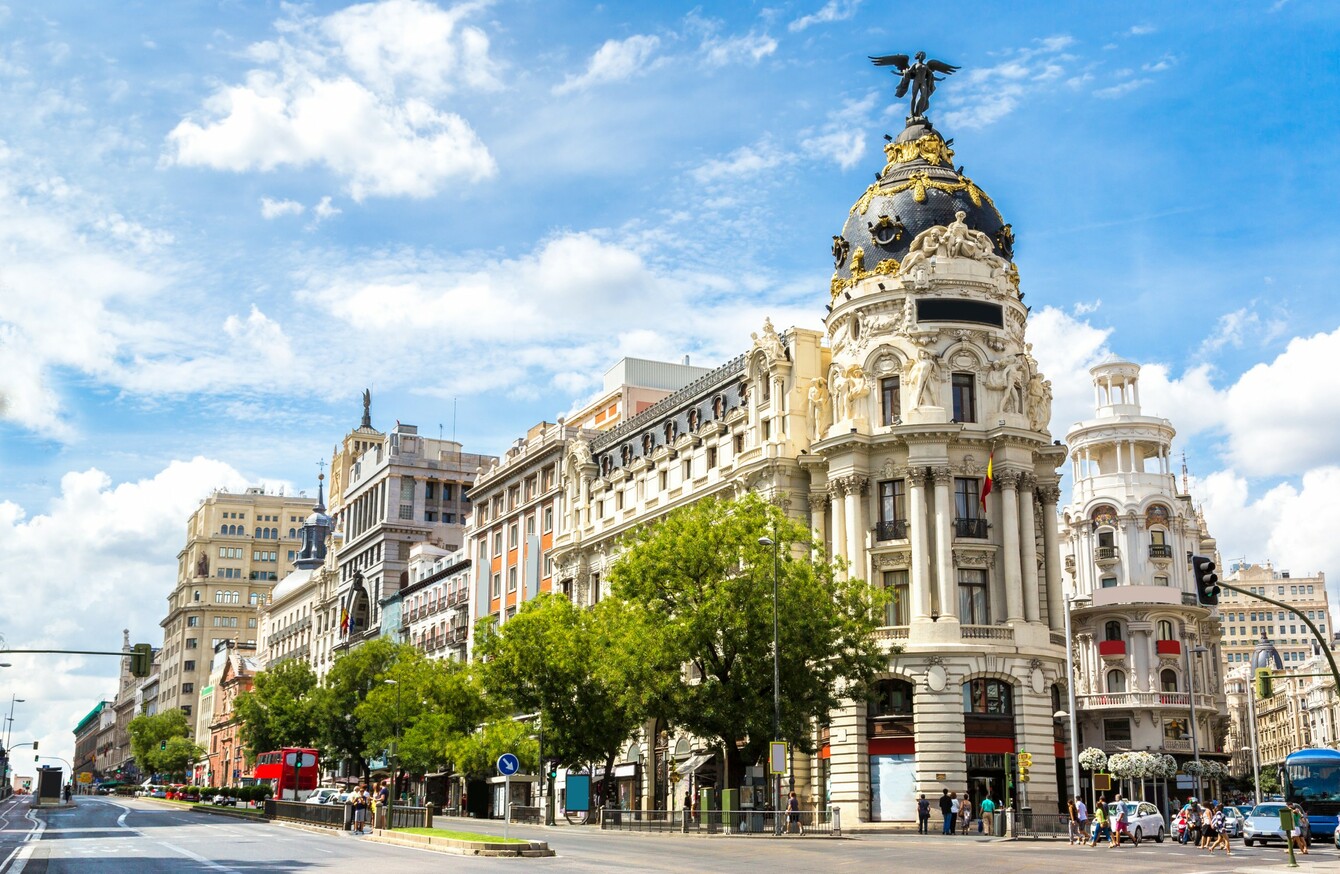 Capital Madrid where a large portion of the outbreak has occurred.
Image: Shutterstock/S-F
Capital Madrid where a large portion of the outbreak has occurred.
Image: Shutterstock/S-F
Updated Mar 14th 2020, 9:45 PM
SPAIN HAS TODAY banned people from leaving home except to go to work, visit a doctor or buy essential supplies, in a bid to slow the spread of coronavirus
Prime Minister Pedro Sanchez announced the restrictions on movement following a huge spike in the number of infections in this nation of some 46 million people.
They are part of a package of measures introduced as part of a 15-day state of alert officially declared by his government on Saturday.
Spain confirmed more than 1,500 new cases of coronavirus since Friday evening, raising its total to 5,753 cases, the second-highest number in Europe after Italy.
The disease has so far claimed 183 lives in Spain. "The prohibition to circulate in the streets… must be followed starting today," he said in a televised address after a cabinet meeting that lasted more than seven hours.
Spaniards may leave home to go to work, "buy bread", go to the pharmacy and get medical care but "not to go have dinner at a friend's house", he added.
All stores except for pharmacies and supermarkets will close nationwide, the premier said.
"Our hands will not shake to prevail against the virus," Sanchez said. Bars, restaurants and all shops except for supermarkets had already shut on Saturday for two weeks in the Madrid region, which accounts for over half of all infections.
Meanwhile, France has today drastically stepped up its measures against the spread of the coronavirus, announcing the closure of all non-essential public places including restaurants and cafes from midnight.
"I have decided on the closure until further notice from midnight of places that receive the public that are non-essential to the life of the country. This includes notably cafes, restaurants, cinemas and discos," Prime Minister Edouard Philippe told reporters.
Top health official Jerome Salomon meanwhile announced that the death toll from COVID-19 had risen by 12 over the last day in France to 91, with the total number of infected standing at 4,500.
Europe is now considered the epicentre of the outbreak, and countries like Italy and Spain are seeing an increase in the thousands of confirmed cases in any given 24-hour period. 
The Irish government is now advising against non-essential travel to the Czech Republic, Cyprus, Denmark, Malta, Poland and Slovakia. 
Tánaiste and Minister for Foreign Affairs Simon Coveney made the announcement this afternoon. 
It comes after a blanket warning for a 'high degree of caution' was applied across Europe as the Government attempts to contain the spread of coronavirus in Ireland. 
In a statement this afternoon, Coveney said the Department of Foreign Affairs will also be providing additional guidance on Spain, which remains at non-essential travel, while Italy remains at no travel.