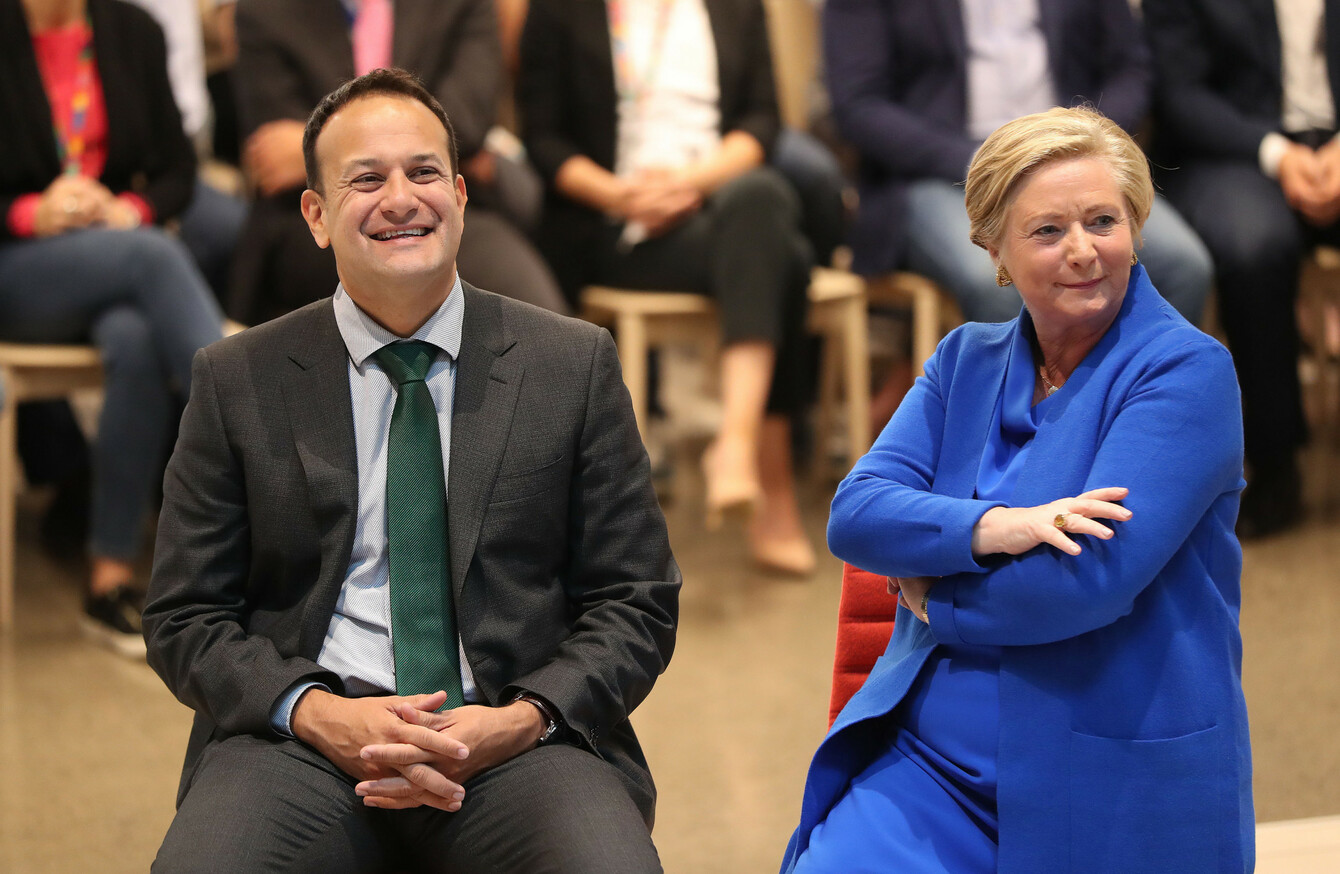 Taoiseach Leo Varadkar and former Tanaiste Frances Fitzgerald
Image: Niall Carson
Taoiseach Leo Varadkar and former Tanaiste Frances Fitzgerald
Image: Niall Carson
TAOISEACH LEO VARADKAR has failed to rule out former Tánaiste Frances Fitzgerald as a possible presidential candidate next year.
Since her resignation, Fitzgerald has been mentioned as a possible Fine Gael candidate for the presidency, with sources stating that it is unlikely she will return to ministerial office.
Fitzgerald stood down amid controversy over her knowledge of a legal strategy pursued by former Garda commissioner Nóirín O'Sullivan against whistleblower Maurice McCabe at the O'Higgins Commission of Investigation.
The Taoiseach previously said he wants her involved in frontline politics, however, Varadkar has said he has no intention of there being any vacancies at Cabinet any time soon.
"I'm not planning a reshuffle so the Cabinet will remain as it is. I have no plans at all to reshuffle the Cabinet. Unfortunately vacancies do arise on occasion but I've no intention of creating any. There are no plans for a reshuffle at the moment," said Varadkar.
When asked if Fitzgerald could be a presidential candidate, he failed to rule out the idea, stating:
There's no vacancy at the moment. We'll see what the president decides to do. But to answer your question I still hold Frances Fitzgerald in very high regard.
I'm not planning a Cabinet reshuffle but I certainly don't think for a second that she's somebody who is debarred from holding high office in the future.
President Michael D Higgins has said he will make his intentions known on whether he plans to run for a second term next summer. Fianna Fáil leader Micheál Martin said his party will consider if his party plan to run a candidate next year. A number of other figures have voiced an interest in contesting for the Office.