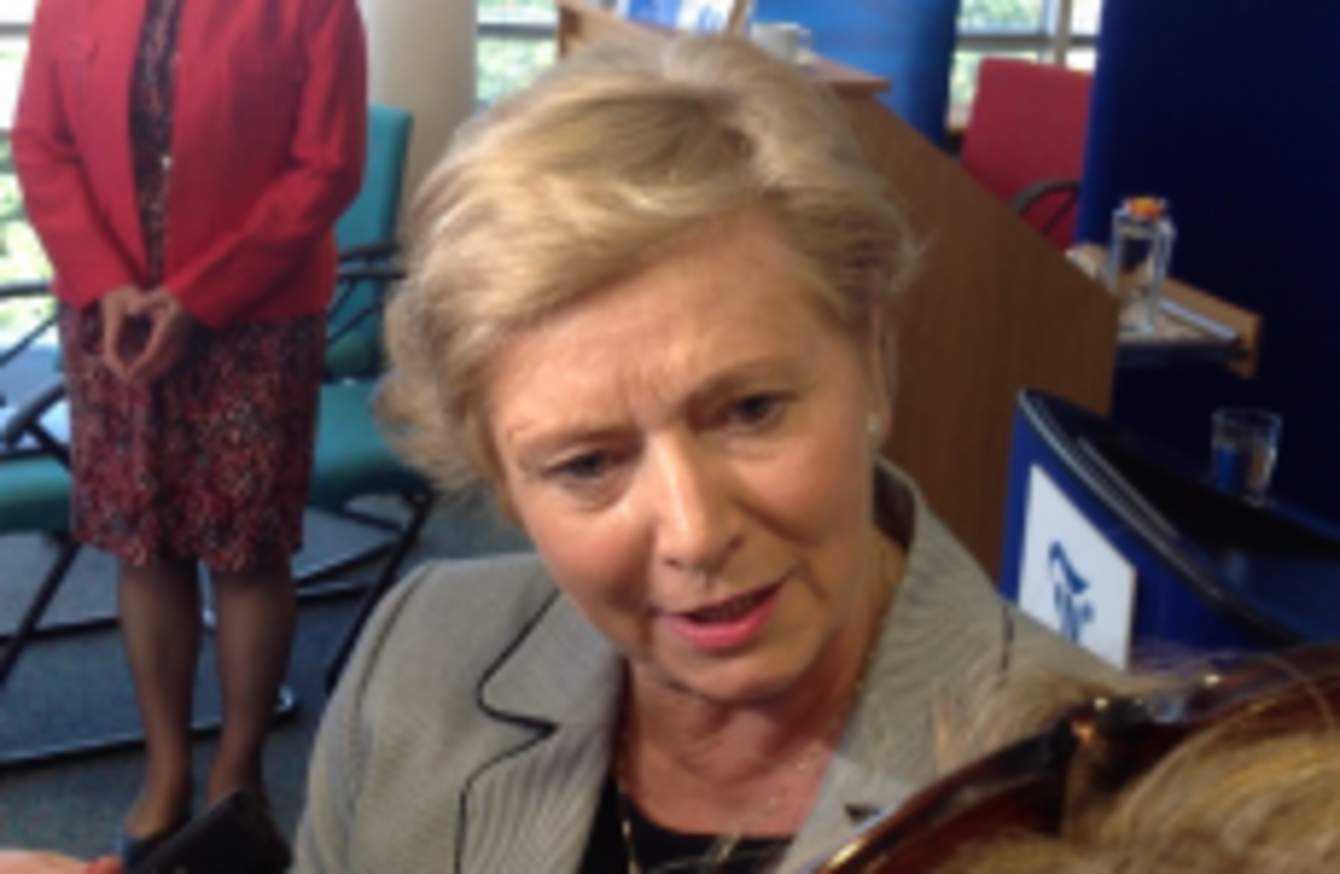 Frances Fitzgerald speaking in Dublin today.
Image: Christina Finn
Frances Fitzgerald speaking in Dublin today.
Image: Christina Finn
IRELAND HAS ITS own "legal and constitutional position". That was the message today from the Minister for Justice Frances Fitzgerald who said that the Government will be "examining" the United Nations Committee on Human Rights report on Ireland.
The report published today heavily criticised Ireland's law on abortion and Ireland's handling of the symphysiotomy controversy.
Symphysiotomy
There was also criticism aimed towards Ireland's lack of progress investigating the institutional abuse of women and children in mother-and-baby homes.
Speaking at an event in Dublin today, she said:
What I would say is that we now have the report from the UN following our presentation last week when we outlined our position and now obviously the Government will consider that report.

There are series of recommendations there the UN committee, we are involved in that as part of our obligations, but obviously Ireland has its own legal and constitutional position, but we will be examining the report.
Speaking about symphysiotomy victims, she said:
I made the presentation in Geneva last week and I outlined the Government's approach to symphysiotomy and other issues.

The Government has put €34 million on the table to help and support the women who were put through this barbaric procedure and I have no doubt that we, the Government and the Minister for Health in particular will continue to work with groups that are representative of the women over the next weeks and months.
The Irish Human Rights and Equality Commission Designate today welcomed the strongly-worded concluding observations issued by the UN Human Rights Committee.
Time to act
They said that now is the time for the "State to act" and called on the recommendations in the report to be debated. The IHREC also called for cross-departmental task force to be set up to address "in a timely way" how the state will implement the recommendations of the report.
Betty Purcell, spokesperson for the Irish Human Rights and Equality Commission Designate said:
In our briefing of the Human Rights Committee in Geneva, we recommended that such investigations must be carried out by an independent statutory body, and ensure the participation of survivors in truth and fact finding and we now welcome the UN Committee's strong support of our position.We are also very pleased to see the Committee's support of a prompt, independent and thorough investigation into cases of symphysiotomy.
The IHREC said their 2013 observations to Government on the Protection of Life in Pregnancy Bill were reflected in the Human Rights Committee's concluding observations, which called for the Irish Government to revise the legislation for cases of rape, incest, serious risks to the health of the mother, or fatal foetal abnormality, as well as to clarify what constitutes a "real and substantive risk" to the life of the pregnant woman.
Originally posted 5:30pm