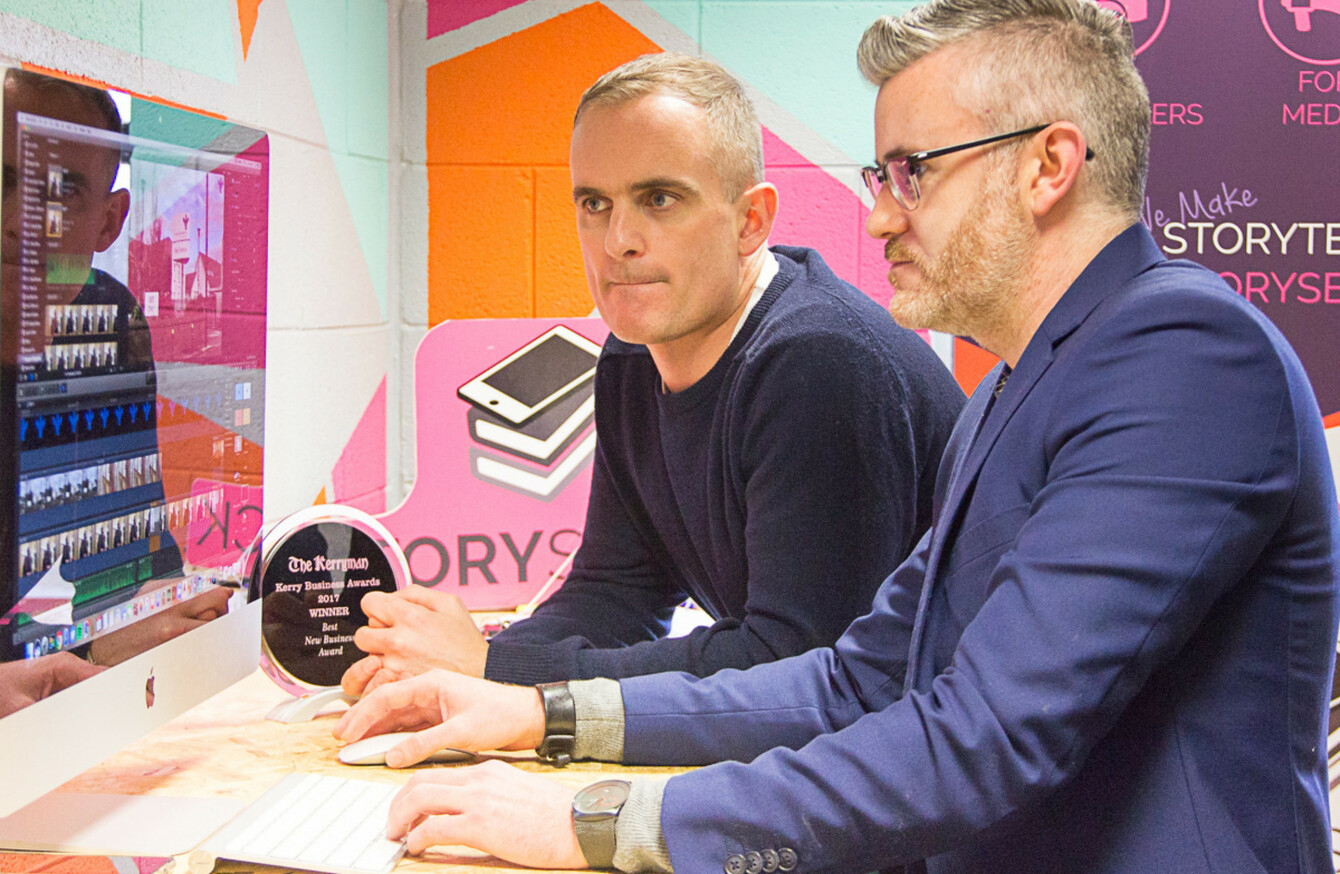 Image: MGT KENNEDY OC
Image: MGT KENNEDY OC
"WE CUT THROUGH the bullshit and spend our days trying to work out how to grow the company, take on more customers, make more revenue and – more importantly – get better stories for our story library," says Francis Fitzgibbon, founder and CEO of StoryStock.
StoryStock is made up of a small team with big ambitions. The Tralee-based company works with over 1200 filmmakers in 41 countries to create a database of original stories for purchase.
Francis explains how it all works:
Thousands of stories come through our office every week, both from our content partners and a community of videographers. Our job is to get those stories to the right publisher, media outlet or brand.
With stories becoming an increasingly sought-after and, some might argue, necessary business tool, it seems there are plenty of opportunities for startups in the area of providing content.
But it's not simply a case of amalgamation. Here, Francis tells us seven things we might not have realised about this rapidly growing industry.
1. You can learn so much from eachother's stories
We start at 8am. I try and get in for 7.45am, find a quiet corner of the office and listen to a couple of stories every morning. It reminds me why we do what we do. Last week, when I was having a particularly bad day, I snuck off to catch up on a few stories from our digital library.
The first story was of a transgender activist trying to live as herself in conservative Russia. The second story was of a young man in Ireland and how he told his family he has HIV. The third was of an Indian lady taking on the justice system in her town in India over their failure to protect her when her husband beat her in a violent attack.
People can learn about the world from each other's stories and I want to be a part of something that gives those stories life. Looking at the stories also helps to understand how our stories fit in with the needs of the people we are trying to sell to everyday.
2. You still have to do the hoovering
I hate doing the hoovering and VAT returns. No rational human being likes either task. Thankfully, VAT returns only come around every two months. Hoovering is a more frequent task unfortunately.
When you work at a startup, the key focus is on saving money everywhere you can. So, we may be on important conference calls trying to close international deals, but we still have to do the hoovering that evening. You need to be flexible to work as part of a startup, be prepared to chip in and help on any task that needs to get done.
3. People might think you're mad at first
In November 2015 it had been raining for three days solid in Brussels. I was sitting in my office at 10.05am. I had been working for the European Parliament for two years but was on the run into my 40th birthday and knew that I didn't want to spend the rest of my life working for someone else.
At 12.30pm I had made up my mind and told my former boss I was moving back to Ireland to set up a company called StoryStock from a small office in Tralee. She thought I was mad, as did my family and friends.
4. You need to be obsessed to succeed
I have been obsessed with people's stories since I was a child. I always had a natural sense of curiosity and an equal sense of justice. I know that stories have power. Power to change hearts, opinions and minds but – from a commercial perspective – stories can sell ideas, products and campaigns.
When I founded StoryStock, I knew the world was brimming with people's stories – but that we needed to use software to create channels so that the stories could easily make their way to the right people. I had to give it a try and I'm glad I did.
5. You need to be prepared for the bad days
Building a start-up is hard and the StoryStock journey has had as many dark days as bright ones. But we are building something. My father was a builder and as children we would drive past houses he had built. He would say, "I built that."
#Open journalism No news is bad news Support The Journal

Your contributions will help us continue to deliver the stories that are important to you

Support us now
I always wanted to build something. Something you could turn around at the end of the week and say – I built that. That's what StoryStock is. The journey is difficult and there are plenty of days I feel like giving up.
Equally, there are plenty of days where I realise that we are creating something special here – with a small team, in a small town on the west coast of Ireland. That's a good feeling.
6. People won't understand what you do
My mother tells her friends I like to tell stories. My sister tells everyone I make films. Most people assume we are out filming and recording people's stories all day. In fact, we are building the software and the channels to help others to tell great stories – stories that are not being told.
The reality is long days in the office trying to attract in more customers, trying to sign up more content partners and grow a community of film makers. It may sound exotic to say I was on a conference call to Bali twice last week – but I was still sitting in an office in Tralee with the rain was pelting off the window outside.
The reality of a startup is that your team has to work really hard for little pay until you reach a tipping point. We are looking for investment which takes a massive amount of my time. There is always tension in finding the right investor because we believe so passionately in what we do. We would like to find someone who is not just looking for short term gains and will partner with us to create something special.
7. People want to tell you their stories
We get a lot of people pitching us their life stories in the post. One guy wrote us a letter telling us why we should bring his story to the big screen. He was a country musician in a small town on the west coast of Ireland.
Another lady was a regular letter-writer to Ireland's Own magazine and she gave us a great insight into what life was like for an Ireland's Own writer. We love it when people take the time to tell us their story, in particular through the medium of a letter.