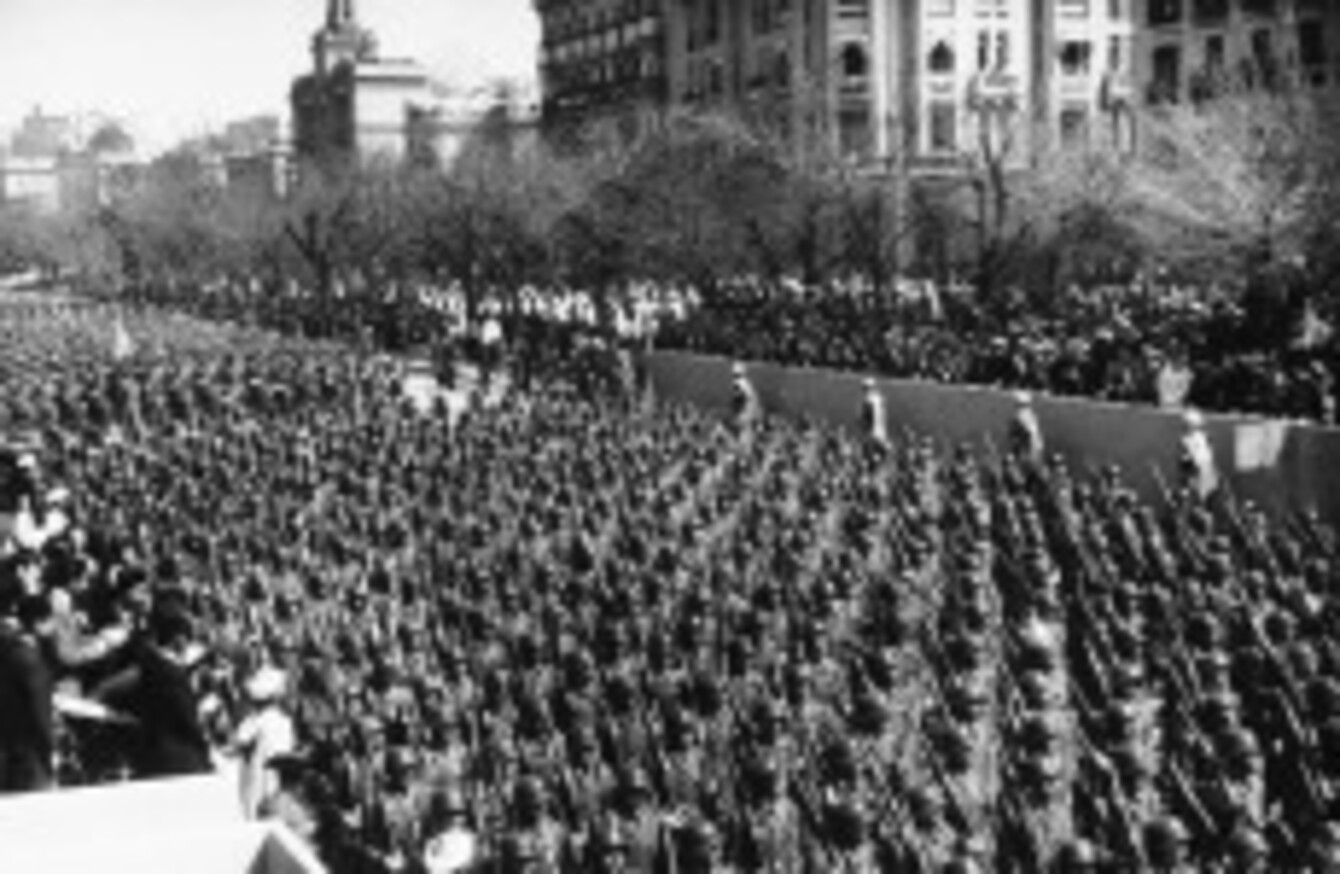 Spain's infantry units march down the Castellana in Madrid in 1943.
Image: AP/Press Association Images
Spain's infantry units march down the Castellana in Madrid in 1943.
Image: AP/Press Association Images
A TOP SPANISH court on Friday ruled against extraditing a former policeman to Argentina, where a judge wants to try him for alleged torture during the Franco dictatorship.
The National Court, the top criminal court in the country, said Jesus Munecas's alleged crimes occurred too long ago.
The court also justified the decision on the grounds that Munecas has no link to Argentina.
The former policeman, 75, was the subject of an extradition request by an Argentine judge under the principle of universal jurisdiction, which allows certain human rights abuses to be pursued and tried elsewhere if the country in which they occurred does not investigate.
The charges lodged in Argentina allege that Munecas, a former Civil Guard captain, and another policeman, Juan Antonio Gonzalez Pacheco, tortured prisoners towards the end of General Francisco Franco's rule.
Hundreds of Spaniards have turned to the Argentine courts to seek justice for alleged crimes committed during the country's 36-year dictatorship, which ended with Franco's death in 1975.
Munecas is accused of torturing a prisoner in 1968 at a Civil Guard Barracks in Spain's northern Basque region.
During his extradition hearing earlier this month he denied taking part in torture and told the court he did not know his alleged victim.
In its ruling, the court pointed out that in Spain the crime of torture — which carries a prison term of six years — has a statute of limitations of 10 years.
The court has yet to rule on the extradition request for Gonzalez Pacheco, known as "Billy the Kid", who is accused of torturing 13 prisoners between 1971 and 1975.
The lawyer of the 67-year-old, who earned his nickname for allegedly spinning a gun around his finger as he beat his victims, has said he denies the charges.
Spanish state prosecutor Pedro Martinez has opposed the extradition of the two men, but has said that if Argentina wants to prosecute the suspects it should do so in the Spanish courts.
However, the two men are unlikely to be tried in Spain because of a 1977 amnesty law covering political crimes committed during the 1936-39 civil war and under Franco, which was adopted in an attempt to unify the country.
Last October, the United Nations recommended scrapping the amnesty and urged Spain to draw up plans to search for those who disappeared during the dictatorship.