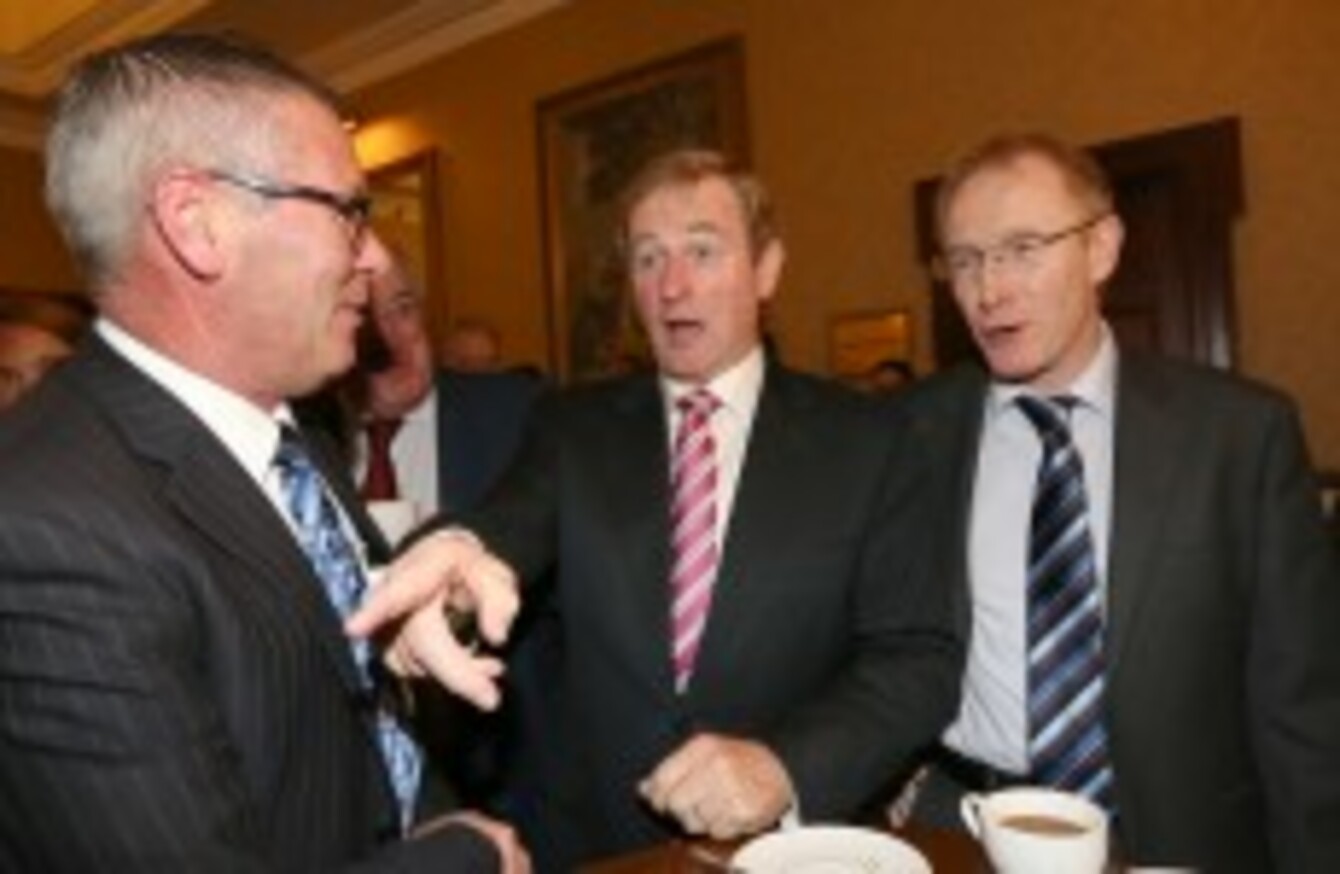 Pat O'Neill, Enda Kenny and Frank Feighan (right) pictured in 2013.
Image: Laura Hutton/Photocall Ireland
Pat O'Neill, Enda Kenny and Frank Feighan (right) pictured in 2013.
Image: Laura Hutton/Photocall Ireland
FINE GAEL TD for Roscommon/South Leitrim Frank Feighan has announced he will not be contesting the general election.
He said the decision was personal and the party did not put pressure on him to not run in the Roscommon/Galway constituency this time around.
Feighan came under fire from constituents when he voted in favour of replacing Roscommon A&E with an urgent care unit and an out-of-hours GP service. His colleague Denis Naughten lost the party whip for voting against Fine Gael on the issue.
When asked if his decision was in any way influenced by party headquarters, Feighan said: "Not at all."
In a statement issued this evening, he noted:
"This is a personal decision which is one I have not taken lightly but one I feel is taken in the best interest of my party and my constituency.
Roscommon Hospital will always be associated with my name. And I'll always take pride in the fact that not only is Roscommon Hospital safer, but has a long term future with a €20 million investment plan taking place there. The introduction of the air ambulance and advanced para-medics has saved many dozens of lives.
Fine Gael Councillor Maura Hopkins ran as the party's candidate in last year's Roscommon/South Leitrim by-election. She is the frontrunner to be chosen to run in Roscommon/Galway now Feighan has stepped aside.
The Taoiseach praised Feighan in a separate statement, describing him as "a man of great courage, integrity and loyalty".
He commended his work as a councillor and Senator and as a TD since 2007.
"I want to sincerely thank him for his hard work and excellent service to the people of Roscommon/South Leitrim over the past 16 years.
"Frank has worked tirelessly to help this government deliver infrastructure projects and enhanced services to the people of Roscommon and Leitrim, including making Roscommon Hospital safer and relentlessly working to resolve the water crisis in his constituency," Kenny said.