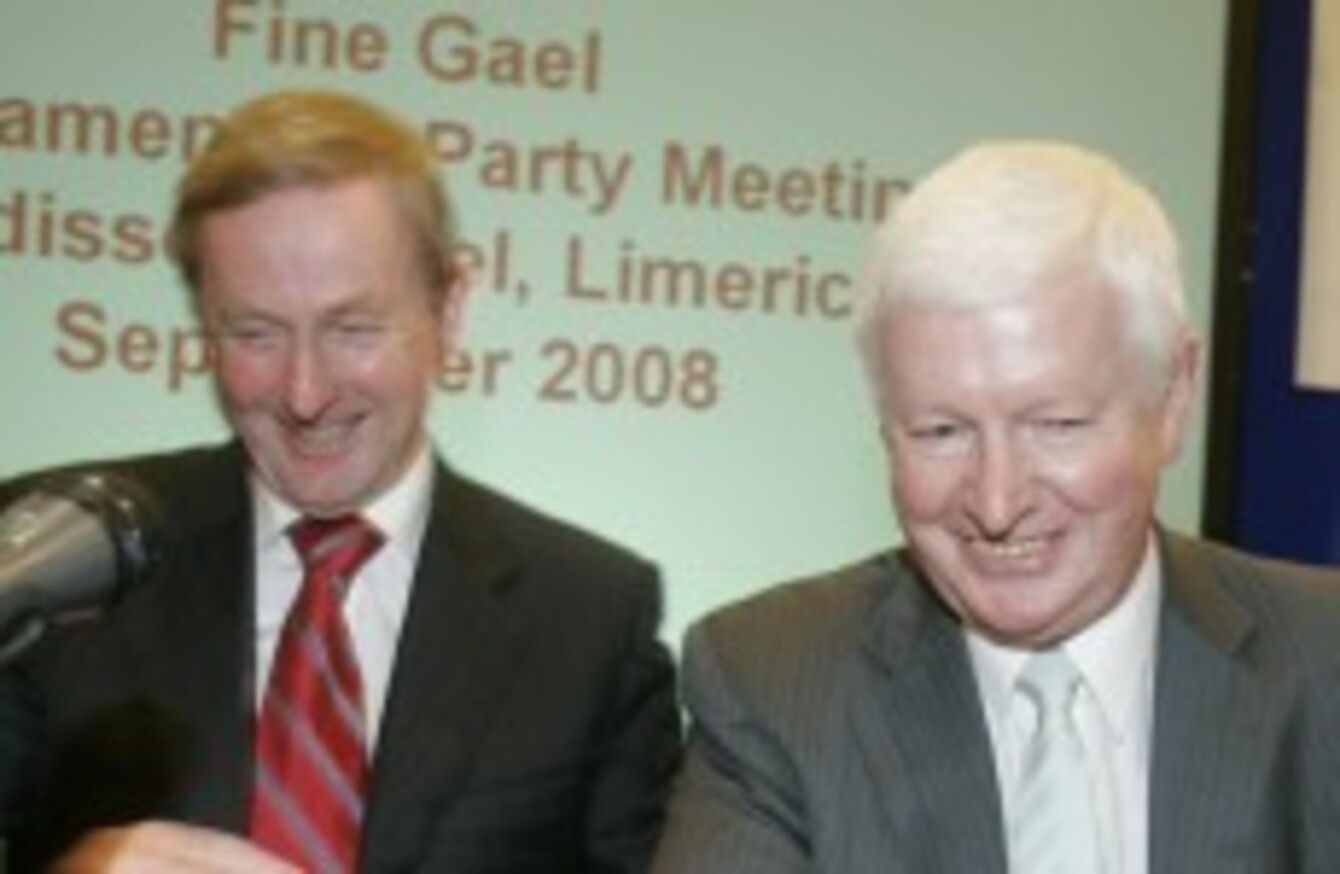 Enda Kenny and Frank Flannery in 2008
Image: Eamonn Farrell/Photocall Ireland
Enda Kenny and Frank Flannery in 2008
Image: Eamonn Farrell/Photocall Ireland
Updated 3.20pm 
SENIOR FINE GAEL figures are now distancing themselves from the idea that the party's former chief strategist Frank Flannery will be returning in any formal role ahead of the next general election.
Speculation reached fever pitch last week after it emerged that Flannery held a meeting with Taoiseach Enda Kenny in The Cellar Bar of the Merrion Hotel earlier this month.
The meeting came almost a year after Flannery quit as the party's director of elections amid controversy over his role as a lobbyist for the Rehab Group.
The possibility of Flannery returning to the party ahead of the next election was discussed by the pair, although no formal offer was made.
There has been mixed reaction in Fine Gael to the possibility of the man who masterminded its historic 2011 poll success returning to the fold given his controversial involvement with Rehab.
Now, senior Fine Gael figures are seeking to play down the idea of Flannery's return ahead of a special parliamentary party meeting tomorrow, being dubbed a mini think-in, where the issue is likely to be raised.
A senior party source said late last week that they did not see Flannery "being part of the formal structures at all" and described the revelation that a meeting took place as "a red herring".
"The electoral strategy committees have been chosen, I don't see any plans for them to change," they said.
That line was echoed by Health Minister Leo Varadkar who told the Irish Times yesterday that that party's election committee has already been chosen and there are no plans for new members.
This morning, Jobs Minister Richard Bruton told reporters that he was not party to any discussions on Flannery's return. He said that Fine Gael has already appointed its election committee.
"That is a very strong committee, led by Frances Fitzgerald. They've already been working on that election strategy," he said.
While speaking to reporters this morning in the west, Enda Kenny has reportedly said that Flannery has no official role in Fine Gael election strategy. Although he added that as a party member Flannery is entitled to give views and advice.
Flannery said he had "absolutely no comment to make" when contacted this afternoon. He told Marian Finucane yesterday that he would give "serious consideration" to any offer to return to the party.
The Fine Gael national election strategy committee was set up by the Taoiseach in September in the wake of the John McNulty Seanad debacle.
In addition to being headed by justice minister Fitzgerald it also includes Varadkar, his ministerial colleagues Simon Coveney and James Reilly, as well as junior minister Simon Harris.
Limerick TD Patrick O'Donovan and Senator Paul Coghlan sit the committee as representatives from the parliamentary while party strategist Mark Mortell is also heavily involved.