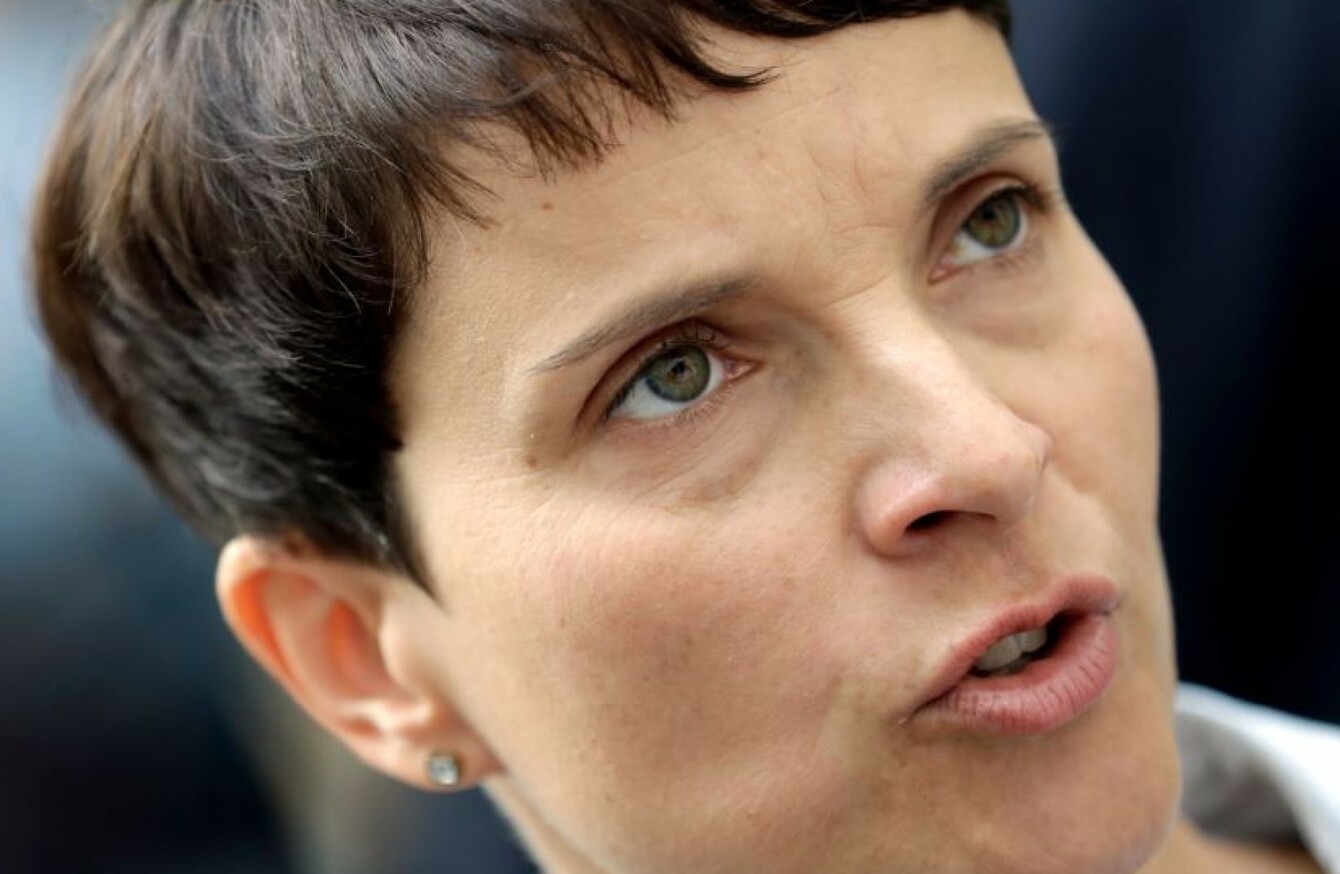 Frauke Petry
Image: Michael Sohn AP/Press Association Images
Frauke Petry
Image: Michael Sohn AP/Press Association Images
THE LEADER OF a far-right party in Germany has said the country "has to close its borders to illegal migration".
Alternative for Germany (AfD) leader Frauke Petry made the comments when speaking about the Christmas market attack in Berlin in which 12 people were killed on Monday.
She told RTÉ Radio 1′s Today with Seán O'Rourke "people will have to wake up and realise that Germany is not a safe country anymore".
"We are not really surprised to see an attack like that happen.
"Since the migration policy of [Angela] Merkel's government has been criticised by us so many times, we basically predicted something like that to happen in the near future.
"Germany has to close its borders to illegal migration. We can't take more asylum seekers, not knowing who's coming into the country in the long run."
Manhunt
German police today launched a manhunt for a Tunisian man suspected of driving the truck that ploughed through a Berlin Christmas market in a deadly assault claimed by the Islamic State jihadist group.
Media reports said asylum office papers believed to belong to the man were found in the cab of the 40-tonne lorry used in the attack that killed 12 people.
The man is in his early 20s, known by three different names, and was born in the southern city of Tataouine, the reports said.
He applied for asylum in Germany in April and received a temporary residence permit, according to the daily Sueddeutsche Zeitung.
A previous suspect — a 23-year-old Pakistani asylum seeker — was released late yesterday for lack of evidence.
Merkel 
German Chancellor Angela Merkel condemned the attack. She previously told reporters: "I know it will be especially hard for us to take if it is confirmed that the person who committed this attack sought protection and asylum in Germany.
She added that if the attack was carried out by an asylum seeker it would be "particularly sickening in relation to the many, many Germans who are involved every day in helping refugees".
The arrival of 890,000 asylum seekers last year has polarised Germany, with critics calling the influx a serious security threat. Another 300,000 people have arrived this year.
Far-right parties such as AfD have seen their popularity increase recently.
Speaking about next September's general election in Germany, Petry told O'Rourke: "I think that a two digit number result is definitely within reach, whether it be 12, 15, 16% [of the vote] or even more … We will be a strong opposition party.
"I don't think we will be strong enough, yet, from today's point of view, to be more than an opposition party."
Contains reporting from © AFP 2016