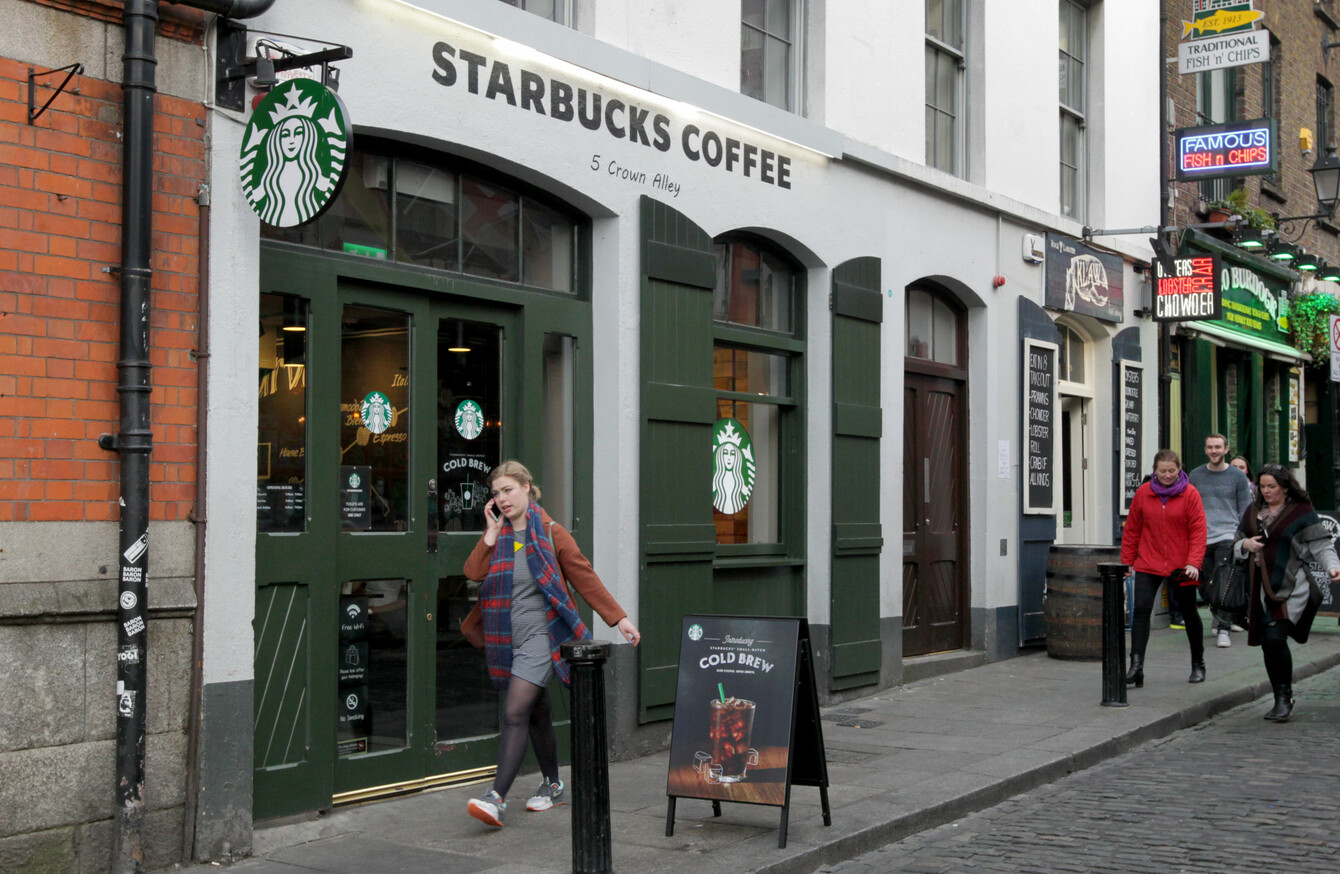 Image: RollingNews.ie
Image: RollingNews.ie
Updated 10.25am
A NUMBER OF cafés in Dublin city centre are giving out free coffee this morning in protest against the expansion of Starbucks outlets across the capital.
The initiative was organised by Ciaran Hogan, who set up the Clockwork Door on Wellington Quay last October. He told TheJournal.ie that initially it was just his café due to give away coffee to promote the business, after he heard that another Starbucks was to open nearby on Crampton Quay. There are currently just over 50 Starbucks open in Dublin.
Participants include Clockwork Door, CoCo Brew, Foam Café on Strand St (1-2pm and 5-7pm) and Gallagher and Co on D'Olier St (1-2pm and 5-7pm).
The free coffee morning then grew to include other cafés after he spoke to other business owners about the issue.
Hogan said he believes that the model of allowing multiple cafés from the same chain to open in Dublin is "drowning out the small independent businesses that are trying to give the city its wonderful character and vibrancy".
"I see that everything is becoming monotone, by procedure and there's no colour and flavour and there's nothing unique about Dublin," he said.
Hogan hasn't talked to Dublin City Council to date about his concerns. However, he said he was partly inspired by the recent success of the campaign to save trees in Fairview. This campaign succeeded after concerned locals put pressure on the council over the issue.
"We are doing this action to show [people] that small independent places are alive, we are around, we need your support – because it's going to have to be a customer-driven thing," said Hogan of today's initiative.
'It's ridiculous'
He said that the "enthusiasm and eagerness" of other businesses had to join him surprised him. "We are all a community of people who have put in our life savings or all our hard work, or years of our time to just get by," he said.
#Open journalism No news is bad news Support The Journal

Your contributions will help us continue to deliver the stories that are important to you

Support us now
Hogan said that there is a point on O'Connell Bridge "where you have line of sight to five Starbucks locations".
"It's getting to the point where it's ridiculous. I can't blame Starbucks, they are a company, they make money, that's their model," he said. But he said he feels that there should be a restriction on how many outlets from one café chain can open in the capital.
Hogan has been giving out the free coffee this morning and said he has been "getting a lot of feedback and a lot of people saying 'yes, I support local places'".
"Dublin people I think realise that there is definitely a need and a reason for the small independent places that give the city colour and flavour and its own style," he said. "If everything was bought over by chains and everything was uniform and policy it would ruin the city."
He said his business has "had no support, no handouts, no government support for small business, for someone who is really trying on their own".
Asked about the initiative, Starbucks said:
We are proud to be part of Dublin's vibrant coffee culture. Whilst we are not the biggest coffee brand in Dublin, it's great to see many independents and brands raising the bar with innovation and coffee quality, giving Irish customers even more choice.
With the 15 new positions this new Starbucks on Crampton Quay will create when it opens, we will have over 800 baristas delivering a fantastic experience for our customers around Ireland.