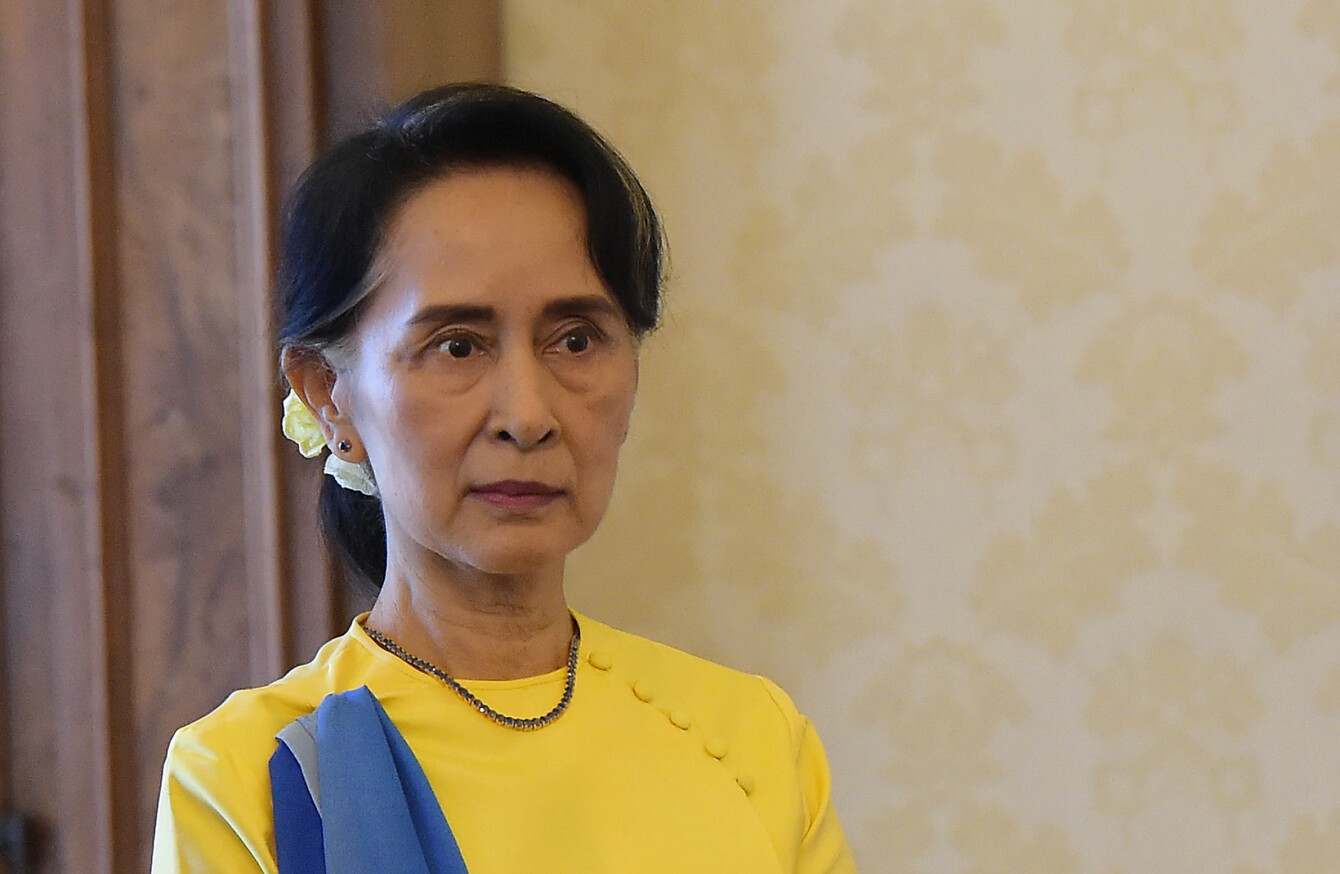 File photo of Aung San Suu Kyi
Image: Vandeville Eric/ABACA
File photo of Aung San Suu Kyi
Image: Vandeville Eric/ABACA
DUBLIN CITY COUNCILLORS have voted to strip Myanmar leader Aung San Suu Kyi of the Freedom of Dublin.
Councillors voted in favour of the motion at a council meeting tonight.
This means that the honour will be rescinded with immediate effect.
Councillors had earlier voted on a motion by Fianna Fáil Councillor Michael Mullooly that a two thirds majority would be needed to strip Suu Kyi of the honour.
Aung San Suu Kyi was awarded the Freedom of the City on 1 November 1999, the same day all the members of U2 also received the award.
Suu Kyi was under house arrest in Myanmar when she was honoured and she accepted it in person in 2012.
The push to strip her of the honour had come in recent months amid increasing international concern over the persecution of Rohingya Muslims in Myanmar, on which Suu Kyi – the de-facto leader of the country – has remained silent.
Last month, musician Bob Geldof returned his own Freedom of Dublin scroll that was conferred on him in 2005, in protest at Suu Kyi still retaining hers.
Councillors also have voted this evening to accept Bob Geldof returning his Freedom of Dublin honour – 33 in favour to 7 against with 5 abstentions.
Yesterday, rock band U2 wrote to Dublin City Councillors to urge them to remove the Freedom of the City from Aung San Suu Kyi.
The band were longtime campaigners for Suu Kyi when she was being persecuted in Burma (now Myanmar) but have said in a letter that she has now "betrayed the principles for which she was so revered".
Councillors 
Speaking ahead of the motion, Labour councillor Andrew Montague – who bestowed the honour on Suu Kyi in 2012 when he was Lord Mayor – said he was sad to say he would be voting to remove the Freedom of Dublin from her.
"What's happening in her country is wrong and whether she has power or not she should be standing up for the people in her country who are being ethnically cleansed," he said.
Labour councillor Mary Freehill – who was Lord Mayor in 2000 when Suu Kyi was actually awarded the honour – said that it was with a "heavy heart" that she would also vote to rescind the honour.
Councillors were by and large highly critical of Myanmar and Suu Kyi in their speeches ahead of the vote.
"She betrays everything for which we award the freedom of the city," said Sinn Féin councillor Críona Ní Dhálaigh.
Independent councillor Paul Hand said Suu Kyi was at the very least allowing ethnic cleansing to continue in her country.
Speaking ahead of today's council meeting, independent councillor Mannix Flynn said that the award should have been stripped from Suu Kyi quicker than it had been.
"I think the city council could have dealt with this much quicker – this caused a lot of undue stress for the Rohingya people here in Ireland," Flynn said.
"We will take it off this individual and that will send a very clear signal to the world and to Aung San Suu Kyi and the military [in Myanmar].
I am fully in support of this and I think it's an appropriate thing to do.
Lord Mayor Micheál Mac Donncha also said he was in favour of stripping the ward from Suu Kyi.
"There would be a general agreement. I had actually proposed this going way back – seeking a consensus across the parties on the council to achieve it," he told RTÉ's Ryan Tubridy.
Fianna Fáil councillor Deirdre Heney said that she did not support the Freedom of the City being stripped from Suu Kyi, however.
"I think we should wait. I would propose that we put the matter off for eight to 10 months to let the UN investigation team [into Myanmar] to complete its work," she said.
I'm not in any hurry to remove it and I don't think it will do any harm to wait to allow that fact finding mission to finish its works
Heney said the Freedom of the City was a great honour to bestow on people and that it should not be removed without an official report made to councillors over what was happening in Myanmar.
"Then we wouldn't be being dictated to by rockstars and former rockstars and the media, we'd be dealing with a report that's on our agenda," she said.
Rohingya persecution
More than 620,000 Rohingya have crossed into Bangladesh since a militant attack on police posts in late August sparked a deadly crackdown by the Myanmar military.
They have given consistent accounts of mass rape, killings and villages deliberately burned to the ground by soldiers and Buddhist militia.
The UN has described what is happening as "ethnic cleansing".
Suu Kyi is the de facto leader of Myanmar although her actual power has been questioned with the country effectively run by the its military.
Despite this, Suu Kyi has not spoken out against the violence against the Rohingya, instead saying that the "great majority" of Muslims within the conflict zone had not fled.
This has led to widespread international condemnation of Suu Kyi, who was once seen as an icon of peace.