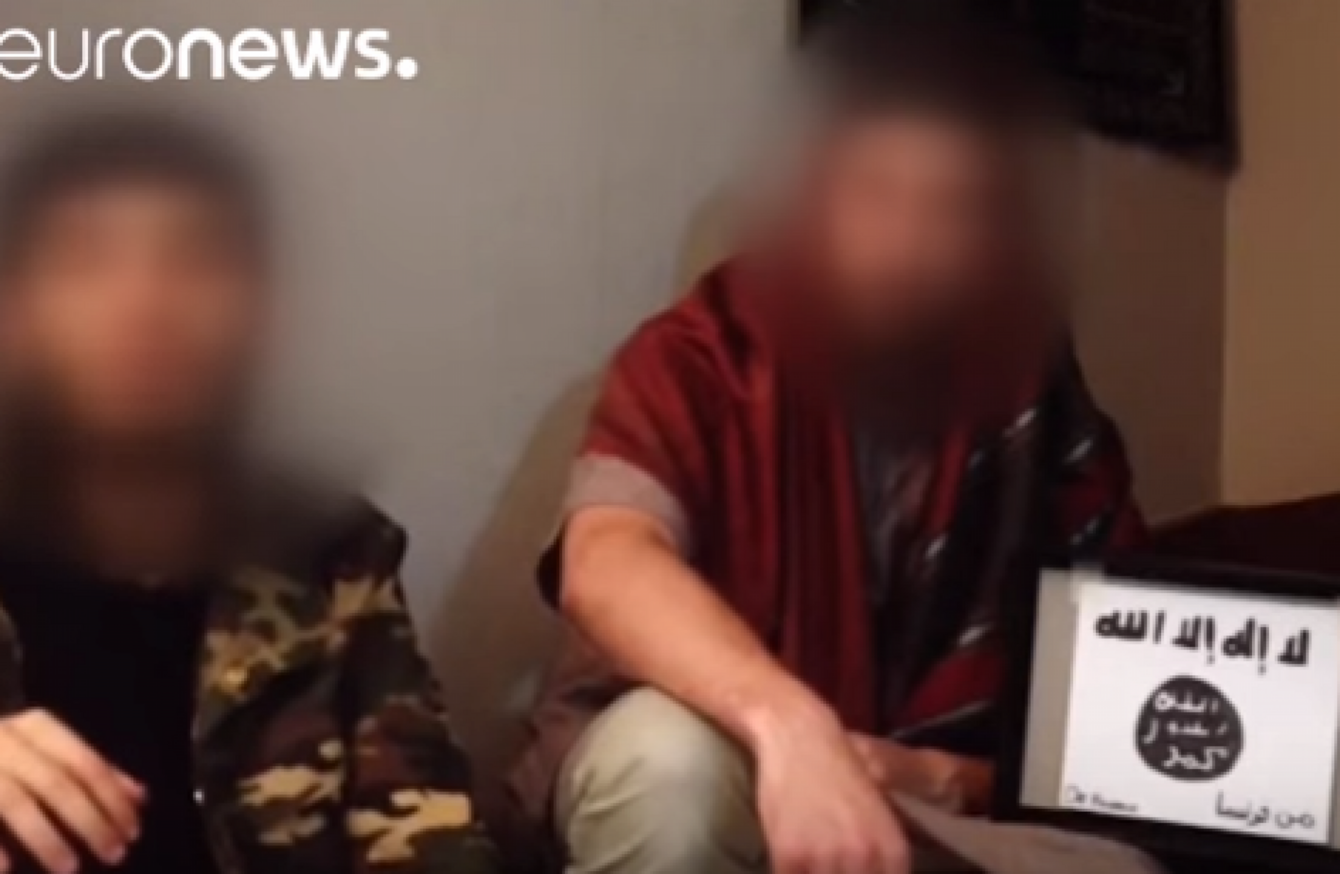 The two men swore allegiance to the Islamic State group prior to their attack.
The two men swore allegiance to the Islamic State group prior to their attack.
FRANCE HAS IDENTIFIED the second jihadist involved in the brutal killing of an elderly priest, as calls mounted for the prime minister and interior minister to resign after the latest terror attack.
Prosecutors named the assailant as 19-year-old Abdel Malik Petitjean, who was listed in June on France's "Fiche S" system of people posing a potential threat to national security after he tried to reach Syria from Turkey.
Petitjean, whose face was disfigured when he was shot dead by police, had been harder to identify than his accomplice Adel Kermiche, also 19. Investigators confirmed Petitjean's identity after a DNA match with his mother.
The two jihadists pledged allegiance to the Islamic State group in a video made before they stormed a church in the Normandy town of Saint-Etienne-du-Rouvray on Tuesday and slit the throat of 86-year-old priest Jacques Hamel at the altar.
Unlike his accomplice, Petitjean never raised suspicions for radicalisation among his neighbours, and was unknown to police until last month when he tried to go to Syria.
Petitjean was born to a family of Algerian origin and lived in the quiet lakeside town of Aix-les-Bains in the shadow of the Alps, popular with visitors seeking thermal cures.
Djamel Tazghat, who manages the local mosque in the Aix-les-Bains suburb where Petitjean lived in social housing, said he recognised the young man in a video published by the Islamic State group in which the two pledged allegiance to the jihadist movement.
"I liked him a lot. We never had a problem with him at the mosque. No strange observations, he was always smiling… It's incredible," he said.
All the believers are shocked because he was known for his kindness, his calm. We never had any sign of radicalisation. What was going on inside his head?
Warnings of terror strike 
Hamel's funeral will be held in the stunning Gothic cathedral of nearby Rouen next Tuesday, the city's Catholic diocese said.
The attack came as the government was already facing a firestorm of criticism over alleged security failings after the Bastille Day truck massacre in Nice that left 84 people dead two weeks ago.
The government has faced tough questions since it emerged that both church attackers had been on the radar of intelligence services and had tried to go to Syria.
Sparking particular ire was the revelation that Kermiche had been released from prison while awaiting trial on terror charges after his second attempt to travel to Syria.
He was fitted with an electronic tag — allowing him out of the house on weekday mornings — despite calls from the prosecutor for him not to be released.
Annie Geslin, who worked with Kermiche's mother for many years, told AFP "he was the youngest child and had psychological problems".
Sources close to the investigation said Petitjean "strongly resembles" a man hunted by anti-terrorism police in the days before the church killing over fears he was about to carry out an act of terror.
The sources said France's anti-terrorism police unit UCLAT sent out a note four days before the attack — saying it had received "reliable" information about a person "about to carry out an attack on national territory".
'Government guilty'
A brief show of political unity at a mass attended by different faiths in Paris yesterday quickly dissolved as Prime Minister Manuel Valls and Interior Minister Bernard Cazeneuve faced fresh calls to resign.
#Open journalism No news is bad news Support The Journal

Your contributions will help us continue to deliver the stories that are important to you

Support us now
Source: euronews (in English)/YouTube
"Even if the government is not responsible for the wave of terrorism, it is guilty of not having done everything to stop it," Laurent Wauqiez, the deputy leader of the right-wing Republicans party, said in an interview with Le Figaro newspaper.
Manuel Valls and Bernard Cazeneuve must go because they refuse to take vital measures to fight Islamism. We need a new government, determined to act.
Meanwhile, President Francois Hollande responded to remarks by US Republican presidential candidate Donald Trump that "France is no longer France" as a result of the attacks.
"France will always be France, because France will never yield and because France is always the bearer of ideals, values and principles, for which we are recognised throughout the world," Hollande said.
When you lower your standards, you are no longer what you are. That's something that may happen to others, on the other side of the Atlantic.
The French government has said that everything possible is being done to protect citizens, while warning that more terror attacks are inevitable, after three major strikes and several smaller attacks in the past 18 months.
Hollande on Thursday confirmed plans to create a National Guard drawn from existing reserves, after the government previously urged "patriots" to sign up to become reservists.
The president said he hopes the guard, made up of volunteers from the police, paramilitary police and military, will be operational by early autumn.