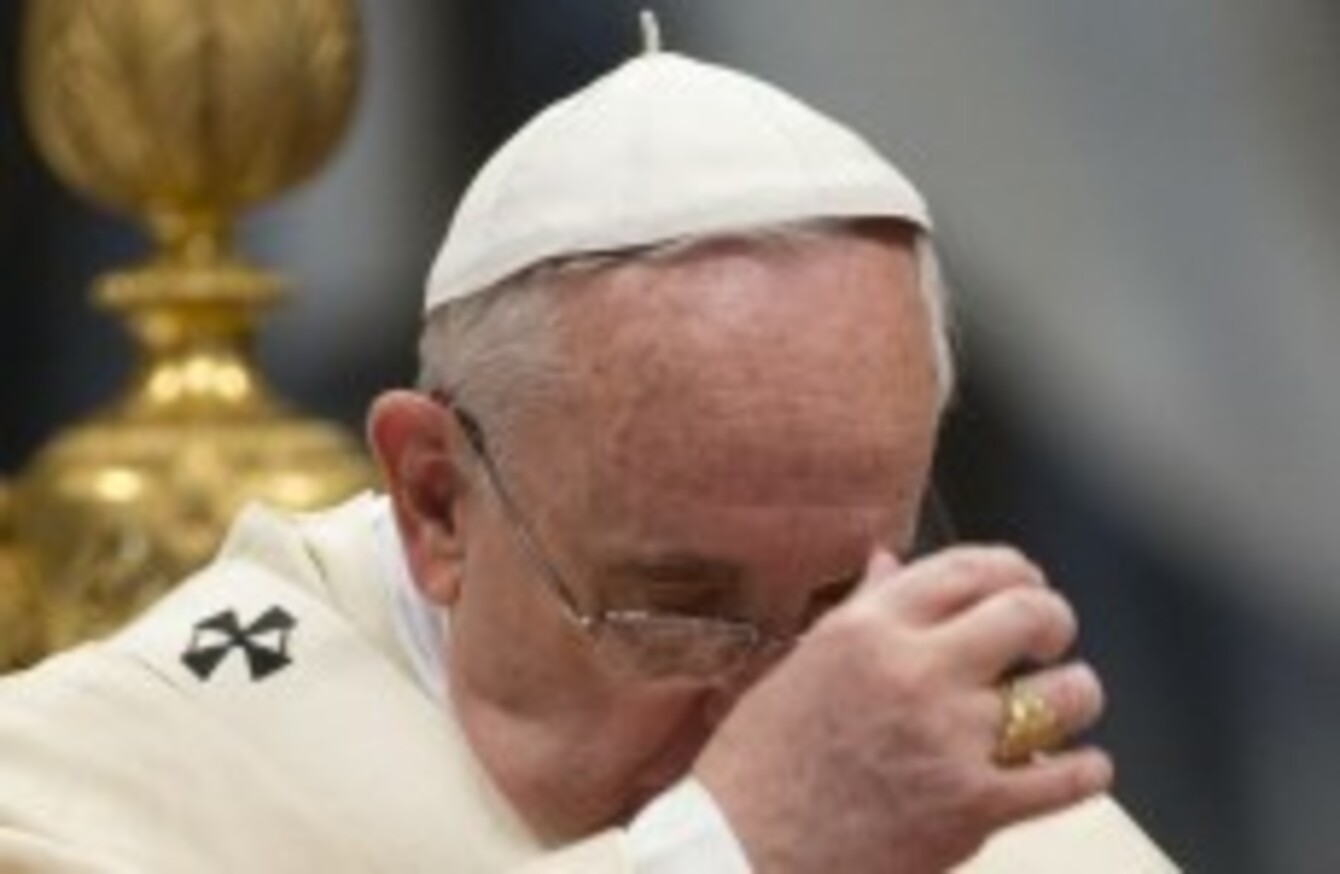 Image: AP/Press Association Images
Image: AP/Press Association Images
POPE FRANCIS HAS criticised 'deviant forms of religion' after last week's attacks in Paris that left 20 people dead, including the three gunmen.
In a 'State of the World" speech this morning, the Pope said that the slayings in Paris are an example of people becoming 'enslaved to deviant forms of religion'.
"Losing their freedom, people become enslaved, whether to the latest fads, or to power, money, or even deviant forms of religion," he said, laying the blame on "a culture of rejection" which leads to "the breakdown of society and spawning violence and death."
"We see painful evidence of this in the events reported daily in the news, not least the tragic slayings which took place in Paris a few days ago," he said in his yearly speech to the members of the Diplomatic Corps accredited to the Holy See.
The Pope's comments come as Israel's Prime Minister Benjamin Netanyahu will today visit the kosher supermarket in eastern Paris where four Jews were killed when the Islamist gunman stormed the store last week.
Accompanied by Foreign Minister Avigdor Lieberman, Netanyahu will pay tribute to victims at the site, according to an embassy spokeswoman, adding that no speech would be made during the brief ceremony.
It was also announced today that France will call up 10,000 military personnel to bolster security around "sensitive" sites in the country, in the wake of last week's attacks that left 17 dead. It's expected that about 5,000 security forces and police will be deployed to protect the county's Jewish schools.
Defence minister  Jean-Yves Le Drian unveiled the fresh measures after an emergency meeting called by President Francois Hollande as attention turned to preventing a repeat of France's bloodiest attacks in half a century.
France turns its attention Monday to plugging security holes blamed for failing to prevent the deadliest terrorist attack on the country in half a century, after millions united in historic rallies.
In the biggest show of solidarity, in Paris, more than a million people mourned the victims of three days of terror that began with a massacre at the offices of satirical magazine Charlie Hebdo on Wednesday.
President Francois Hollande will chair a crisis meeting with cabinet ministers today to discuss security measures after the shootings raised questions about how the attackers slipped through the intelligence services' net.
Hollande has warned his traumatised nation to keep up its guard in the face of possible new assaults.
All three gunmen — brothers Said, 34, and Cherif Kouachi, 32, and Amedy Coulibaly, 32 — had a history of extremism and were known to French intelligence.
Prime Minister Manuel Valls has admitted there were "clear failings" after it emerged that the Kouachi brothers had been on a US terror watch list "for years".
Said was known to have travelled to Yemen in 2011, where he received weapons training from Al-Qaeda in the Arabian Peninsula, while Cherif was a known jihadist who was convicted in 2008 for involvement in a network sending fighters to Iraq.
Coulibaly was a repeat criminal offender who had been convicted for extremist Islamist activity.
All three were shot dead by security forces Friday after a reign of terror that targeted Charlie Hebdo magazine, a kosher supermarket and police.
#Open journalism No news is bad news Support The Journal

Your contributions will help us continue to deliver the stories that are important to you

Support us now
Coulibaly's partner Hayat Boumeddiene is now most likely in Syria according to a Turkish security source.
Boumeddiene is believed to have been in Turkey at time of the Charlie Hebdo attack but entered Syria the following day when Coulibaly is believed to have killed a policewoman.
'Not afraid'
The French press hailed Sunday's rallies, the biggest in the country's history that saw nearly four million people pour into the streets, with some estimates putting the number in Paris alone at 1.6 million.
All major newspapers splashed photos of the sea of humanity on the French capital's streets, with banner headlines reading "A people rise up", "Freedom on the march," and "France stands up".
Hollande on Sunday led more than a million people on the march in Paris in tribute to the victims of the attacks as the crowd cried, "Not afraid."