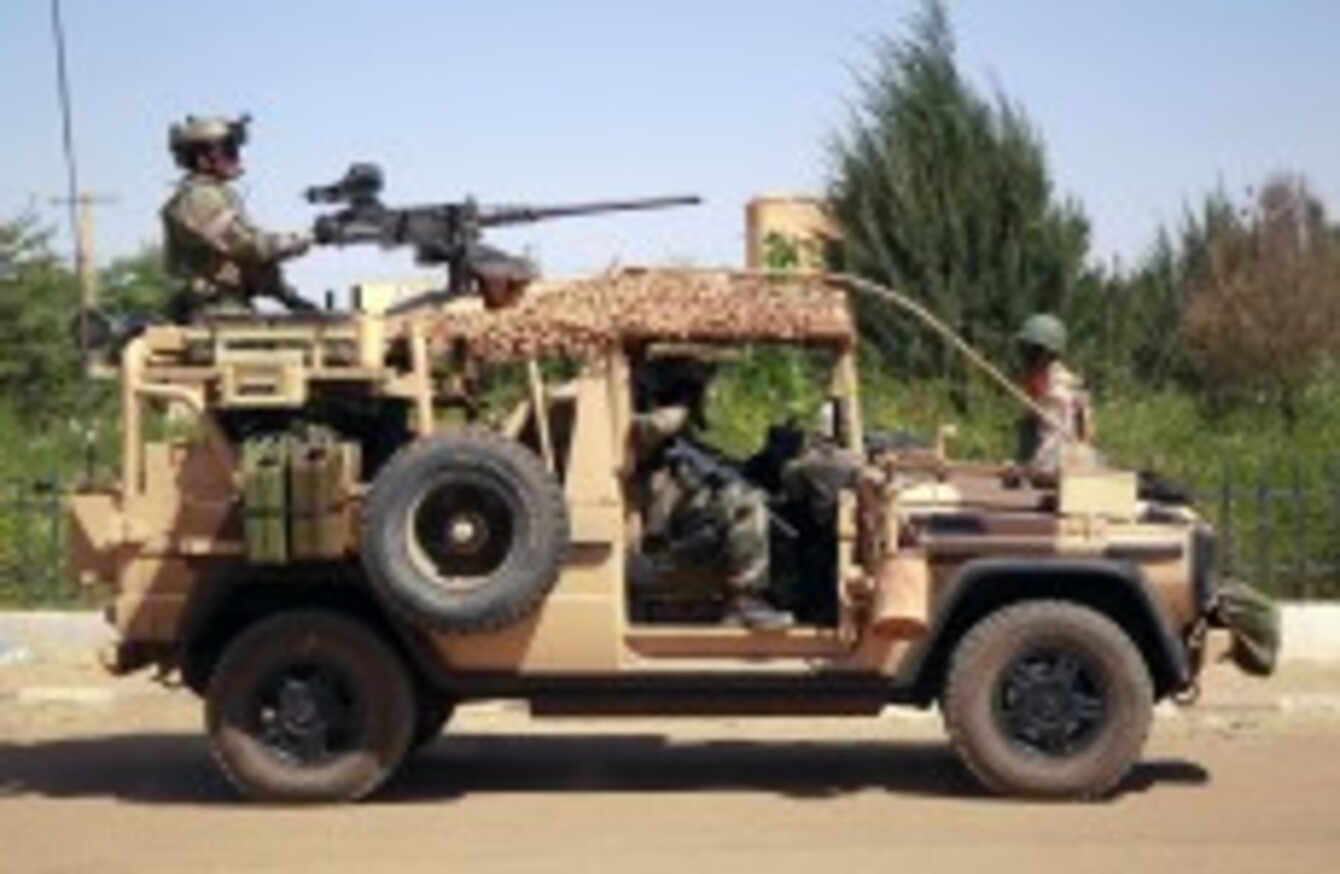 French special forces drive through the city of Gao, Northern Mali, yesterday.
Image: Jerome Delay/AP
French special forces drive through the city of Gao, Northern Mali, yesterday.
Image: Jerome Delay/AP
MALI'S INTERIM PRESIDENT ruled out talks with Islamist groups who ruled the north for nine months, but said he was ready to meet Tuareg activists from the region, in comments broadcast today.
President Dioncounda Traore set out his position in an interview with French radio station RFI after France called for peace talks between Mali's government and "legitimate representatives" from the north.
Traore said he was ready for talks with the secular Tuaregs of the National Movement for the Liberation of Azawad (MNLA).
But he would not meet any of the three Al Qaeda-linked groups that seized northern Mali last year, including the homegrown group Ansar Dine, (Defenders of the Faith).
"It is obvious that Ansar Dine is now disqualified, not eligible for dialogue, whatever clothes they come garbed in," Traore said.
On Wednesday, with French troops at Kidal, the last of the major northern towns still held by the Islamists, Paris called for the dialogue to start.
"Only a north-south dialogue will prepare the ground for the Malian state to return to the north of the country," foreign ministry spokesman Philippe Lalliot said.
Bamako should talk to "non-terrorist armed groups" that recognised the integrity of Mali, he said.
Kidal, 1,500 kilometres northeast of the capital Bamako, was until recently controlled by the Islamists of Ansar Dine. Now the newly formed Islamic Movement of Azawad (MIA) claims control of the city and on Wednesday a spokesman said its leader was speaking to the French forces there.
Peaceful solution
The MIA on Monday announced it had split from Ansar Dine, saying it rejected "extremism and terrorism" and wanted a peaceful solution to Mali's crisis.
On Wednesday, it appealed to the international community to prevent the deployment of Malian and West African troops in the Kidal region before a political solution had been found.
But Traore told RFI: "This MIA story doesn't hold water.
"Because fear has now changed sides, they are looking for a way out," he said.
"The only group we would consider holding negotiations with definitely is the MNLA, provided the MNLA waives all territorial claims," he said.
It was the MNLA who launched offensive in the north of the country in January 2012 in pursuit of an independent homeland for the Tuareg people.
They quickly worked their way south, virtually unopposed following a March coup in Bamako.
But they were quickly overpowered by former allies Ansar Dine and two other Islamist groups, who pushed them out of the northern cities and imposed a brutal form of Islamic law there.
Offenders suffered whippings, amputations and in some cases were executed. In the ancient city of Timbuktu, Islamists destroyed sacred shrines they considered idolatrous.
France swept to Mali's aid on January 11 after an Islamist advance south towards Bamako sparked fears the whole country could become a haven for terrorists. They now have 3,500 troops on the ground.
France urges talks with northern groups
Mali's parliament on Tuesday adopted a political roadmap which included a commitment to holding July 31 elections and negotiations with representatives of the north.
France, which welcomed that development, is pushing for a political settlement between the provisional government in Bamako and the Tuaregs in the north, who want a degree of self-rule.
And after a swift campaign in which French-led forces forced the Islamists from the northern cities into the vast desert wilderness, Paris is ready to hand over military duties to an incoming multinational African force.
Lack of cash and equipment has hampered deployment of nearly 6,000 west African troops under the African-led force for Mali (AFISMA).
But Nigeria's General Shehu Abdulkadir, commander of the force, said Wednesday they could be in place within two weeks.
Several countries had offered help airlifting the troops in and if they delivered on their pledges, he said: "I'm sure… that in the next two weeks, the troops will be fully in their various locations."
Niger's Defence Minister Karidjo Mahamadou meanwhile told AFP Wednesday the country was ready to host a base the US wants in order to operate drones to monitor movements by the Al-Qaeda-linked groups in the region.
"If Niger has an opportunity to receive support in the shape of aircraft or drones to monitor suspicious movements from Mali, we will not turn our nose up at it," he told AFP.
- © AFP 2013.