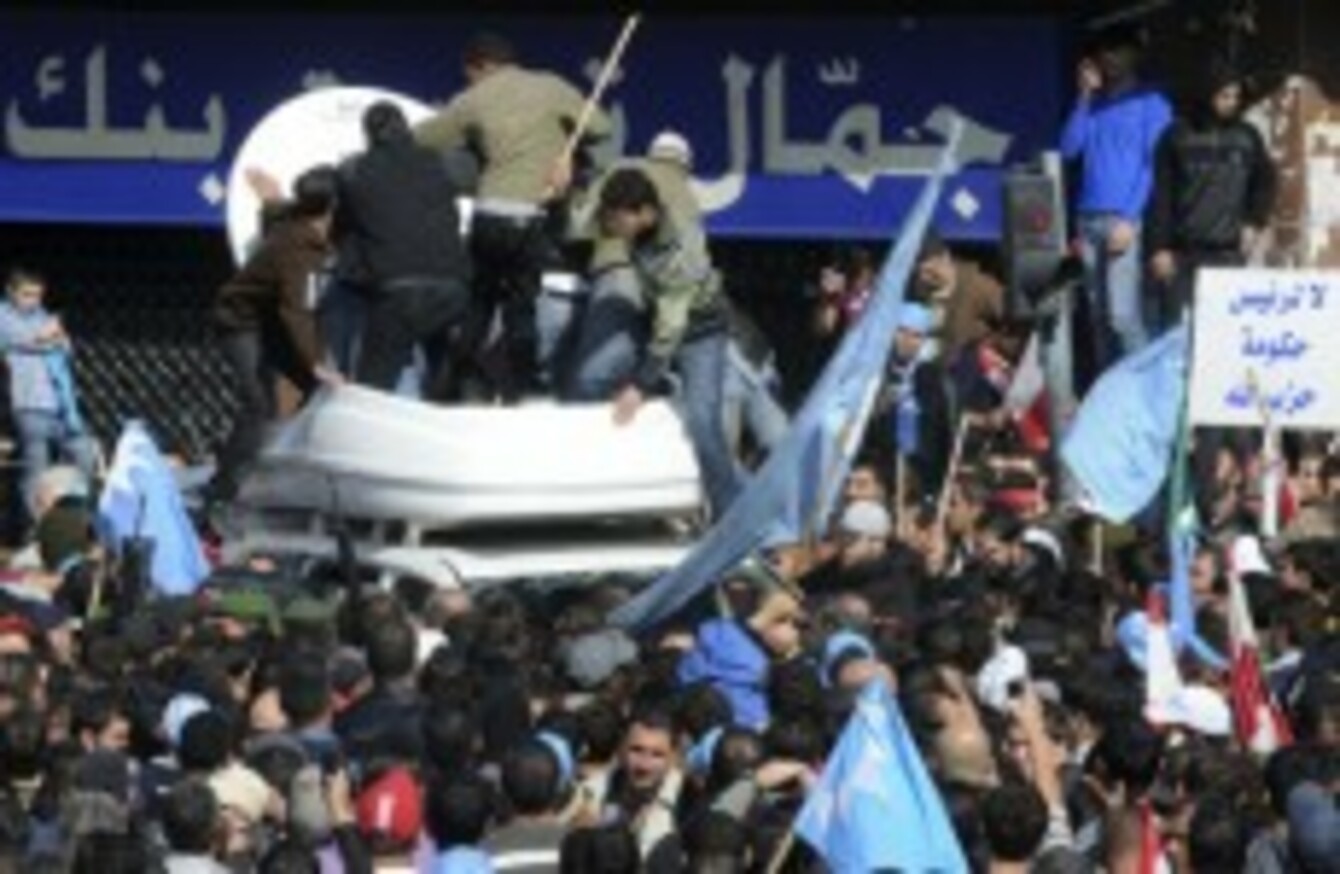 Protestors in Tripoli at the end of January
Image: PA Images/STR/AP
Protestors in Tripoli at the end of January
Image: PA Images/STR/AP
IRISH JOURNALIST RICHARD Conway recently visited Tripoli in Libya, now the centre of conflict and protest as Muammar Gaddafi attempts to cling to power.
While there he met two Iraqi migrants, student Ameen and his sister Farah, a doctor. Since unrest broke out in Libya, Conway has kept in touch with his friends by email and Facebook. They have been describing to him the daily horror, fear and uncertainty that life in central Tripoli now brings.
Richard writes:
AMEEN IS SCARED, confused and doesn't know what to do. Just two weeks ago the Manchester United fan, self-confessed Facebook addict and civil engineering student worked in a French-run art gallery, and smoked shisha with his friends.
Now his former boss has been evacuated, many of his friends have left the country and his local shisha parlour is closed.
Ameen lives in central Tripoli, and hasn't left his house in days. The son of an Iraqi refugee, he came to Libya with his family when they fled Saddam Hussein's regime in 1996, in search of a new life. Now, he says his adopted home is a warzone. At night he hears gunfire, and during the day it's eerily quiet. He says he needs help.
Three days ago, he tried to get out of Libya. But a ten-hour wait near the capital's airport saw him return home defeated, unable to get anywhere near the terminal.
He says he is stuck. Stuck in his house, because he fears being shot at on the street. Stuck for food, because many shops near him have closed. And stuck in the country, because he says his Iraqi passport makes it difficult for him to leave.
But he's not alone. He is with his sister Farah – a doctor – and two other Iraqi families. They spend their days indoors. When they can, they go online, both to find out what's going on and to keep themselves occupied. And it's there that I have talked to them daily, using instant messaging and online calls.
Farah, speaking about Gaddafi's defiant speeches, told me the country is now effectively in a civil war. She is terrified. Later she added that it feels like Iraq once did: you stay in at night, and if you need to go out, you do it early in the day.
But they don't risk it. They remain indoors, waiting. Waiting for something definite to happen.
They hear rumours that Tripoli might fall to protesters one minute, and that Gaddafi is holding strong the next. The Libyan media tells them to pray for the regime, while their friends tell them to pray for the uprising.
Today, scared, she appealed to me directly for help: "Please do what you can it gets worse, thanks for your effort," she said.
And while many Western countries evacuate their citizens, they say Iraq has been near-silent. The Iraqi embassy in Tunisia has advised them to drive to the border. But it's a frightening, and very dangerous prospect.
Farah is angry. She has called, and composed a letter to, the United Nations High Commissioner for Refugees. But she says it hasn't been able to help them, because the Tripoli offices are closed. Her letter reads:
We are a group of Iraqi peoples ask about our destiny in Libya with all this miserable situation going on and in time all the country act to move there people from Libya under this situation and our country stand pause and we don't even have embassy here ??? The united nation close even before the situation start ??????? We don't deserve to respect or put in count just because we are Iraqi. Is that fair??????

And why they don't put us in consideration????????? Please we need action.

I called the embassy in Tunis but with one small problem!!!!!!!!!!!!!!!! They want us travel by car to Tunis board through very dangerous area.
Please we need any things can you effor to us.
Please send my voice to any one can hear it or act.
Please.
We need that.
Ameen says that many others from Tripoli's Iraqi community, estimated to number in the tens of thousands, face a similar dilemma.
"[A]ll the Iraqi want to leave but not to Iraq man. [E]very one get ready but no one leave, still stunned," he added in two separate Facebook chats.
I met Ameen and Farah when I visited Tripoli just over twenty days ago. I was on holiday there. We talked for an evening, met Ameen's Iraqi, Syrian and Libyan friends, smoked shisha and drove around the city. It's a different place now.
That day, Ameen told me he wasn't sure if unrest in Egypt would spread to Libya, and in particular in Tripoli. The city is traditionally a pro-Gaddafi stronghold.
Now, while he and his sister strongly hint at support for the uprising, they seem somewhat reluctant to show outright allegiance to either side. Possibly not wanting to seem anti-Gaddafi in case he stays in power, nor pro-Gaddafi in case he doesn't. In many ways, allegiance is the least of their worries. They just want to be safe.
They worry too. Even if they do get to leave the country, they say it's highly likely they will end up back in Iraq. Not a prospect they want to entertain. They can't get visas for Jordan or Syria – places they want to go to, and say they would feel safer in.
Farah talks of today's protests in Iraq, its day of rage. She tells me that if they went there they would be going from the frying pan into the fire. They are truly stranded, and hope help will come. But in the meantime, there is very little they can do.
And so they wait.