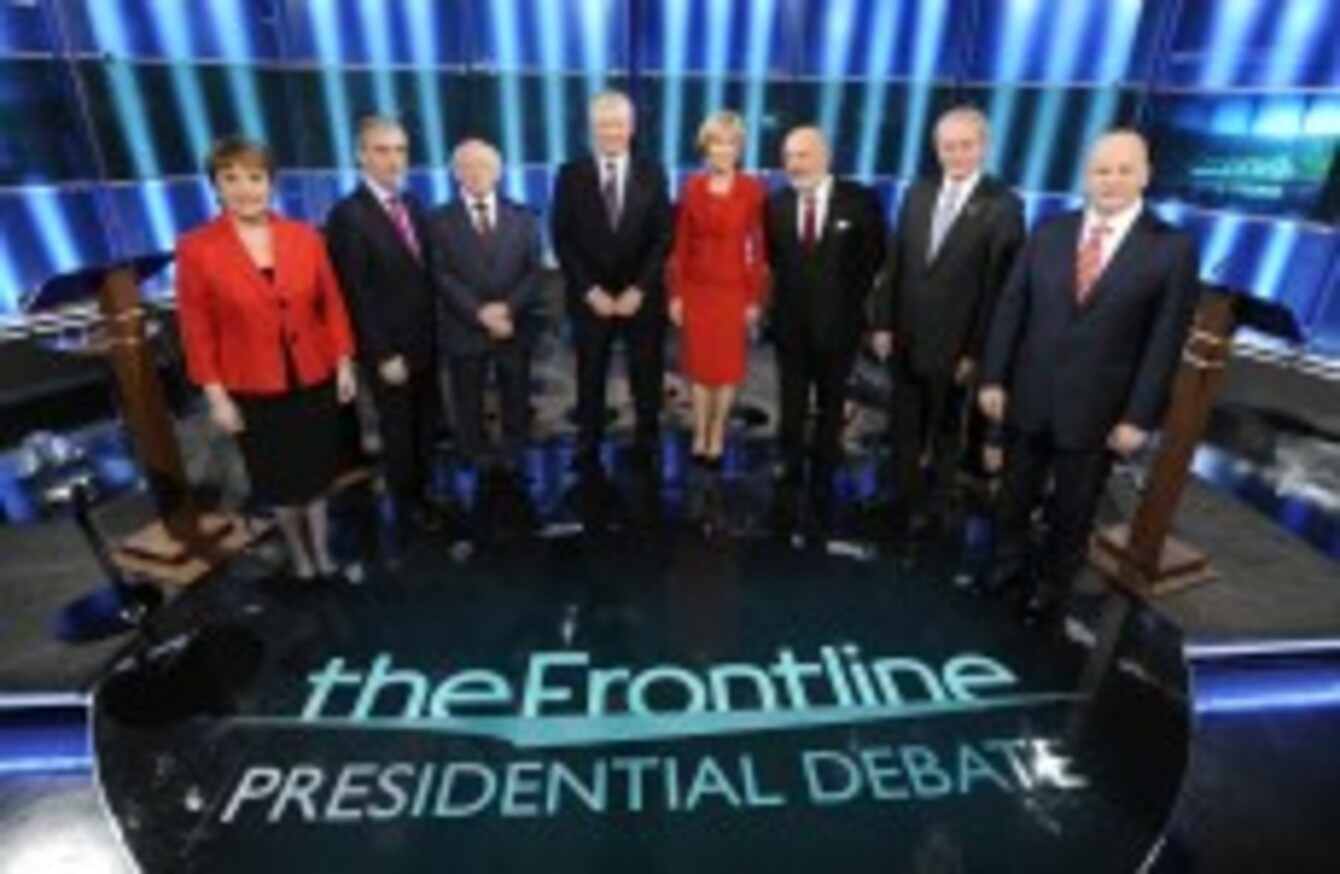 Image: Photocall Ireland
Image: Photocall Ireland
A TWEET WHICH was read out by Pat Kenny on RTÉ's Frontline Presidential debate tonight, purportedly from Martin McGuinness's official campaign account, was actually a fake.
The tweet said that McGuinness would be presenting a man at a press conference tomorrow who would claim that Seán Gallagher collected a €5,000 donation from him for Fianna Fáíl. This tweet came from an account called @McGuinness4Pres. However, McGuinness's official campaign account – @Martin4Prez2011 – later confirmed that the tweet was not from them, and they have nothing to do with that account.
These were the tweets:
The fake account - and fake tweet

The official account - and official tweet
Yet the tweet – which was passed onto Pat Kenny by the show's production team and put live to Seán Gallagher and Martin McGuinness – prompted further discussion of a claim that McGuinness had made that Gallagher had gone to a man's house to collect a €5,000 donation for Fianna Fáil. McGuinness claimed that he had been told by a man that Gallagher had organised an event at a Crowne Plaza hotel three years ago, at which Taoiseach Brian Cowen appeared, and at which attendees were expected to donate €5,000. McGuinness said that the man he spoke to claimed that Gallagher had gone to his house and collected the €5,000 donation to Fianna Fáil in the form of a cheque.
Seán Gallagher admitted the event at the hotel had happened but said that he could not be sure if he had picked up a cheque. He mentioned that he might have picked up an envelope but had "no recollection" of a cheque being given to him.
When pressed further, Gallagher said he knew who the man was whom McGuinness was getting his information. He disparaged that man, saying he was a "fuel smuggler" and a criminal and had been "investigated by the Criminal Assets Bureau".
Debate host Pat Kenny then asked why, if that was the case, had such a character been invited to a Fianna Fáil event.
The Gallagher presidential bid – which has seen him climb to the top of voter polls in the last week – took several hits this evening on the debate. He was also quizzed by a member of the audience on the €89,000 cheque that got lodged in his personal account "by accident".
For the full story of what went on in tonight's debate, take a look at our liveblog from the evening.