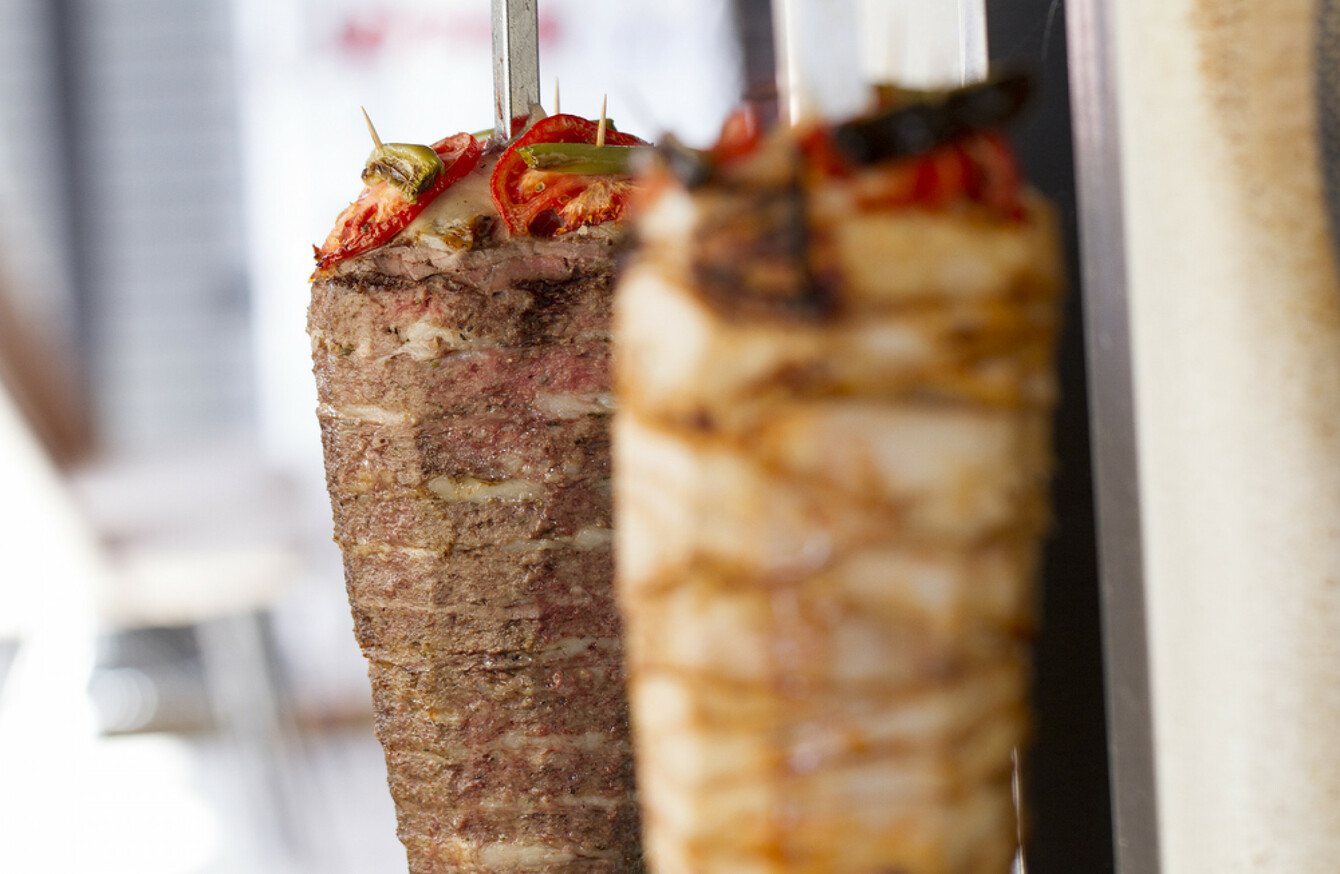 One restaurant was storing kebab meat at room temperature.
Image: Shutterstock/Nadir Keklik
One restaurant was storing kebab meat at room temperature.
Image: Shutterstock/Nadir Keklik
SEVEN FOOD BUSINESSES were ordered to close their doors for breaches of food safety rules in the last month.
Some of the reasons the businesses were forced to close included cockroach infestations, filthy kitchens, a lack of hot water for cleaning and meat being stored at room temperature.
The closure orders were served on:
Tasty Hut takeaway, 61 Dorset Street, Dublin 1
The Dublin takeaway was ordered to close after inspectors found widespread evidence of cockroach infestation.
There was live cockroaches crawling on walls in the main dining area. The bugs were also seen behind the bin in a wash-up area, under a free standing drinks fridge and emerging from cardboard boxes. 
The restaurant was ordered to do a deep clean of the entire premises and remove all indications of previous pest activity so future inspections could detect fresh infestations.
It was also ordered to hire a competent person to eradicate the bugs and to provide ongoing treatment plans and pest control inspections.
The full text of the order can be seen here.
Mi Thai restaurant, 87b Manor Street, Stoneybatter, Dublin 7
Inspectors recorded numerous problems in the Dublin restaurant. Among these were that the chopping boards in the kitchen were engrained with dirt and black mould. They were also heavily serrated making them difficult to clean.
The tap covers at the food sink were missing, allowing dirt and bacteria to accumulate. The brush used in the kitchen was defective, worn and filthy. The mops were not being properly wrung out and allowed to dry, which can cause bacteria to grow and thrive.
The flooring throughout the entire premises was filthy particularly under equipment and at floor wall junctions. The inside surfaces of all refrigerator and deep freezer units were dirty.
The wall sockets, plugs, wiring and conduits were grease laden throughout the kitchen and the shelving had heavy grease deposits.
The full text of the order can be seen here.
Diner Thai & Chinese Take-away, 1 Ongar Square, Dublin 15
The restaurant was found to have no hot water for washing hands or equipment and cleaning was found to be poor throughout the premises.
There was no cleaning schedule and workers were unable to identify the appropriate cleaning products for sanitising surfaces.
A staff member was noted handling cooked chicken without washing hands and staff were washing hands at a sink labelled "for food equipment".
One member of staff was not wearing any protective clothing while another was wearing a dirty apron.
The full report can be read here.
Regent Inn restaurant and café, Unit 3, Haymarket, Drogheda, Louth
FSAI officials encountered a host breaches of food safety regulations in this Drogheda restaurant.
Cooked pork was being stored in a refrigerated display unit with a temperature of 12°C. This is ideal conditions for the growth of pathogenic bacteria that can pose to a risk to public health.
Ice cream containers were being used for the storage of foodstuffs. These containers were in a defective and worn condition and could cause food contamination.
During the inspection plastic food containers and stainless steel food bowls were being washed in the raw meat sink and were left to dry on the adjacent raw meat preparation area.
The correct disinfectants and sanitisers were not available for cleaning food contact surfaces. Staff were also unable to demonstrate an effective method of cleaning and disinfecting the surfaces.
The full order can be read here.
Speedo Pizza Kebab takeaway, 41 Lord Edward Street, Limerick
Flying insects were in this Limerick city takeaway while it was being inspected. The restaurant was also found to lack pest monitoring and control.
Inspectors said that the random items being stored at the rear of the building also had the potential to harbour pests. They counted approximatley 30 old sauce buckets, two car wheels, two upright fridges and a wash sink during their visit.
There was also structural problems with the premises including broken tiles, gaps in the walls and unfinished doors. Dirt, debris and cobwebs were also noted. 
There was an absence of a cleaning programme and Doner meat was left at room temperature.
The full text of the order can be read here.
Phoenix House takeaway, Unit 6, Riversdale, Rathcormac, Cork
The restaurant failed to put adequate procedures in place to control pests. Numerous food ingredients and products were stored in stained and unclean containers. inspectors found cashew nuts were stored in a rusty container.
#Open journalism No news is bad news Support The Journal

Your contributions will help us continue to deliver the stories that are important to you

Support us now
Cooked rice was left to cool at room temperature for over four hours. This can cause food poisoning bacteria to grow and multiply.
The level of lighting in the kitchen was poor and the hob of the six ring cooker was unclean.
Part of the floor finish in the cooking area was damaged and the surface of the wash hand basin beside the dry goods store was unclean.
Click here to read the full report.
Mike Sheahan Butchers, Church Street, Caherciveen, Kerry
The walls and doors of this Kerry butchers were stained with mildew and dirt. The floor in the cold room was stained with blood spillages and the shelving in the cold room was also stained.
Part of the mincer had congealed stale particles of meat on it, the butcher blocks were ingrained with stale meat residue and were being supported by plastic crates which were ingrained with dirt.
The work top next to the burger machine was covered with beverages, paperwork, personal belongings and other items and was not accessible for cleaning.
The shelving in the cold room was chipped and rusted in places. Sticky fly papers full of flies were hanging in the cutting room. Bluebottles were observed on the meat block.
There was no evidence of a food safety management system in place.
The full order can be read here.
The closure order against Tasty Hut was made under the FSAI act while the other six were made under EC (Official Control of Foodstuffs) regulations.
Shehzaad Ahmad Kalo of Zam Zam Kebab House on Mallin Street in Wexford was prosecuted for obstruction and a separate prohibition order was served on Sheahan Butchers, Church Street, Caherciveen, Kerry.
"There continues to be numbers of food businesses who are failing to meet to their legal requirements under food law,"  The FSAI's Chief Executive,  Dr. Pamela Byrne, said.
Last month we saw food businesses fail to comply with hygiene and food storage standards and even failing to train staff in food hygiene practices.