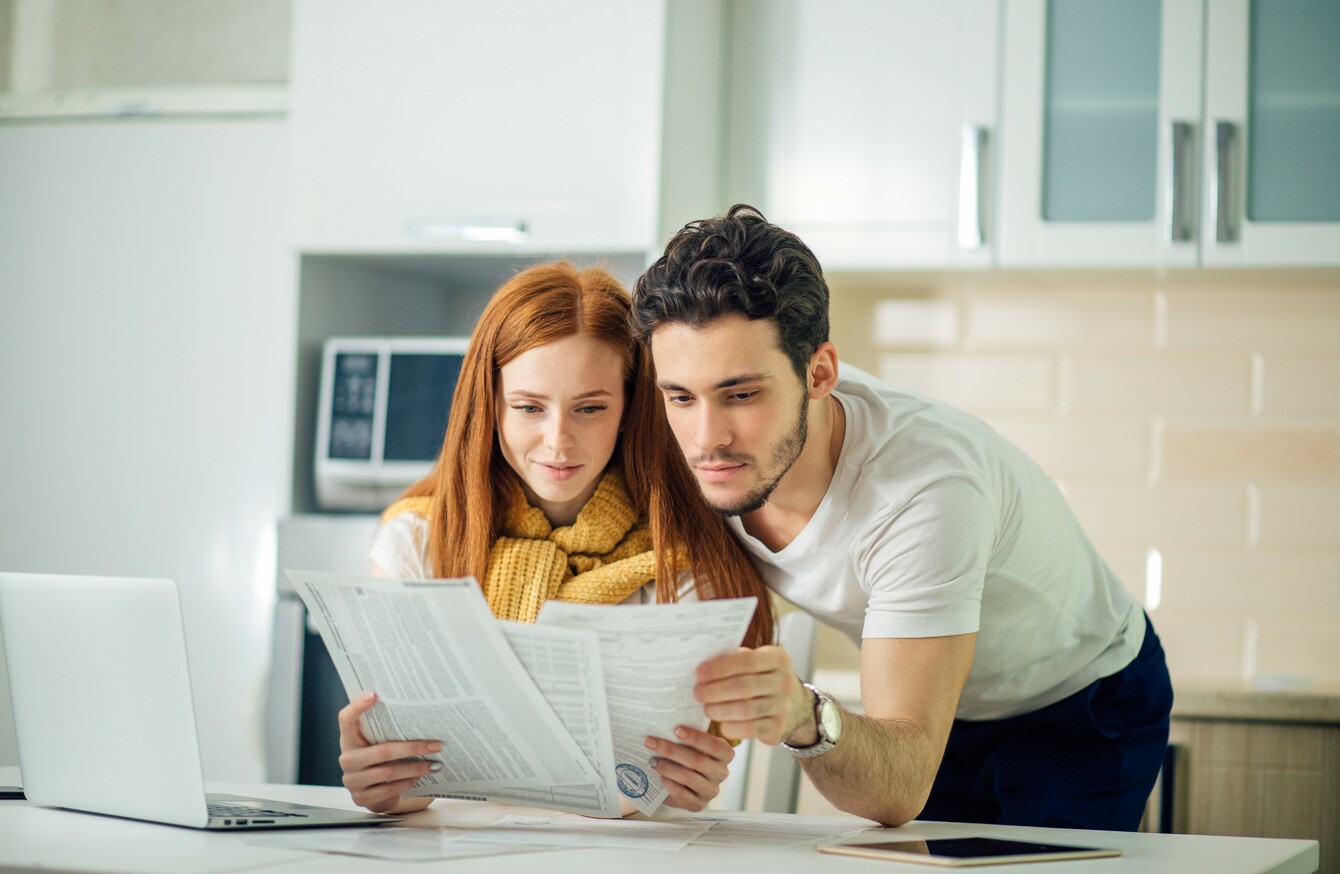 Image: Shutterstock/UfaBizPhoto
Image: Shutterstock/UfaBizPhoto
THE PANDEMIC HAS upended many aspects of everyday life, which can make the idea of saving to purchase a house even more daunting. A lot has changed radically in the past year – and 2021 is only likely to bring more changes.
But for many, purchasing a first home is still firmly on the list of goals. So when it's hard to know where we'll be in a few months' time, how can you make sure that at least your home savings plan stays on track?
We talked with two seasoned financial advisors to get their take on how to create a savings plan for your first home that can weather uncertainty, from figuring out annual pressure points to considering future savings based on pre-pandemic situations.
1. Treat your savings account like a monthly bill
While times may be uncertain overall, Director of BRM Mortgage Brokers Cathal Coates reminds first-time home-buyers that banks will still want to see consistency in savings in order to approve a mortgage.
"Pay yourself first," he suggests. "If you open a specific savings account and put a set amount in as soon as you've been paid, there's a good chance that by the next pay day that could still be sitting there. But if it sits in your current account, it will have all disappeared. Most people don't realise why, how or where. It's very important to treat your savings as another bill."
2. But if your income changes, try to protect your credit score
Many people have experienced changes to their income in the past year. If this makes it difficult to meet your savings target, says qualified financial advisor Debbie Cheevers of Greenway Financial Advisors, you shouldn't skip the credit card or loan payments. "If the choice is between missing a credit card or loan payment, and dipping into savings, protect your credit history & make the payment," she says. Instead, she suggests: "If your income is fluctuating, try to save a percentage rather than a fixed amount each month."
3. Make your plan based on 2019… not 2020
A critical component to keep in mind as you're creating a savings plan is that your spending in 2020 (and the beginning of 2021) isn't likely to reflect your ability to save once restrictions are lifted. Therefore, Cheevers reminded first-time buyers to make budgeting projections for later this year based on spending habits from 2019.
She recommends, "Dig out the bank statements, look through the drawer or the cupboard that's full of all the documentation that you never want to look at, and do detective work on all of that year's expenditures."
Once you get a sense of your spending in normal times, you'll be able to make a flexible savings plan that will hopefully get you into your first home in the future.
4. Keep a rainy day account for unexpected costs
Unexpected costs like medical expenses or car repairs will come up, especially when times are otherwise uncertain. Creating an emergency fund will keep your savings record clean when the inevitable happens. "Make sure to set up a rainy day account, which you've left €1,000 in," says Coates.
This should be separate from your mortgage savings account. "Proving your payment capacity is a big part of applying for a mortgage," Coates says. "If you end up having to dip into it every other month, it's not going to have the same impact as a savings account you're not going to touch."
5. Factor in celebration spending and holidays
Celebrating events inevitably looks different this year than in years past, but that doesn't mean you're going to skip buying gifts for birthdays and Christmas altogether.
In normal times, Cheevers suggests clients start their savings plan by tracking spending – and that remains her advice despite the ongoing pandemic restrictions. "The number one thing that we always think people should start with is: before you start thinking about cutting your spending, track it," she says. "Figure out where your pressure points are during the year – all of the seasonal spending like birthdays, Christmas, holiday expenditures."
While travel isn't currently an option, she suggests continuing to save for future holidays. "It's impossible to plan travel effectively right now, but you can still preserve a figure in your budget for the future, especially if holidays are a big priority for you." Cheevers recommends looking at your holiday spending for 2019 in order to budget effectively for when travel is permitted again.
6. Use digital banking and other smart tools to help you budget
Many of us have exchanged cash for contactless payment options during the pandemic. But Cheevers says digital debit cards like Revolut and N26 actually offer benefits beyond germ-free purchasing.
She recommends transferring a set amount to a digital debit card each month. "Say you transfer €300 per month for socialising, transfer it out of your main bank account and only use the Revolut card when you go outside – it's sort of like leaving some of your money at home."
You can also use the Revolut app to track your spending habits in a way that you wouldn't have been able to with cash, she adds – getting a good overview of where your funds are going each month. 
7. Get that mortgage application in — but watch for conditions
The upheaval of 2020 and 2021 means that even those potential first-time buyers who are on their way to having a deposit saved may have had a change in employment circumstances. "Many people think they can't apply for a mortgage if they've lost jobs and then started at new companies and might be on probation for six months," Coates says. "You can still apply for a mortgage if that's the case, but it will be a condition of the mortgage that you are out of probation before you draw down the mortgage."
At Glenveagh Homes, our vision is that everyone should have the opportunity to access great-value, high-quality homes in flourishing communities across Ireland. We understand that buying a home is possibly the biggest decision you will ever make in your life – but we want to make it your easiest. Click here to find out more about Glenveagh developments.