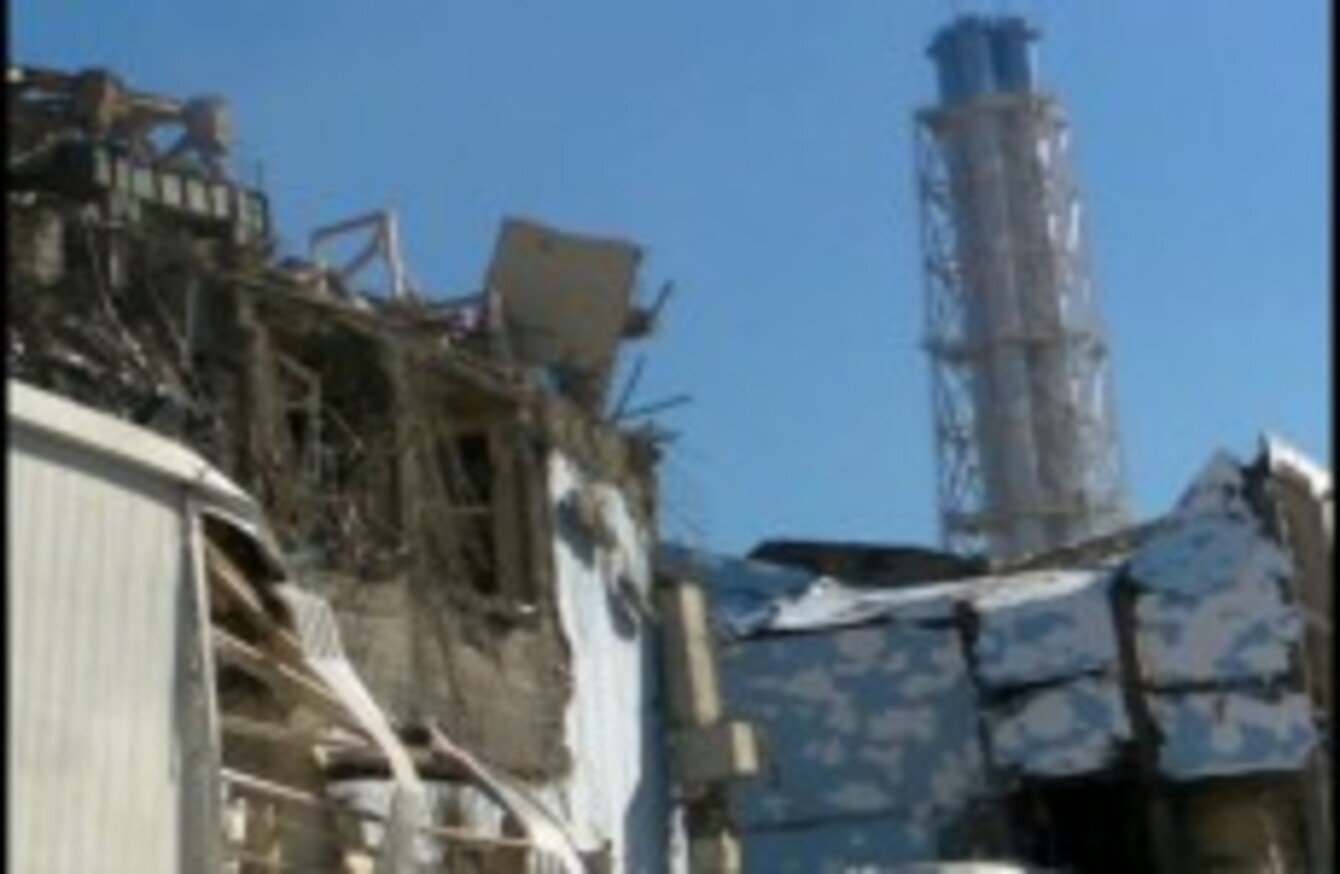 Image released by the Japan Defence Ministry shows damage to Unit 3 reactor, left.
Image: AP Photo/Japan Defence Ministry
Image released by the Japan Defence Ministry shows damage to Unit 3 reactor, left.
Image: AP Photo/Japan Defence Ministry
Updated at 4.15pm
JAPANESE NUCLEAR AUTHORITIES are still pushing to restore energy to the earthquake- and tsunami-damaged Fukushima nuclear plant in order to restore water pump action and cool overheated fuel.
The authorities said today that radiation levels in spinach and milk from farms near the nuclear plant exceeded government safety limits.
The International Atomic Energy Agency (IAEA) had incorrectly announced earlier today that Japan's Ministry of Health, Labour and Welfare "has ordered a stop to the sale of all food products from the Fukushima Prefecture" following the discovery of radioactive iodine contamination in some food products. Instead, it clarified this afternoon, the government is considering the ban, but has not ordered it.
The tainted milk was found within 30km of the plant and the spinach was found between 80km and 100km south of the Fukushima station. Tests are being carried out on other food products.
Chief Cabinet Secretary Yukio Edano said the levels currently found "pose no immediate risk", but "it would not be good to continue to eat it for some time". The IAEA said the radioactive iodine decays naturally within weeks, but poses a short-term risk if ingested and absorbed:
If ingested, it can accumulate in and cause damage to the thyroid. Children and young people are particularly at risk of thyroid damage due to the ingestion of radioactive iodine.
Restoring energy
Officials say engineers are expected to reconnect energy supplies to four of the plant's six reactors by the end of today, the BBC reports.
Reactors 1, 2, 5 and 6 should regain power today, while power will be restored to 3 and 4 tomorrow. However, given the level of damage already caused to the plant, it is not known if the pumps will work properly and succeed in cooling the reactors.
Yesterday, officials raised the alert level from a Level 4 to a 5 on the International Nuclear Event Scale, bringing it on a par with the Three Mile Island incident in Pennsylvania in 1979. The IAEA said this morning that white smoke was seen emerging from three of the reactors yesterday.
Speaking of the restoration of power to the plant, the IAEA said: "Progress has been achieved in restoring external power to the nuclear power plant, although it remains uncertain when full power will be available".
Around 7,200 people are known to have died in the earthquake and tsunami which struck on 11 March and over 10,000 others remain missing. Hundreds of thousands of people have been left homeless.
- Additional reporting by the AP