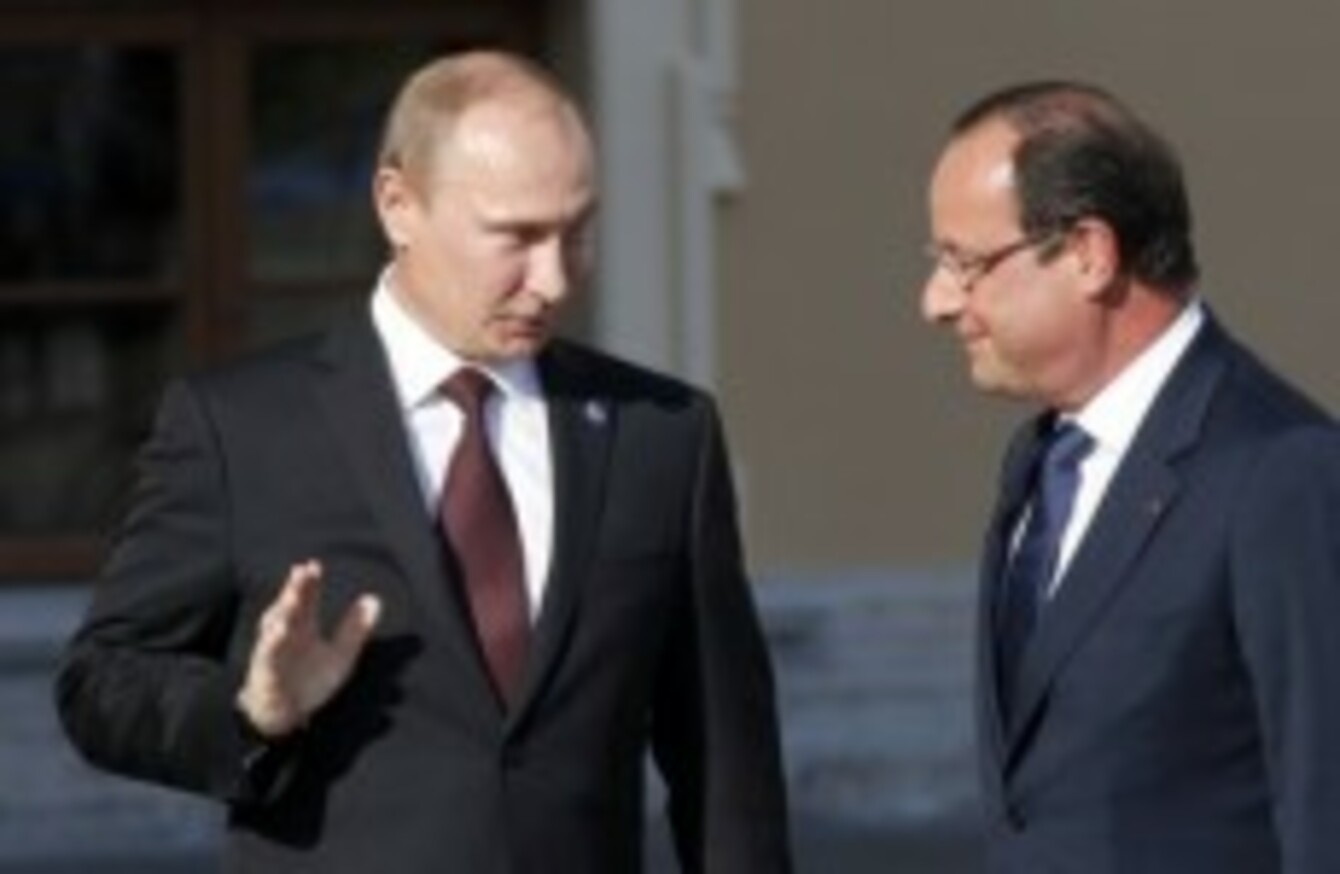 Russia's President Vladimir Putin with French President Francois Hollande at the Konstantin Palace in St. Petersburg.
Image: AP Photo/Alexander Zemlianichenko
Russia's President Vladimir Putin with French President Francois Hollande at the Konstantin Palace in St. Petersburg.
Image: AP Photo/Alexander Zemlianichenko
INTERNATIONAL DIVISIONS OVER military action in Syria have dominated the beginning of the first day of the G20 summit in St Petersburg.
Both Russia and China have warned the US against taking military action against President Bashar al-Assad's regime without UN approval with EU Council President Herman Van Rompuy also urging caution.
President van Rompuy said that the international community "cannot remain idle in face of cynical use of chemical weapons" but emphasised the need for dialogue and not force:
There is no military solution to the Syrian conflict. Only a political solution can end the terrible bloodshed, grave violations of human rights and the far-reaching destruction of Syria. Too many lives have already been lost and too many people have suffered for too long and lost too much.
Van Rompuy's words also hint towards division within the EU on military intervention in the Syrian conflict. Both France and the UK would be supportive of any US-led strikes despite UK Prime Minister David Cameron being hamstrung by his defeat last week in a House of Commons vote that would have authorised UK involvement.
During the opening salvos at the G20 meeting Russian President Vladimir Putin announced the Syria crisis would be discussed over dinner on Thursday evening.
With pressure mounting on the G20 group of nations to make concrete progress towards ending the conflict at their summit in Saint Petersburg, the United Nations also announced that its special envoy Lakhdar Brahimi was on his way to attend the meet to push for peace talks.
Obama arrived in Saint Petersburg from Sweden after clearing the first hurdle in his race to win domestic congressional backing for punitive strikes over the alleged use of chemical weapons by the Assad regime.
The Senate Foreign Relations Committee on Wednesday gave its backing by a 10-7 vote for the use of force. Senate leaders said the full chamber will vote next week on the motion, when Obama is expected to carry the day.
In a bid to smooth over the tensions, Obama and Putin put on a show of smiles for the cameras as they shook hands just before the summit got under way.
(Russian President Vladimir Putin shakes hands with President Barack Obama during arrivals for the G-20 summit. Photo: AP Photo/Pablo Martinez Monsivais)
Putin opened the summit by revealing that the Syria crisis — which has threatened to overshadow all other items at the meeting — would be formally discussed over dinner.
"Some participants have asked me to give the time and possibility to discuss other… very acute topics of international politics, in particular the situation around Syria," Putin told the opening plenary session of the meeting on the shores of the Gulf of Finland at a former Imperial palace outside Saint Petersburg
"I suggest we do this during dinner so that we… in the first part can discuss the (economic) problems we had gathered here for and are key for the G20," he added.
An Obama aide said he would argue his case for military action against Syria and explore what type of "political and diplomatic support they may express for our efforts to hold Syrian regime accountable".
But Syria's allies remained unmoved by Obama's push, with Iran's supreme leader Ayatollah Ali Khamenei calling allegations of an August 21 chemical weapons attack by the regime a "pretext" to launch strikes against the country, and pledging to support Damascus "until the end".
On the eve of the summit, Putin bluntly warned the West that any military action without UN Security Council approval would be an "aggression" and once again demanded watertight proof of chemical weapons use.
(President Barack Obama, left, listens as Russian President Vladimir Putin, right, speaks. AP Photo/Pablo Martinez Monsivais)
Beyond convincing Russia, Obama has a tough sell ahead elsewhere, with China — another veto-wielding Security Council member state — having already expressed its "grave concerns" over unilateral military strikes.
A political solution is the only way to end the Syria crisis, a senior Chinese official said on Thursday, warning world powers to be "highly prudent" over the issue.
"War cannot solve the problem in Syria," Chinese delegation spokesman Qin Gang told reporters at the G20.
Pope Francis added his voice to the calls for a peaceful solution to the Syria crisis, warning against "futile pursuit of a military solution".
German Chancellor Angela Merkel has repeatedly ruled out her country's participation in any US-led military strike against Assad's regime, while the British parliament has also rejected the idea.
While no formal bilateral sit-down meeting is planned between Obama and Putin, a White House official suggested there would likely be some kind of more informal conversation.