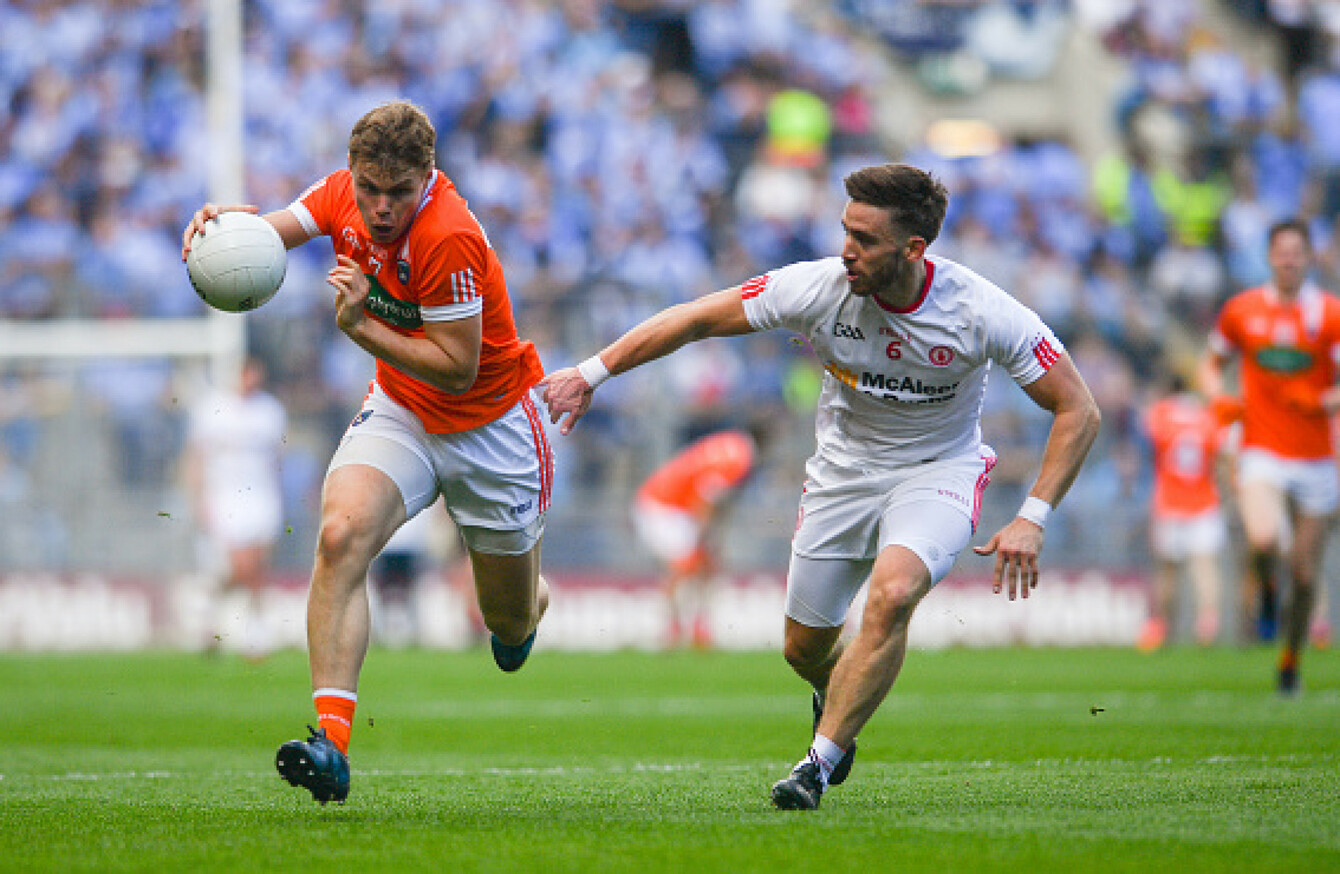 Last year's All-Ireland QF between Armagh and Tyrone - not shown live on BBC
Image: Ramsey Cardy/Getty Images
Last year's All-Ireland QF between Armagh and Tyrone - not shown live on BBC
Image: Ramsey Cardy/Getty Images
AS WE HEAD into the spring (even if it doesn't look or feel like it), sports fans begin to turn their attention more fully to the GAA.
For some, that means travel around the country to follow their county but many will just want to keep up with their team – or their neutral interests – through the television.
Since it was first signed in 2014, there has been much criticism of the deal done between the GAA and Sky as some matches are no longer available to fans unless they pay a subscription.
In Northern Ireland, that situation is further complicated with the BBC providing some coverage.
This week, a Sinn Féin MLA issued a statement to focus attention on the broadcaster for not doing as much as it can – within its contract – to provide for the GAA fans in the north.
Sinéad Ennis said, "There is huge frustration in regards to the amount of BBC coverage of GAA games. Currently over a quarter of a million attend GAA matches in the north over the season with countless more wanting to watch or listen to GAA coverage whether on the TV, radio or online."
She met with representatives of the organisation, raising the fact that the latter stages of the championships and the All-Ireland finals aren't aired.
However, the BBC's contract with the GAA does not allow it to do so.
A spokesperson for BBC Northern Ireland confirmed the terms of the contract again for TheJournal.ie. They said:
"A new five-year agreement announced in December 2016, means that, on television, BBC Northern Ireland will broadcast live any Ulster [Football] Championship match selected for live broadcast by RTÉ, including the Ulster Final.
We don't have the rights to televise games in the qualifiers or All-Ireland stages, including the All-Ireland Final – whether there is an Ulster team playing or not.
Commentary for those games which do include Ulster teams is available on BBC Radio Ulster and BBC Sport NI online.
Last year, seven of the eight Ulster Football Championship games were shown live on BBC NI television, with deferred coverage of the remaining game. It cannot show any game that is part of Sky's exclusive coverage.
"All the games in the Ulster Championship, broadcast on BBC Northern Ireland TV – live or deferred – can be viewed on the BBC's iPlayer catch-up service. We do not have the rights to show highlights on TV," continued the spokesperson.
The games it will be covering this year in the Ulster Championship have not yet been announced.
Ennis said she made a number of suggestions of how the coverage could be widened "in terms of dedicated or deferred coverage, online streaming or highlight shows on TV and radio".
The thousands of GAA fans are licence fee payers too. They deserve parity of coverage with other sports in the BBC – something which is currently not the case.
"I have asked the BBC to exhaust all of these options and, if necessary seek new talks with RTE and Sky, as Gaelic games deserve the profile which their popularity merits. The local viewing public deserve access to adequate GAA coverage."
The current contract was signed in 2016 and continues to the end of the 2021 season.
The deals made at that time allow RTÉ to show 31 senior championship games with Sky retaining the rights to 20 matches, 14 of which are exclusive. Both Sky and RTÉ show the hurling and football All-Ireland semi-finals and finals.
TG4 holds the rights to the Allianz League, minor championship and club championship, while Eir is allowed show Saturday night Allianz League games.
Niall McCoy, an Omagh-based journalist with GAA newspaper Gaelic Life, believes Sinn Féin's stance is "somewhat fair… and reflecting the viewpoint of fans" across Northern Ireland but adds the BBC's "hands are tied".
"Years ago, we would have been used to seeing the semi-finals and finals on BBC," he explains. "RTÉ is blocked for a lot of people up here… it can be very strange and we can't get the Player (due to geoblocking) so if it's not on BBC, it's bust."
He understands that a lot of frustration comes from a lack of coverage on the sport sections of BBC news programmes, and a lack of other programming in the area.
"One of the biggest gripes is the sporting coverage on news shows… it's talked about but only fleetingly rather than fully. They would like to see more. There could be a talk show midweek. That would go down well but it would have to be without clips as they don't have the rights to those."
However, the Armagh man does believe that the broadcaster "would love to do more if it could".
"They do have really good reporters who do good stories and generally show a lot of the Ulster Championship. They are quite proactive. They will also show the MacRory [Schools] Final in March, for example."
McCoy tells TheJournal.ie that fans in the north often make comparison to BBC's coverage of the SSE Airtricity League but stresses it holds rights to show highlights programmes for those games so can include midweek talk shows on its schedule.
"BBC – not just in Northern Ireland but across the board – are struggling to keep sports… they have to fight against big companies. As long as the Ulster Championship is ring-fenced… as long as they can keep doing that, I would not be happy, but would be satisfied.
"In 2022, though, I would like to see them fight a wee bit harder."