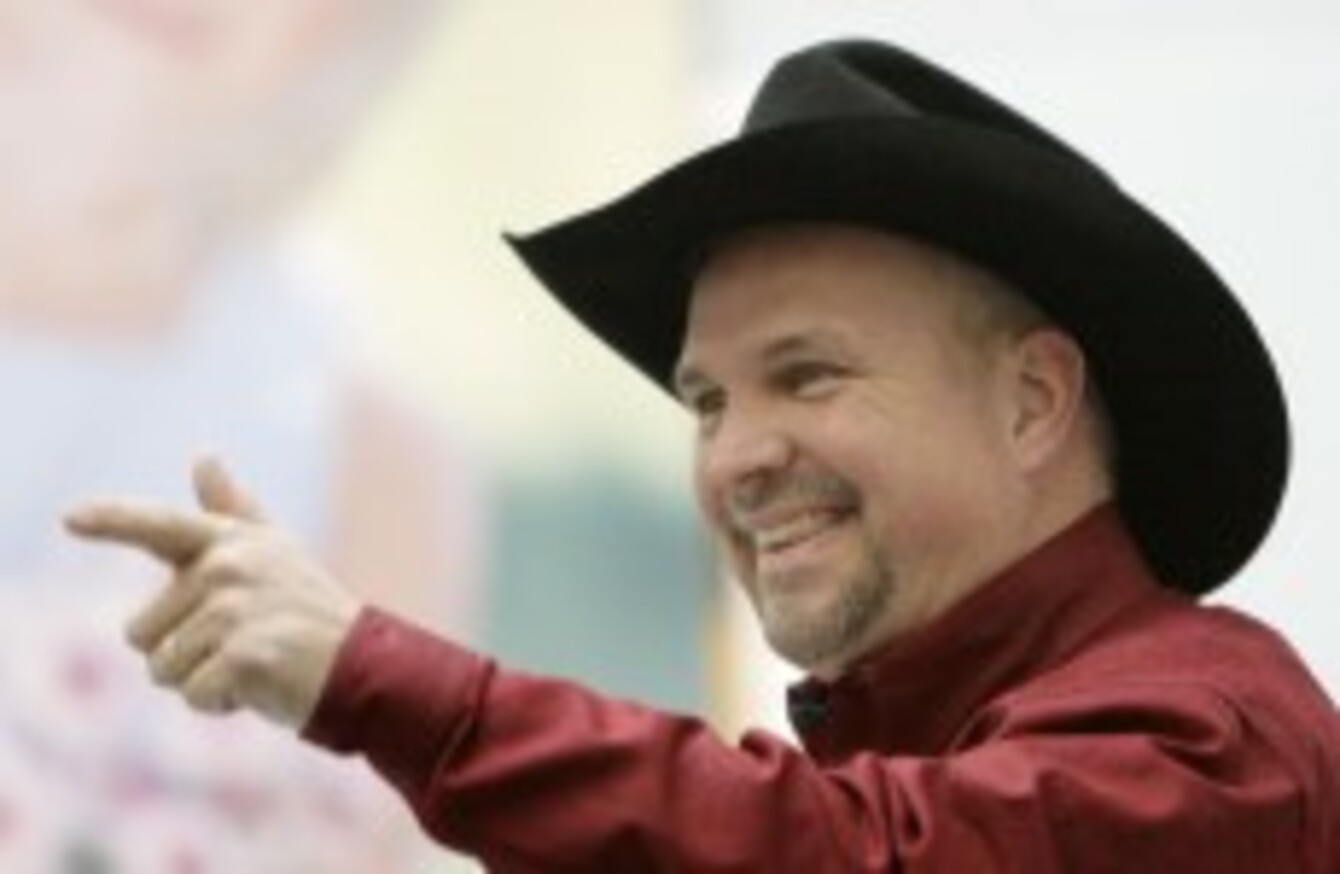 Image: Matt Slocum/AP/Press Association Images
Image: Matt Slocum/AP/Press Association Images
Updated at 13.56pm
VARIOUS STAKEHOLDERS INVOLVED in the planning of this month's ill-fated Garth Brooks concerts are to be called in to answer questions from TDs — with the meeting expected to happen tomorrow at the earliest.
Separately, Taoiseach Enda Kenny has rejected calls from Fianna Fáil to bring in emergency legislation, allowing for an appeals procedure whereby Dublin City Council's decision not to allow two of the five planned concerts to go ahead could be challenged.
The meeting….
The cancellation by Brooks yesterday of all five concerts affected some 400,000 ticket-holders — including some 70,000 fans who had been expected to travel from overseas.
Dublin City Manager Owen Keegan and representatives of the GAA and Aiken promotions are now being asked to attend a hearing with the Select Sub-Committee on Transport, Tourism and Sport to discuss the fiasco.
The country star made the decision following Keegan's decision last week to refuse permission for two of the gigs — on the basis that three concerts have already been held at the stadium this year.
'A hot issue'
The decision to call the parties in to face questions was made at a meeting this morning.
Fine Gael's John O'Mahony, who chairs the panel of TDs, said they had already heard back from the GAA, and that representatives of the association would be attending.
Speaking to TheJournal.ie, he said no time had been confirmed for the meeting as yet, but that they hoped to schedule it for as soon as possible, as it's a "hot issue".
"We need to find out the chain of events, to establish what happened — you had all this talk of five concerts, four concerts, then no concerts.
We need to find out exactly what the issues are.
O'Mahony said that all of the factors that led to the cancellation of the concerts would have to be looked at in order to learn from what happened and ensure such a situation doesn't arise again.
Responding to the invitation, Aiken Promotions this afternoon released a one line statement saying they had received notice of the hearing and were awaiting confirmation of the date.
A spokesperson for Dublin City Council said Keegan was at a meeting all day, and was unlikely to have had time to read the invitation — but that the Council would respond to it later today.
[File photo: Oireachtas.ie]
The Fianna Fáil 'Garth Brooks Bill'
Separately, Taoiseach Enda Kenny has told Fianna Fáil leader Micheál Martin the Government can't intervene with emergency legislation.
Martin's party last week published a Bill aimed at introducing an appeals mechanism to the concert planning process, which would allow decisions to be challenged on economic and tourism grounds.
Speaking in the Dáil this afternoon, Martin told Kenny "it's not beyond the houses of the Oireachtas to pass emergency legislation" and asked that the Government give time to the Fianna Fáil Bill.
And while Kenny said he was "as disappointed as anybody else in the country", he stressed that "Dublin City Council made its decision based on the current regulation".
"I will look at it, absolutely," he said.
Let's see if there's something positive the government can do here so it doesn't happen again.
But he warned:
If the Government decided to intervene with emergency legislation it would be criticised of overruling the rights of the residents – who have rights – and of overruling the decision of Dublin City Council.
He said that a process would be put in place to ensure such problems don't arise again, and added that the debacle showed there was a "bitter economic lesson to be learned".
#Open journalism No news is bad news Support The Journal

Your contributions will help us continue to deliver the stories that are important to you

Support us now
It ain't over til its over…
Fianna Fáil's Timmy Dooley — the party's tourism spokesman and a member of the transport and tourism sub committee — said he didn't accept the Taoiseach's assessment of the situation that "there will be no concerts now".
Speaking to reporters on the Plinth at Leinster House, Dooley said that as it appeared Brooks' concert equipment was currently still at sea, en route to Ireland "there's still time to find a solution".
And Fianna Fáil intends to press ahead with its mooted changes to the planning laws, he said — in spite of Enda Kenny's indications that the Government is unwilling to intervene.
"He said he would read [the Bill] – but he has refused to allow Government time.
Tomorrow morning, we will move the bill in the House. We still believe there's an opportunity to have these five concerts go ahead.
The controversy over the cancellation of the gigs has been covered by media outlets around the world — including US broadcasters CNN and Fox News.
Speaking earlier this morning, promoter Peter Aiken described the Council's handling of the situation as a "joke" and said he was personally devastated by what had happened.
So far, there's been no statements or comments from the Brooks camp. He's expected to address the situation tomorrow in a press conference, which will be streamed on his website. 
Additional reporting, Hugh O'Connell and Cliodhna Russell.