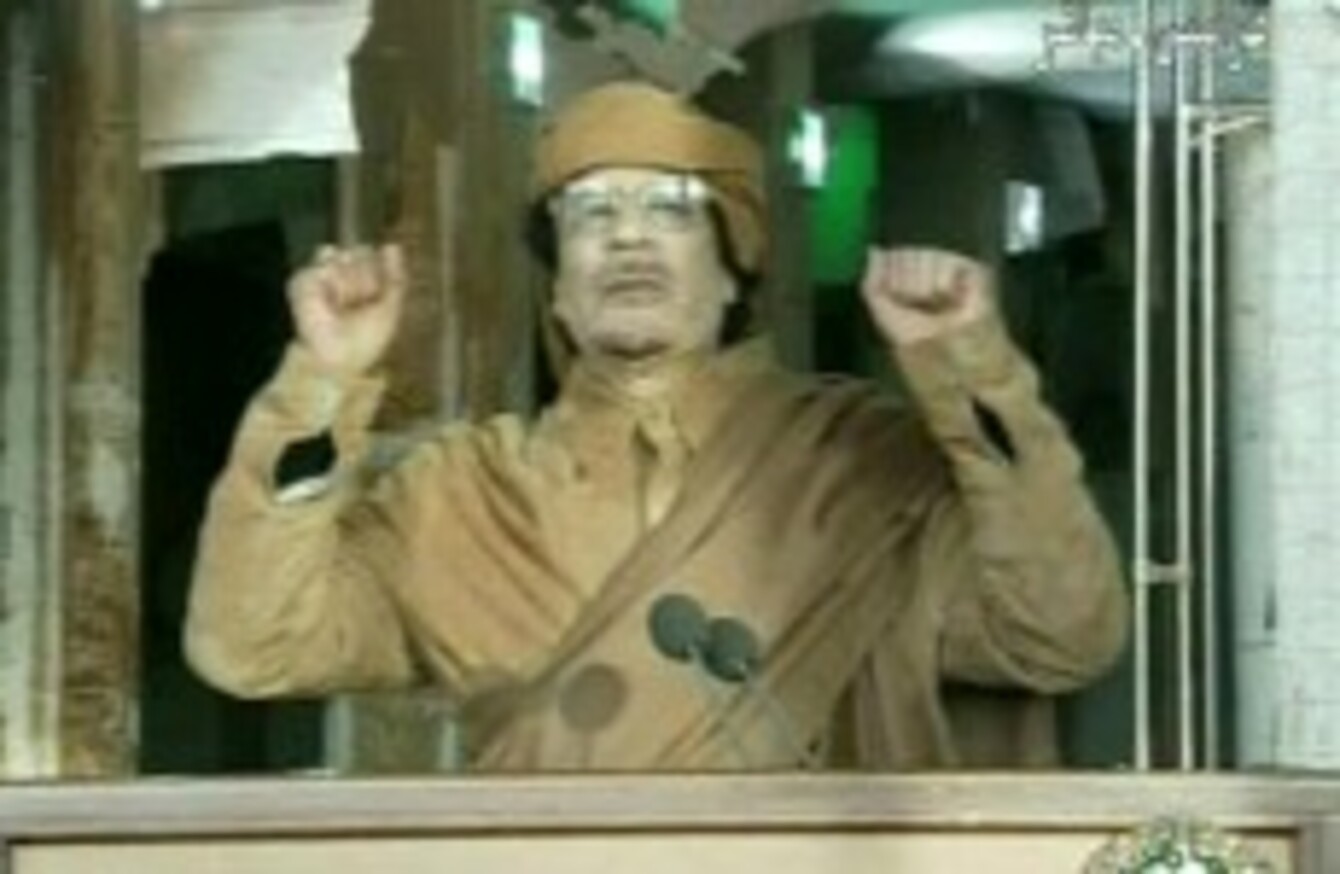 Muammar Gaddafi on state television today
Image: AP Photo/Libya State Television via APTN
Muammar Gaddafi on state television today
Image: AP Photo/Libya State Television via APTN
IT TOOK HIM two hours to say so – but Muammar Gaddafi has said he will fight to the "last drop" of his blood to remain on in Libya.
In a long, rambling speech this afternoon, Gaddafi at first tried to take ownership of the uprising of Libyan civilians against his regime by saying that external forces were trying to control its image and "tarnish" the reputation of Libya. He then claimed that those protesting were with the US and that he would "die as a martyr" rather than leave Libya. Other protestors, he decided, were just young people who didn't know any better.
Later, he would say that he was "head of the people's revolution".
There was much talk of the "rats" who threatened the oil fields, the water supplies and indeed the streets – and he asked his supporters to rout them out. As for resigning, he couldn't because he is not  a president, he said.
In an apparent bid to appease the calls for change, Gaddafi said that a new system of local and civic "people's" government would be formed, with his son Saif overseeing it. However – and again this was one of the only clear points in his speech – Gaddafi insisted that he wasn't resigning.
The Guardian's liveblog shows that many major media outlets cut away from Gaddafi's speech before it ended just after 5pm our time, as he continued to ramble and move off on tangents. At one point, Al-Jazeera even had to change translators because the speech went on so long.
After the confusing Gaddafi speech, the fears now are of further violence against insurrectionists. Al-Jazeera translated Gaddafi as saying:
You men and women who love Gaddafi… get out of your homes and fill the streets. Leave your homes and attack them in their lairs… Starting tomorrow the cordons will be lifted, go out and fight them.
The speech appeared to have been pre-recorded and screened to supporters in Tripoli centre.
While his speech might have been difficult to decipher, Gaddafi's body language during the speech was typically vigorous:
Gaddafi speech

Gaddafi speech

Gaddafi speech

Gaddafi speech

Gaddafi speech

Gaddafi speech
All pictures from AP Photo/Libya State Television via APTN.