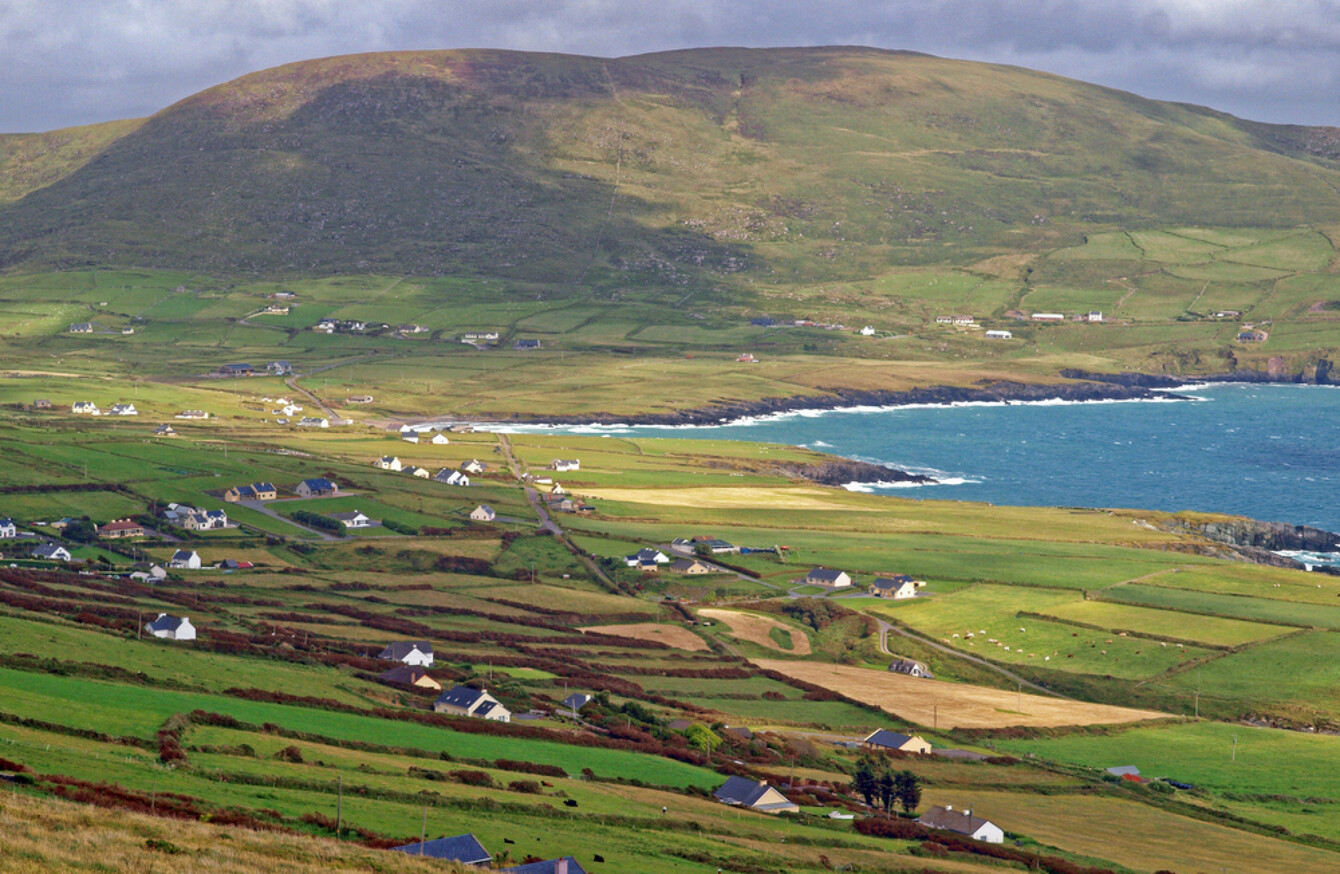 Beautiful countryside vista seen from the Skellig Loop travel route on the Iveragh Peninsula in Co Kerry.
Image: Barnes Ian via Shutterstock
Beautiful countryside vista seen from the Skellig Loop travel route on the Iveragh Peninsula in Co Kerry.
Image: Barnes Ian via Shutterstock
A TASKFORCE HAS been set up for a Gaeltacht in Kerry to address what is causing a population decline of 41%, where other Gaeltacht areas have seen an increase of 17% in the same time period.
In a Gaeltacht region located on Uíbh Ráthach, or the Iveragh peninsula, is coming under scrutiny of an inter-departmental taskforce which aims to come up with the solutions to "stop or reverse the trend" in the area.
After worrying trends emerged of both the Irish language and the dwindling community, locals commissioned research into the demographics of the area themselves, and presented it to Minister of State Seán Kyne, among others.
It's been decided that a taskforce would be assembled to find out what was causing – and what possibly could solve – the massive numbers ebbing out of Uíbh Ráthach, in the hope that any suggestions could then be rolled out to other rural corners of the country.
Údarás na Gaeltachta have been involved in the organisation of the group; their spokesperson Páid Ó Neachtain told TheJournal.ie that the issue of rural decline wasn't unique to Gaeltacht areas (although it's certainly more pronounced in Uíbh Ráthach).
"People are trying to answer that question in [rural] areas all over Ireland, there isn't huge amount of appropriate infrastructure for people… and a lack of employment opportunities.
He said that part of the difficulty in seeking employment in rural areas is that life has "moved on from farming only" and nowadays farmers need a second payment to keep afloat.
"It's absolutely picturesque, but you can't eat the view," he said.
But those beautiful landscape views have also caused a huge growth in tourism business across Kerry, which has already offered opportunities to those looking for jobs.
This could be one possible innovative solution to the problem of jobs in the area, Ó Neachtain says, citing possible opportunities around the Skellig area, which has been boosted by its cameo in the Star Wars blockbuster.
'Fite fuaite'
So what part has the protected Gaeltacht status on the decline of the rural peninsula? Are possible new residents put off by the Irish-language protected status?
Although Páid says he can't say for sure, he says that he wouldn't agree with that, and it's more down to the individual's needs.
"Promoting the land and the language are not mutually exclusive," Ó Neachtain says, adding that they're fite fuaite or 'intertwined'.
"Language plans are also turning into community plans, because they are a means of communication," he says, adding that the population decline probably comes down to what resources the area doesn't have, rather than the Gaeltacht status that it does.
"The Gaeltacht aspect wouldn't necessarily an aspect of it, it goes back to your basic human needs. I live in a rural area in Co Galway because my needs are met there."
Backing this plan to find out what those needs are, are the Department of Culture, the Department of Community and Rural Affairs and the Department of Social Protection.
Other local groups are also part of the action, including: Údarás na Gaeltachta, the Kerry Local Enterprise Officer, Enterprise Ireland, Fáilte Ireland, and the Kerry Education Board.
"If we can just manage to be innovative and get people onboard," Ó Neachtain says. "The community are not lacking in energy – they're just lacking in resources."
"If we succeed, we could make history books," he says.