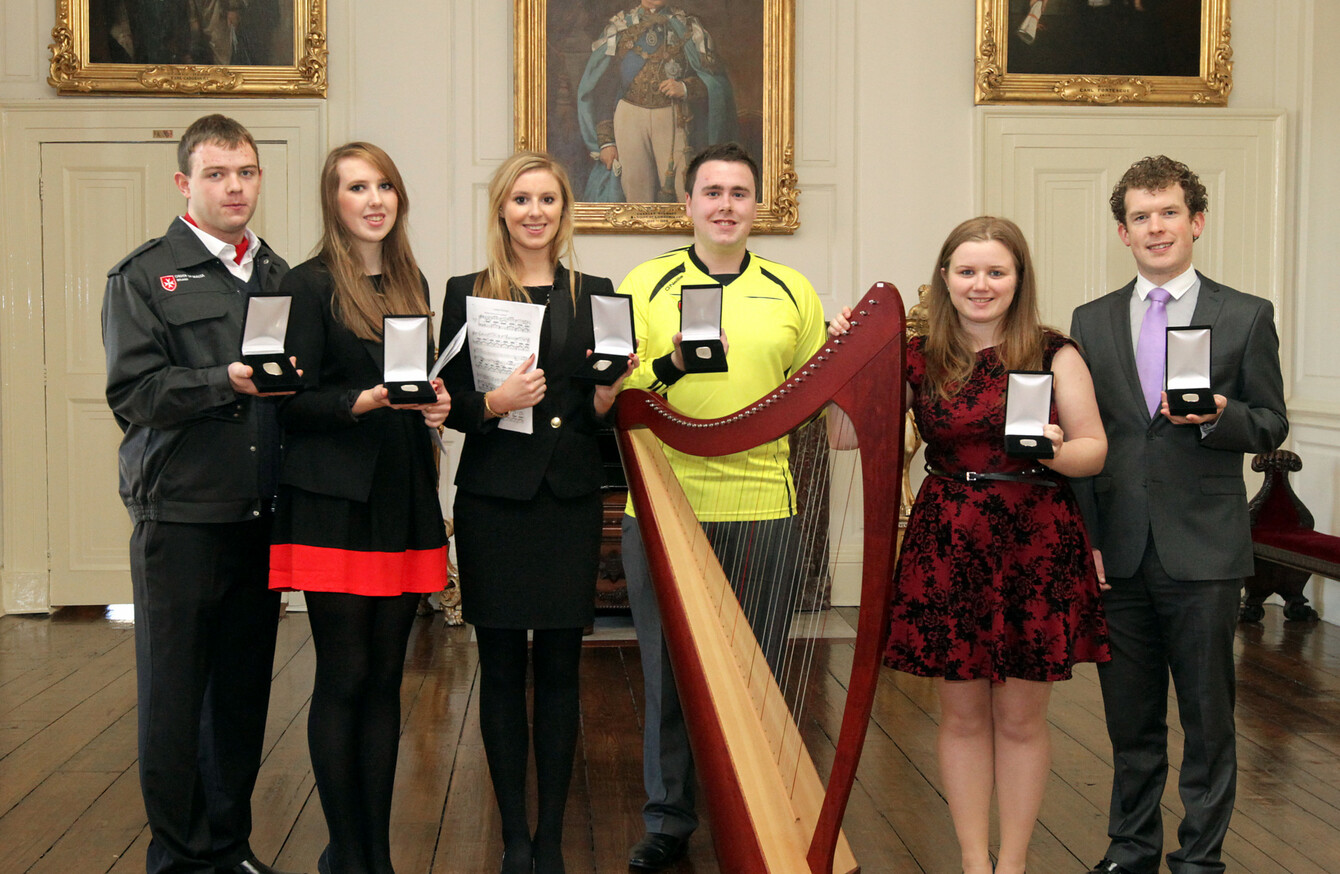 Previous recipients of the gold award, at Áras an Uachtaráin.
Image: Mark Stedman/Photocall Ireland
Previous recipients of the gold award, at Áras an Uachtaráin.
Image: Mark Stedman/Photocall Ireland
BEING A YOUNG person in 2017 can be tough: navigating the world of social media, thinking about the big decisions facing you in the future, and hoping to prove that the stereotypes around the 'youth of today' aren't true.
The Irish programme Gaisce – the President's Award aims to prove that young people can achieve far more than even they realise.
Gaisce is aimed at young people aged from 15 – 25, and involves three different levels: Bronze, silver and gold.
At each level, participants have to participate in a number of challenges, across the areas of community involvement, personal skill, physical recreation and adventure journey. They have to take part in each challenge area for at least one hour a week.
Next week, the winners of the highest Gaisce level, the gold award, will be honoured at a ceremony in Dublin Castle. They'll have put at least a year's work into achieving this award, and volunteered, learned and travelled their way towards reaching it.
Personal development
Yvonne McKenna is the CEO of Gaisce. How would she describe Gaisce to those who aren't familiar with it? "Gaisce essentially is a personal development programme for young people aged 15 – 25," she said.
The original thinking is young people are not broken and they don't need to be fixed. What they need and deserve are opportunities to flourish and to unlock their potential.
The awards have helped over 150,000 young people to date, and now the organisation s hoping to begin recruiting 35k young people a year by 2020 – the 35th anniversary of the awards. This year over 25k are expected to register to participate.
"It's not creating something certain young people can do," said McKenna of Gaisce. She said that the philosophy behind it is simple, and based on the fact that learning benefits young people in a number of ways.
It's all about "getting involved in something bigger than yourself and realising you have got something to give".
"It's about building confidence, about them exploring their passions," she said. "It is designed in a way that it isn't competitive. They set their own goals – they are achievable. They are going at their own pace."
The programme isn't delivered by Gaisce – instead, it trains people to work with the youths aiming to achieve the awards. They're called PALs: President Award Leaders.
"We want to get that message out wherever you are, if you are 15 – 25 there should be more than one route into Gaisce and doing it," said McKenna, adding that Gaisce is "for everyone".
She said that they are very keen to ensure that the programme is accessible, so try to promote no cost options. This is becoming increasingly easier because of the internet, she said – such as people being able to learn a language through an app.
"What we try and say is that cost should never be a barrier," she said. Very often, youth organisations will seek to cover costs for participants.
"What we have on our website are options, cost-free options for trying to do Gaisce because we definitely don't want people to think we have to pay for lessons," she said.
We encourage people to be as creative as they want to be with the award. It really is up to what they want to do.
'I love my life thanks to Gaisce'
Evelyn Dore, from Kerry, is an example of the potential of Gaisce, and how it can change people's lives. A 30-year-old teacher, she has journeyed to India, trekked on her own in America and even undertaken a 10-day meditation retreat because of Gaisce.
"I love my life and I would put a load of that down to all of these things," Dore told TheJournal.ie. "Through all of them combined together you have a sense of value if you're doing stuff for the community."
During her trek to the USA, she visited Chicago, Miami and Denver. "I'm still starting new things of learning – I love my life and I think a lot of it is what Gaisce does, building up your mental resilience, your self worth. It teaches you a gateway to be happy. If you're learning and you're active and you're looking after the community and you have a sense of adventure, it's the best thing ever."
She described the 10-day silent retreat as the "best thing I ever did in my life". "It did magic," she said. At the Drogheda retreat, she got up at 4.30am every day and was in bed by 9.30pm, spending much of the day meditating in two-hour blocks.
"You just develop a lot of mental resilience," she said. "You are very strong person at the end of it."
She said that once you move beyond the 13-week bronze level, you realise that Gaisce is all about pursuing your passions.
She said that these days, people on on social media can be thrown when asked what makes them happy – but that the structure of Gaisce can help, especially with how it encourages lifelong learning.
For example, it has encouraged her to really embrace her love of photography.
"It's very hard to explain to people what that adventure feels like," she says. But hearing Gavin Hennigan, who is a role model with Jigsaw, speak about finding your "spark of life" gave her a reference point for this.
She said that while some people might want to dip their toes in certain aspects of learning, she likes to dip into all of it. She's even tried things like tennis, not because she had an urge to become the next Serena Williams, but because she would "try anything".
I still have that sense of adventure that's not checking which box Gaisce is – it's me, that I know there is so much value in it.
"I guess it's really, really nice to do something that's a celebration of yourself," adds Dore. "That's actually me, in that it encompasses me and not someone made me do it. In a way I am celebrating myself, it's my own personal celebration and it's lovely that my parents are proud and my family are proud. it's lovely to be able to celebrate it. It's celebrating my own personal development, which is pretty cool."
Fellow Gaisce gold award winner Niamh Teeling has a similar attitude to Dore – the whole process taught her how much she can challenge herself. The IT professional turns 25 next month.
"It's a little bit unbelievable in some ways because I've been working on the gold award for three years so when I finally got everything done, it was 'oh the pressure's off," she said.
She said that reflecting on it all made her feel "very proud and really honoured to have come this far and to be one of the few each year who gets this award".
The gold award is split into five areas. For her physical challenge, Teeling went to the gym; for her community challenge she volunteered as chairperson of a student society in Trinity, S2S, mentoring other students; her personal challenge was to take back up the modern jazz dance classes she had loved as a child.
While the gold award can take a year to complete, she spent three years completing hers, and says she was glad she took the time. As well as these three weekly challenges, she also completed two other once-off challenges.
One was an adventure journey – a 100km walk along the Wicklow Way, which she completed with a friend (and which actually kicked off her gold award challenge).
"We had to plan ahead, keep logs and really know your route and know where you are going to stay in advance, and cook some of the meals in advance," she explained. "We were very lucky to get a full week of sunshine and get that out of the way first."
The final project was a residential stay: "You have to spend four nights and five days in a community residential project. Something where you're staying over, where you're helping, volunteering your time for the entire week and sleep over."
Teeling volunteered with Suas, travelling to India for 10 weeks to teach English at a disadvantaged school.
"I definitely learned a lot through that experience," she said.
You get to challenge yourself and push yourself to see how far you can go. It's very easy to lapse back into your 9 – 5 schedule. It's good to have something to push you to stay committed to stay determined. It is hard but it definitely paid off.
She said that while undertaking it all, "at some stage you realise exactly what you've committed to and having the persistence and growth inside yourself to help you keep going is a huge benefit to your whole self".
While it takes 13 weeks to achieve the bronze award, Teeling said the longer length of time for the gold award means "you get to see a greater depth of knowledge into how things work".
"You end up giving a lot of time but it gives you a better view of it, I guess how you want the community to be in your own life and… the president's vision of having committed and having engaged citizens and young people in their communities as well."
"Taking on different challenges at the start, it might seem overwhelming but consistently giving your time and dedicating yourself to something [shows] you can have an impact in your own community," she said. "Even as a young person there is a possibility there to do that."
Gaisce has empowered her, she said. "You do become more aware of how much of an impact you can have."
When times were hard, she was able to show herself what she was capable of.
"I'm more socially engaged, I care about what's going on in Irish society as a young person," she added.
"I just love that feeling that my mam has always said, 'feel the fear and face it anyway'. If I see anything I'm a bit scared of, like going to do this job or getting up and singing at open mics, well actually it's just forced me to say 'go for it' more and you can't really put a price on that."
Benefits
While for years there was anecdotal evidence that Gaisce was making a difference to young people's lives, a number of years ago a PhD student undertook proper research.
They looked at the experiences of young people before and after achieving the Bronze and Gold award. A control group, who didn't aim for an award, was also looked at.
"Research found that it actually did develop these social emotional competencies in young people," said McKenna. "Their sense of themselves, their confidence, their self-esteem."
It found that young people as a result of being in the programme were more positive about the future.
They felt more resilient in terms of identifying pathways.
Participants told them that they had fun, made friends and connected with people. It also helped them to manage emotions and improved their emotional intelligence, said McKenna.
McKenna said that these elements are more important than ever, "in what is a complicated world". "We have lots of young people who are very well educated but what they lack sometimes is these building blocks and the resilience and the confidence," she said.
For her, success with Gaisce has been "just seeing a young person absolutely transform from being someone who might be quite shy or afraid, to trying areas of interest where they can stand up in front of a room and talk confidently about their experiences".
It really has been transformative.
"In the last year we've done a lot of work with people in probation and garda youth diversion projects. Young people decided to go back to school or that they now want to.
One young man decided he wants to become a youth worker."
The winners of this year's Gaisce gold awards will be presented with them at a ceremony at Dublin Castle on 6 December.